Us Brits love a takeaway. It should come as no surprise, then, that during lockdown takeaway service revenues have soared, with online food delivery declared as being 'one of the only winners' of the outbreak.
Not content with enjoying restaurant quality food on our sofas, many of us are longing for the full package that eating out brings; the atmosphere, the service and the wine. Oh, the wine; carefully curated to suit the meal, served at the right temperature and in the right glass. We do miss that.
This weekend, we'll be doing dinner differently. If you're to take your takeaway experience up a notch, then first, do your due diligence. Assess reviews of online takeaway delivery services in your area, check out the current restaurant-at-home options we've been blessed with during lockdown, and most importantly, consider these; our 5 IDEAL wine pairings for the UK's favourite takeaways.
WHAT TO DRINK WITH THAI GREEN CURRY: 'VILLA MARIA PRIVATE BIN RIESLING 2018 MARLBOROUGH'
A gorgeous Thai green curry should be seriously spicy (what, you thought that vibrant verdancy came from herbs?), heady on the aromatic scale from lemongrass and galangal, shallots and garlic, and just a little pungent from fish sauce. All of this should be pulled together and tempered with the underlying sweetness which coconut milk blesses any bowl.
The connoisseurs know that a proper green curry shouldn't contain lime, so a wine which brings the aromas of citrus and is off-dry to cut through both the sweetness of coconut and savouriness of fish sauce is just perfect. Villa Maria's Private Bin Riesling 2018 Marlborough does just that, with floral notes which complement the aromatic quality of a Thai green curry skilfully.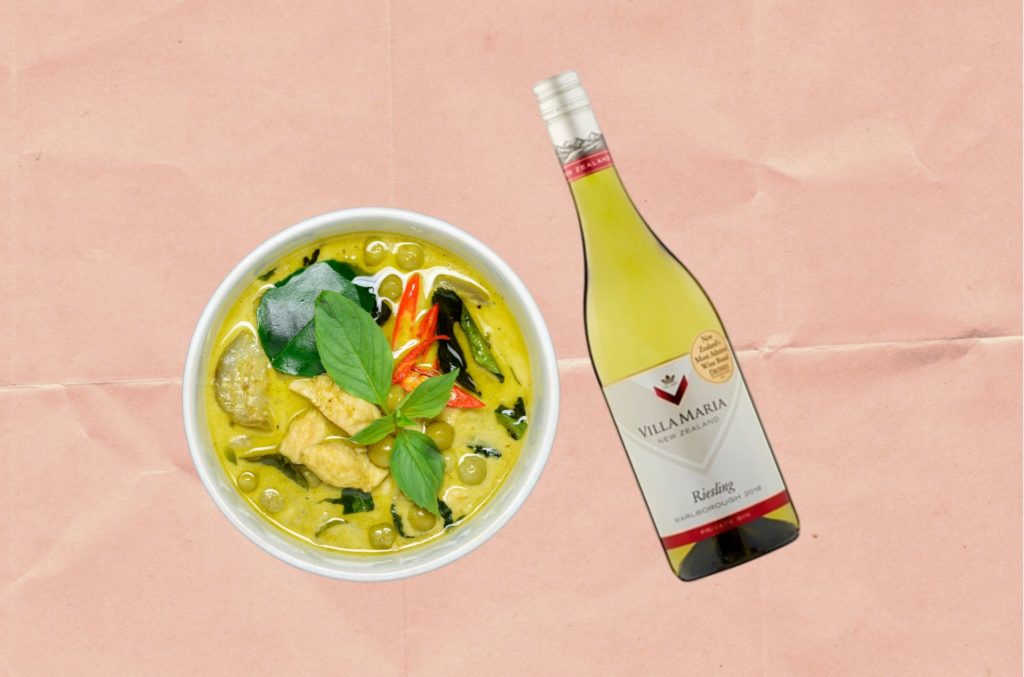 WHAT TO DRINK WITH NEAPOLITAN PIZZA: 'FIANO DI AVELLINO DOCG 2019 MASTROBERARDINO'
Though the pizza delivery options in the UK are as diverse as they are delicious, if it's authentic you're after, then it has to be Neapolitan. From where proper wood fired, restrained, world beating pizza was born, Naples has also produced our favourite topping; the Pizza Napoli. This guy boasts umami, piquant notes aplenty in the form of anchovies and capers, and we just love it.
Pizza can be rich – the Neapolitan especially – and calls for wines with relatively high acidity. We're keeping it authentic and sticking with wines from the Italian region Campania, which Naples is a part of. In the Campanian province of Avellino you'll find a world class white we think pairs beautifully.
Fiano di Avellino by Mastroberardino 2019 is characterised by floral and citrus fruits aromas which cut through the saltiness of the pizza topping elegantly. And there's something rather nice about enjoying a wine from the region which invented the pizza you're eating, right?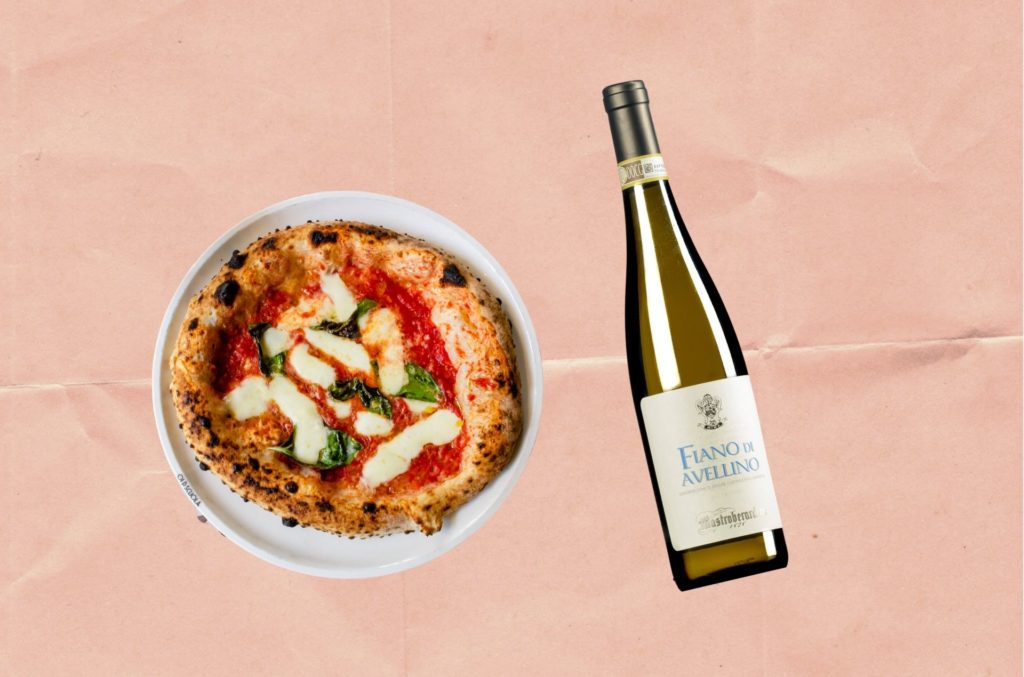 WHAT TO DRINK WITH LAMB ROGAN JOSH: 'DEFINITION MARLBOROUGH PINOT NOIR 2018'
Yes, we know Chicken Tikka Masala is often declared Britain's national dish, favourite takeaway and several other questionable honours, but we're ordering Lamb Rogan Josh tonight. We just can't get enough of the intoxicating spice blend, heavy and heady with smokey green cardamom, cloves and cinnamon, with all that richness from ghee and (preferably) goat meat…heaven.
A chilled red is just the ticket with a Rogan Josh. A lighter skinned grape like pinot noir – here, we're drinking a Definition Marlborough 2018 – which has spent an hour in the fridge until it's between 12C and 14C is the ideal match for a curry; light and refreshing so as not to overpower the nuance of the curry's spicing, but assured enough not to be overwhelmed by all that richness and fat. A glorious combination.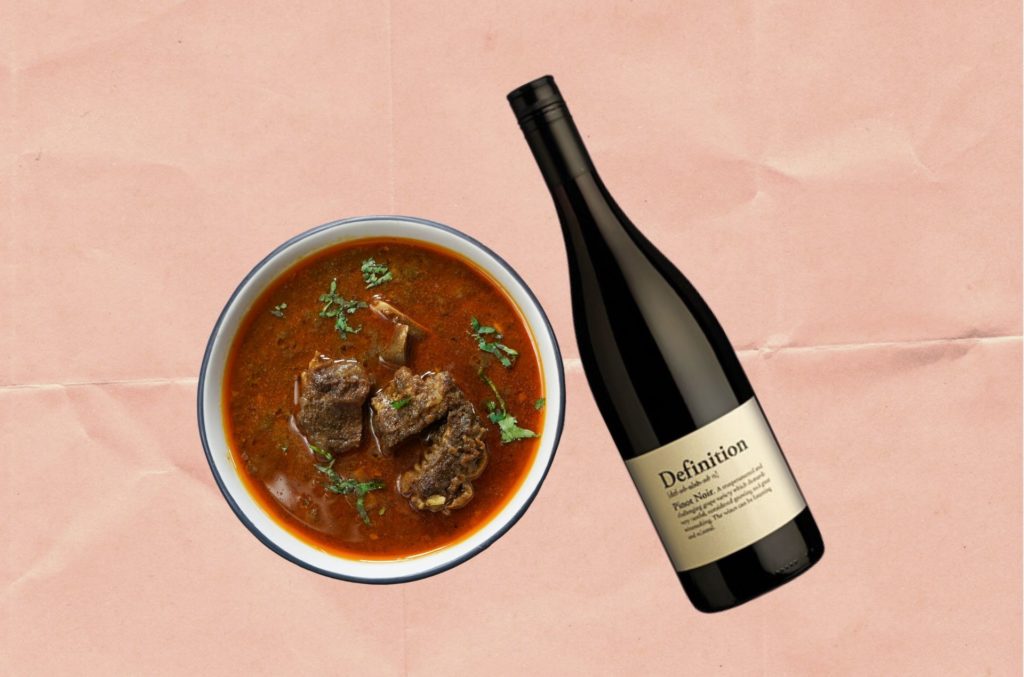 WHAT TO DRINK WITH FISH & CHIPS: ENGLISH SPARKLING 'CHAPEL DOWN SPARKLING BACCHUS 2018'
Named last year as the UK's actual favourite takeaway, fish and chips needs little in the way of introduction. Though a truly great version relies so much on the environment it's enjoyed in – preferably on the beach, seasoned with sand and accompanied by a warm, plastic lager – right now we're doing our best to elevate the experience in the domestic setting.
And we think an English sparkling wine does the job succinctly here. The darling of the wine world for several years now, English sparkling wine has consistently been voted the superior of prosecco, cava and the like in taste tests. Time to celebrate, with a drinkable, affordable (relatively!) Chapel Down Sparkling Bacchus 2018, which enjoys a crisp texture, refreshing finish and lightly floral palate just perfect for taking the edge off all that fried stuff.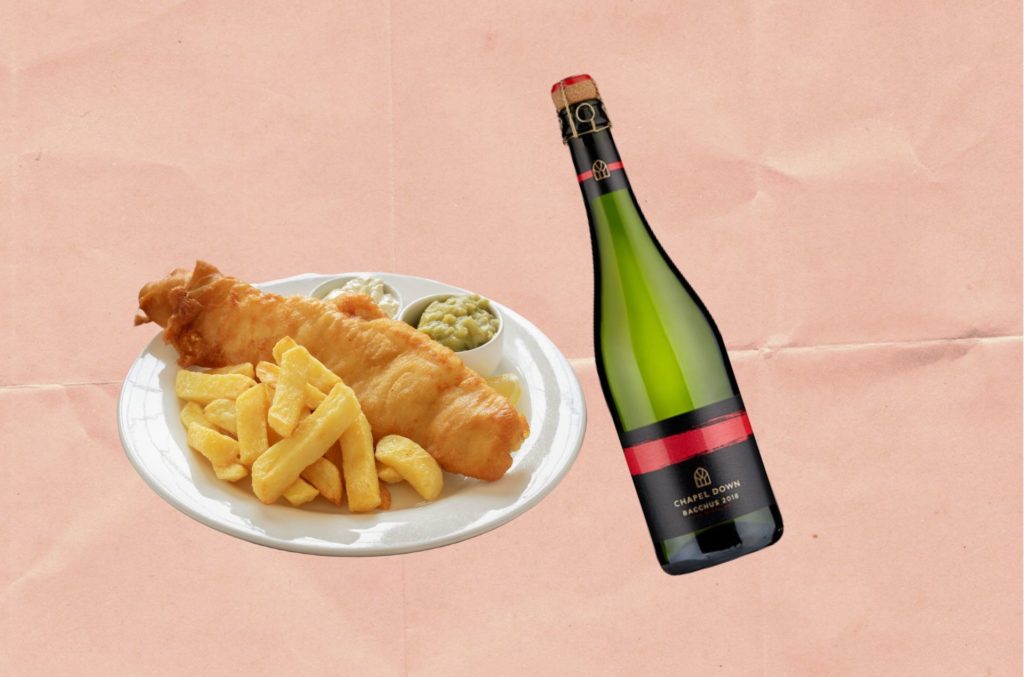 WHAT TO DRINK WITH RAMEN: ISAKÉ CLASSIC 'JUNMAI GINJO' FROM TATSUUMA-HONKE BREWERY
Okay, perhaps it doesn't usually make the upper echelons of the UK's favourite takeaway lists, but it damn well should. And sure, we realise that sake isn't 'wine' as we define it (actually, it's a 'beer' if you're getting technical, since it's made by converting a grain's starches into sugar, then following fermentation into alcohol) but we've got this far now, so spare us the scrutiny.
Born from a collaboration between a French Sommelier and a Japanese Saké expert, this sake is carefully designed to pair perfectly with dishes such as ramen. Made with a unique blend of Saké rices, flavours of melon, peach and walnuts are on the palate with a long, intense finish.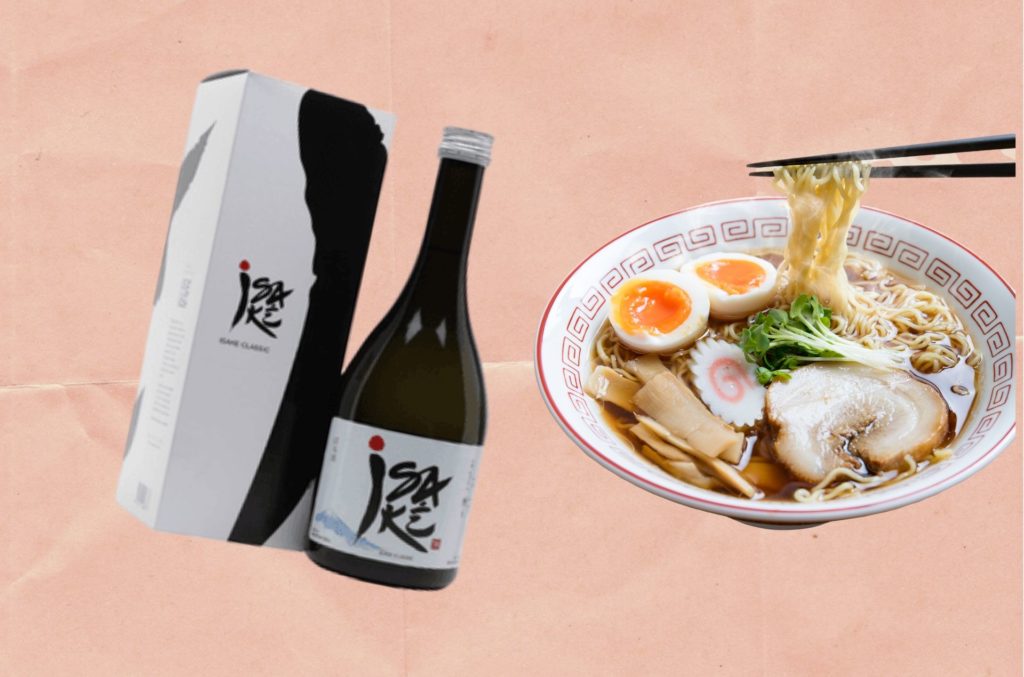 A glass of something this nuanced, with a deep, rich bowl of ramen? You might even forget the troubles of the world for a few sips and slurps.