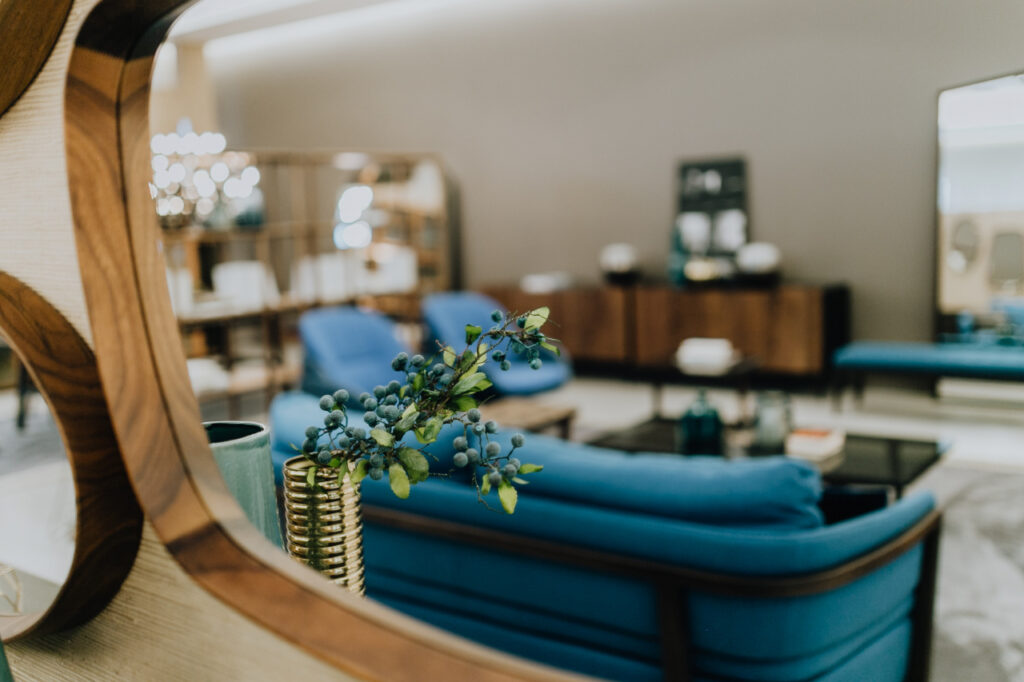 Ideal for those spending more time at home during lockdown and beyond.
Believe it or not, but the UK is still officially in lockdown. Actually, we could think of a better L word to describe the current situation; limbo. So many folk right now don't know if they're coming or going, whether they should be eating out or dieting in, hitting the high street or hibernating at home…
In fact, another L word we're all too familiar with recently is 'living room'. Yep, we know it's two.
For sure, we've been seeing a lot of our living room lately, and the more we seem to be using it – for work, for lunches, for kicking back when locking down – the more the space becomes cluttered and full of 'stuff'.
When you're spending so much time in one room, that's the last thing you need. Instead, you want your living room to feel well-decorated, spacious, light and bright. Here's how to make it just that; our 5 ideas to maximise space in your living room, IDEAL for those spending more time at home during lockdown and beyond.
REMOVE THE CLUTTER
If you're looking to maximise space, then first it's essential to minimise clutter. Living rooms can accumulate so much 'stuff' at the best of times, but now, since so many of us are also using these rooms to #wfh from, the amount of debris has gone through the roof. Actually, we wish it had gone through the roof, and into the attic. There, it could be stored safely and out of sight.
But we digress. Clutter can easily make a room look disorderly and smaller than it is, bringing the walls and corners in, and tripping you up at every turn. A recipe for injury and irritation, for sure. To help you better organise your clutter, you could try using the following household apps:
Decluttr App: With Decluttr, you can sell games, books, DVDs and more. The best part is that you can send all of your items free of charge. The app offers users plenty of support to help you manage your orders and make some extra cash, too.
Tody App: Tody helps you to organize your household chores; it's the perfect solution for organising your clutter, creating to-do-lists, and ensuring your home is nice and tidy.
Camscanner: This works as a scanner, but using your smart phone's camera, and enables you to digitally store all of your documents (and rogue papers, certificates, recipes…you name it) on your phone. Do note that some iPhone's 'Notes' app has a similar feature, if that's easier for you.
ADD MIRRORS
One super-easy way to achieve at least the illusion of space is to use mirrors. Be careful not to choose something too big for the room, but rather something that's in proportion to how much space you have. Grand mirrors are beautiful, and excellent for creating space, and though they're expensive, they are a worthwhile investment to add a touch of luxury. Or, something smaller, but placed cleverly to reflect natural light around the room, is also a way to maximise space.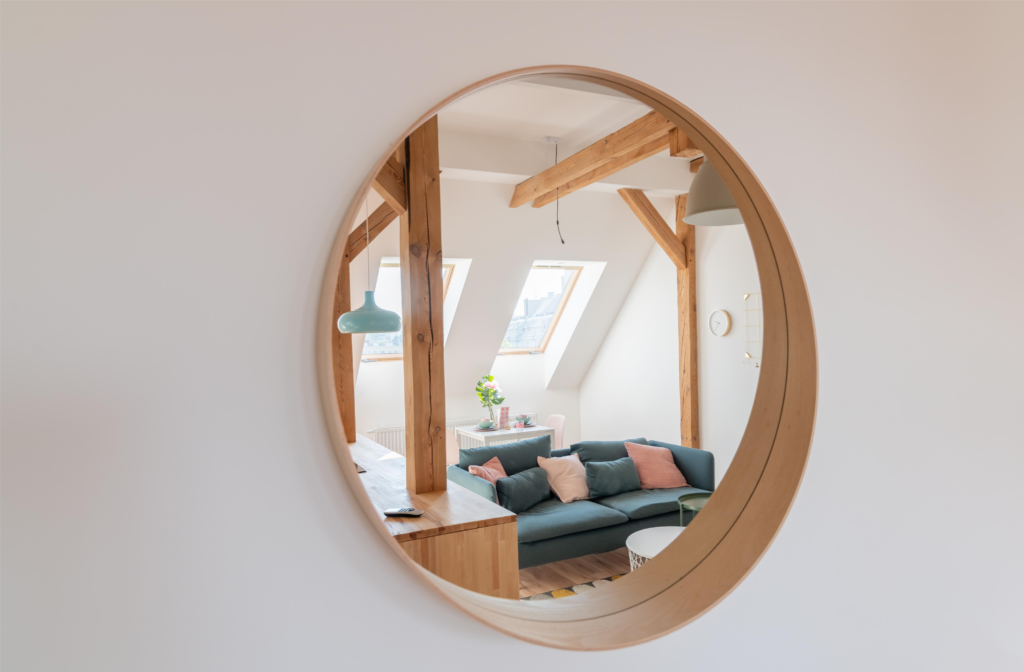 ONE LARGE ART PIECE
If you're looking to maximise space in your living room whilst keeping the room's aesthetic artistically intriguing, it is better to choose one large scale art piece as opposed to lots of smaller pictures. A cluster of smaller decorative pieces can make a room seem fussy (unless you have ample space) and overblown, and we're here to encourage the opposite, right? 
Remember to take measurements before you start shopping around. Looking for affordable artwork from local artists? The following resources are ideal for choosing artwork for your home:
Saatchi Art: Another platform for artists to sell their pieces and keen folk like you to buy them, but with an added twist. Here, you use the app's 'augmented reality' feature to picture how the artwork would look in your living room. Wow!
Vango: The Vango app allows you to browse a range of art from affordable to expensive. With the view feature, you can even preview what it will look like in your home, just like the Saatchi app.
Wydr: The Wydr app is a little bit like Tinder, but for art, swipe left or right to find the art piece of your dreams!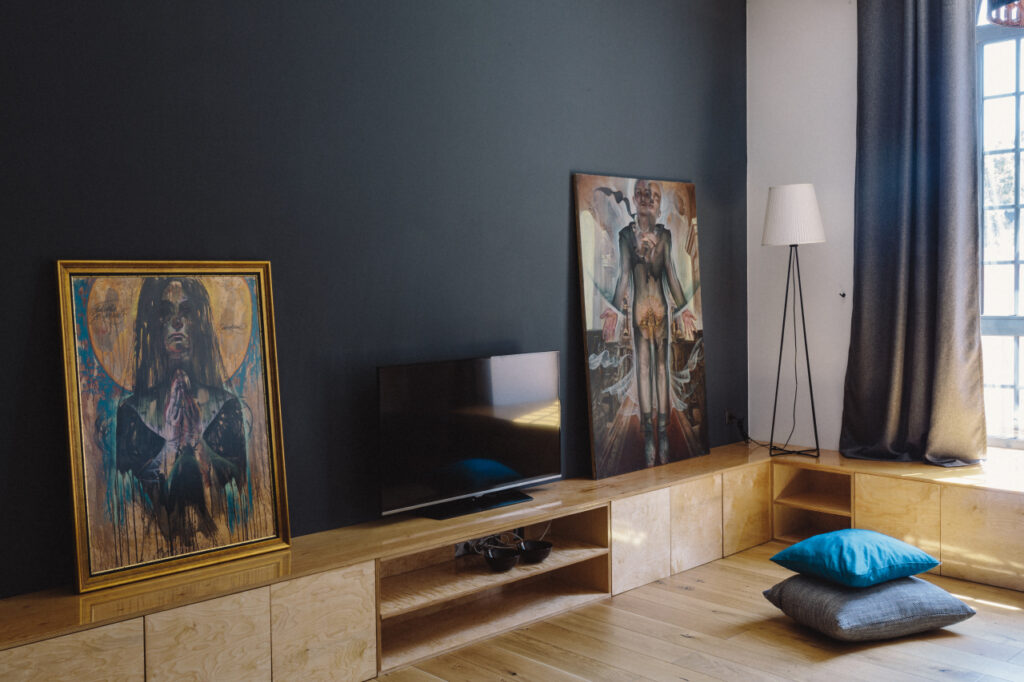 TRY LOW-SLUNG FURNITURE
To make a room feel bigger, try purchasing furniture that's slung low to the ground. Low furniture helps to create the illusion of vertical space, as eye level interruption is minimised. Futons are ideal for this, as they sit on the floor without much elevation, and are super comfy and versatile to boot. Though it's a little studenty, beanbags serve a similar purpose. Do make sure you supplement all this low slung furniture with a couple of higher standing pieces – perhaps a small but proudly standing coffee table – otherwise things are going to look, well, a bit weird.
Another savvy space saving tip is to prioritise furniture items which double up as a storage space, such as a footstool or poof with storage inside, or an ottoman which is both a bench and a chest to stash larger items. 
SMART STORAGE
Smart storage space is vital if you want to make a room appear bigger. Choose storage solutions that add a sense of elegance and style to the room, as well as being functional, to cover all bases, physically and metaphorically. For some beautiful storage, take a look at the chest of drawers on tylko.com for inspiration; a sleek, modern piece which fits upright against a wall, not taking up any more space than it needs to stand. 
Floating cabinets are also a great way to create more space. As the name suggests, these are cabinets which appear to be floating, (because of how they are mounted to the wall) and as such, are great space savers and a cheap, healthy path to some low level hallucinations. 
THE BOTTOM LINE
Just because we've all decamped to the living room for lockdown and beyond doesn't mean this space should become crowded, cluttered or claustrophobic. Instead, via some simple storage solutions, unobtrusive furniture choices, tactical placement of mirrors and with the help of technology, we can enjoy a spacious feeling space from here on in. Good luck!