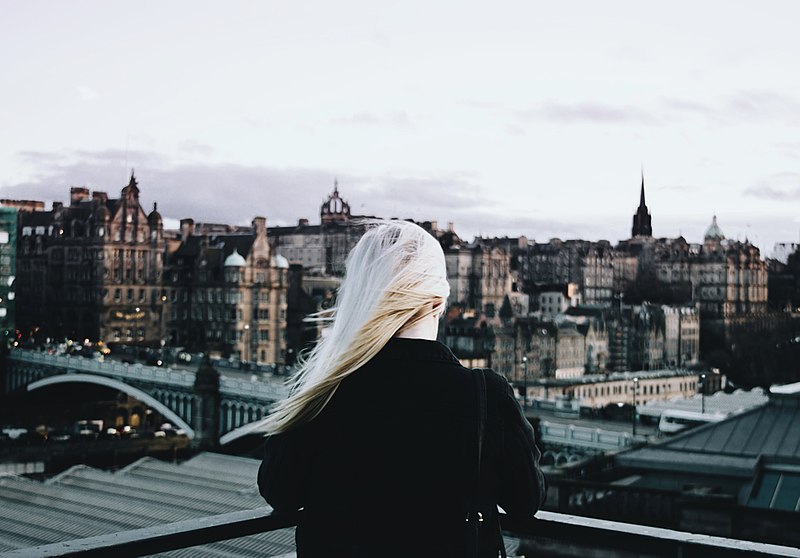 In 2018, Scotland welcomed 15.5 million visitors, with just 3.5 million of those people coming from overseas. Yep, it seems like ol' Caledonia is a hugely popular choice for Brits looking for a staycation. In fact, earlier in 2020, Air Bnb revealed the UK's favourite staycation destinations for the year, and the historic town of Duns, in the Scotland Borders, ranked at number 2. 
With foreign travel still painfully obstructive and largely irresponsible as we end the year, it looks like 2021 will see Scotland become even more popular with staycationing Brits. It's easy to see why; on terra firma, Scotland boasts some of the most forward-thinking, exciting destinations out. That's not to say you'll find the country crowded and bookings hard to secure; Scotland does private, exclusive holidays as good as anywhere in the world.
Sitting by a serene loch (lakes after a long stroll through the rugged countryside, sipping aged whisky before returning to some of the fantastic luxury accommodation the country has to offer…what could be better? If you're going to do this thing right, then read on; here are 5 tips for a luxury staycation holiday in Scotland in 2021. 
STAY IN A CASTLE OR STATELY HOME
When it comes to luxury accommodation in Scotland, you'll be spoiled for choice. The country is home to stately homes and castles galore, many of which have been converted into hotels and Air Bnb rentals. For luxury staycations in Scotland, Brits are blessed with options, whether they're after a city break or something remote and rural.
In fact, there are well over 2000 castles, most of which were built in the Medieval period and Middle Ages, and hundreds of stately homes in the country, all with stories to tell. Visit Scotland has given a fascinating rundown of some of the country's most unusual places to stay; do check it out for inspiration!
ENJOY EDINBURGH'S FINE DINING SCENE
Scotland is famous worldwide for its fantastic, abundant produce, particularly its shellfish and wild game. As such, no luxury trip to the country would be complete without a sampling of as much of its premium produce as possible!  
Edinburgh has a fantastic reputation for its fine eating scene and is proud to have four Michelin starred restaurants. The Kitchin, headed up by the irrepressible celebrity chef Tom Kitchin, has been celebrating Scottish produce with their precise 'Nature to Plate' cooking for 14 glorious years. Interestingly, only the first year was spent without a Michelin star, the famous red book acknowledging the Kitchin's exemplary cooking soon after the restaurant opened. 
There is also a fine array of restaurants that are not Michelin starred, but still absolutely glorious, providing some of the most luxurious and opulent dining experiences in the UK. Restaurants you must try include Leith Chop House, Ondine, Gardener's Cottage, Printing Press, and Field. Recent reviews for the Little Chartroom have been rave; get in there while you still can!
We must note that fine dining isn't just confined to Edinburgh. In the 2020 Michelin Guide, there were 6 Michelin starred restaurants outside of the capital, including two on remote islands, Restaurant at Isle of Erika, and Loch Bay on the Isle of Syke. To cut a long story short, you'll eat well in Scotland.
LUXURIATE IN THE CULTURE OF GLASGOW
Glasgow, an hour's drive west from Edinburgh, is full of art galleries and museums, and is one of Europe's most exciting destinations for culture. In fact, last year Glasgow was named culture capital of the UK by the European Commission. If you love to luxuriate in the arts, history and literature, then the Dear Green Place is where you should head.
It's in the city's West End where you'll find the highest concentration of cultural hotspots. First on your itinerary should be the Kelvingrove Art Gallery and Museum and its adjacent park, which you could easily fill a whole day seeing (the park is gorgeous for relaxing in). Outside of London, the Kelvingrove is the UK's most visited museum, and is free to enter, with the art gallery housing paintings from Monet and Rembrandt amongst others.
Just a half mile's walk from Kelvingrove and towards the River Clyde is the Riverside Museum of Transport and Travel. Here, at Glasgow Harbour, you'll find a striking, hyper modern building housing a collection of cars, trams and bikes and other more esoteric transport items, all made in Scotland. There's also a fantastically detailed recreation of a 1890s Glasgow city street, 'Kelvin Street', which you can wander down, putting the vintage transport options in context and giving you a glimpse into 19th century Scottish city life.
The West End also boasts the University of Glasgow, one of the world's oldest, and all open to the public. Inside you'll not only find stunning architecture, including the majestic cloisters, which will have you feeling like you're arriving at Hogwarts, but also the Hunterian Museum and Art Gallery. This is Scotland's oldest museum and it houses a hugely diverse collection, with a focus on Zoology and the animal kingdom especially. The adjoining art gallery is most famous for its Mackintosh and Whistler collections, and contains works of art from a wide variety of prestigious painters. Wow!
SCOTTISH HIGHLAND HIKING
For the thrill seekers, you may (scrap that; you definitely will) want to take a trip to the Highlands, where mountaineering, hiking, cycling, kayaking and sailing (amongst many more activities) are all on your doorstep.
The stunning scenery and wildlife on offer in Scotland are unrivalled – the world over, according to a 2017 survey by Lonely Planet, which named Scotland as 'the world's most beautiful country' – and provide the perfect backdrop to those looking for an adventurous holiday.
Having such vast, expansive scenery for hiking is the height of opulence for those who love an adventure, with Scotland often named as being the top destination for walkers in the world. How blessed we are to have the Highlands on our doorstep!
Perhaps the most famous of all is the Glenfinnan Viaduct Trail, a 3 mile walk with stunning views of Loch Shiel and the railway bridge made famous in the Harry Potter films. Or, if you're looking for something a little more challenging, then Ben Nevis, the UK's tallest mountain, is a seven hour climb with rich rewards of stunning vistas at the summit. The best time to visit is between June and September; the weather is a little, well, inclement outside of those four months.
GO ISLAND HOPPING
What, you thought the term 'island hopping' was reserved for the golden sands of the Caribbean or South East Asia? Think again. For a similar treat far closer to home, Scotland boasts around 700 islands, divided into four main groups; Orkney, Shetland, the Outer and the Inner Hebrides. Only 94 of those islands are uninhabited, with many of the others boasting luxury accommodation and fine restaurants for you to enjoy.
Rather than keep you longer, why not check out our guide to 7 Scottish island holidays IDEAL for wildlife and whiskey, because that's what you're here for, right?