It's hard to avoid Love Island right now. This smash hit TV show eats up those summer months, and fanatics stick with it each and every day – nothing or no one will see their attention drift until they see who gets dumped and which pair wins the show.  
If you want proof of their dedication, as reported by Bustle, a Playojo online casino survey noted that 36% of couples watching Love Island wouldn't even book a holiday during the duration of the series. However, it could be a different story if that trip was inspired by the show.
Enter Mallorca…
The first step is to base that romantic break on the Spanish island where the television spectacle is currently located. An ever-popular gem of the Med as well as our TVs, Mallorca combines some of the quintessential requirements for an island getaway; hidden coves, sapphire seas, stretches of sandy beach, Instagram-worthy sunsets and scented breezes are all here in abundance.  
If you can tear your eyes away from the crystal clear waters and pine-backed beaches (better than staring at the tele, hey?), you'll be rewarded with acre upon acre of vineyards, breathtaking mountains, super fresh seafood and charming historic towns to explore come sundown.
If you (or your partner) still need some convincing, then here are 5 tips to take that Love Island-inspired holiday to the next level.
Choose Your Location Wisely
You're going to Mallorca – that much has been established. As a classic Love Island base, you don't need any more reasons to visit this idyllic spot of sun, sand and sea. However, with it being the largest of the Balearic Islands, you have to decide which part you want to visit, as each area offers a very different experience.
If you're being as authentic as possible, you'll want to stay around Sant Llorenç des Cardassar – a small municipality in northeast Mallorca near where the show is set. Still, the island is home to numerous picturesque locations that would make a sublime setting for your break, so there's little risk of making the 'wrong' choice, as it were.
The capital Palma is a cosmopolitan, fashionable place to spend time. Boasting fantastic restaurants and bars, if you're keen for a city break by the sea, then this is the place for you.
If great nightlife is the deciding factor when you're choosing a holiday destination, then give Magaluf a swerve and instead head for the La Lonja district of Palma, which boasts a groovy jazz club and some great cocktail bars (check out Abaco – you won't regret it!). 
Alternatively, should you be seeking an activity-filled holiday heavy on the watersports, then Port D'Alcudia is your guy.
Book A Villa
Aside from the location, the most important element of a Love Island-inspired holiday is, of course, where you stay. Fortunately, you don't have to splash out on staying in a multi-million-pound Casa Amor.
The good news is that you can find the ideal rental that ticks all these boxes through Airbnb and similar holiday rental sites. A typical cosy yet luxurious two-person villa will more than do the job, with most in Mallorca coming complete with a pool and gorgeous views, either of the Mallorcan mountains or the sea. 
If you're planning to rent somewhere more rural, you will need a car, however; Mallorcan public transport outside of Palma isn't too reliable.
The Largest Beach In The Balearics
It's said that the beaches of Majorca are so popular that 25 tonnes of sand is taken away each year in shoes, bags, hair and other crevices. That's not to say that all of the island's beaches are packed to the rafters with peeling tourists; there are still plenty of secluded spots to discover. More than 200, in fact, with at least 60 coming with Blue Flag accreditation to boot.
Port D'Alcudia, on the island's northeast, boasts one of the island's finest, longest stretches of sand, Playa De Alcudia, and if you're staying in the town, you're not going to miss it; the place is built around its elegant curve.
Not that you'd want to miss it, either; it's the largest beach in the Balearic islands, stretching over 7km, from the Port to Playa de Muro. Though it can get busy at the port end, if you stroll a little south you'll find some spots of seclusion.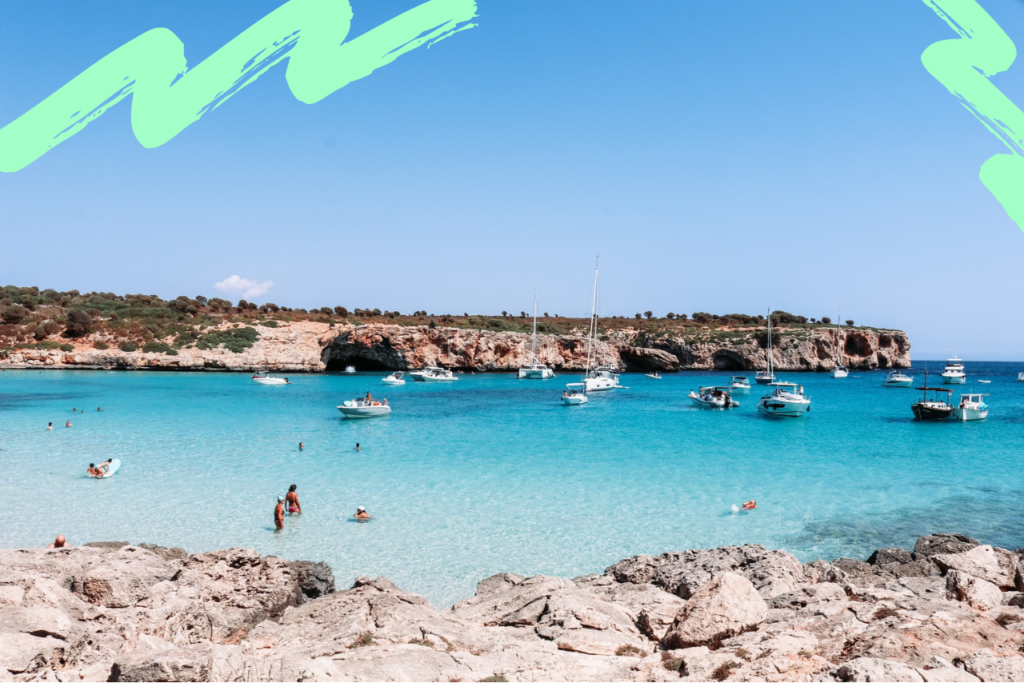 Foodie Mallorca
Mallorcan food is having something of a moment right now, with its restaurant scene lauded across the continent for its fresh yet bold flavours, and the highest quality produce.
On the street, you have to seek out sobrassada, a local speciality sausage that comes with a kick of paprika reminiscent of a kind of spreadable chorizo. Another great snack is the coca, a Mallorcan pizza, if you will, but really a flatbread (no cheese) with vegetable toppings given the treatment of wood fire. And running with the vegetable theme, which are fantastic here, we also love pa amb oli, the island's version of pan con tomate. 
If you're planning on basing your trip around food (if music be the food of love play on, and all that), then you'll want to head to the north of the island. Here, you'll find an abundance of olive groves and vineyards, as well as The Lamb Restaurant. You'll have to check out our guide to foodie North Mallorca to find out more about that incredible place.
You Can Predict The Weather
Mallorca enjoys reliable, predictably pleasant weather for the majority of the year. Perhaps that's why us Brits love it so (a better reason than the Love Island connection, perhaps!) with our own climate being so inclement and inconsistent. 
Indeed, from March to mid November (that's nearly half the damn year), it's T-shirt weather, with temperatures rarely dropping below 20°C, with an average of 300 days or more are around 21°C or higher. That, combined with the consistently humid climate, means that sea swimming is do-able (and enjoyable) throughout the year. And what could be more romantic than that? Bliss.