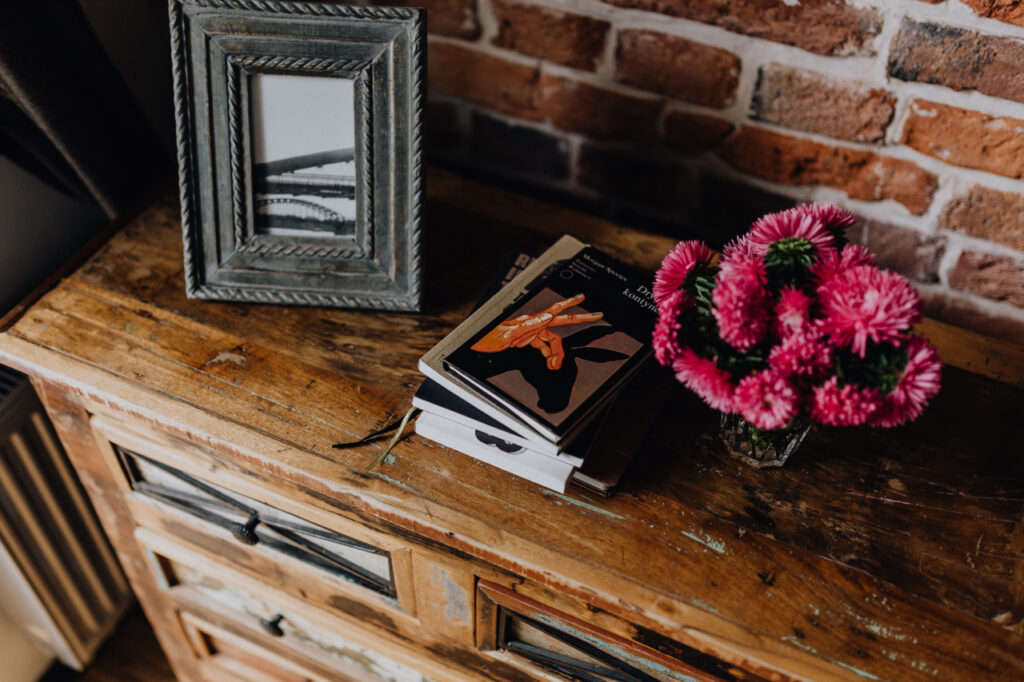 Whilst it's true that wooden furniture certainly looks (and sounds) the part, it brings so much more to the home than simply aesthetics. Not only do such pieces offer warmth, cosiness, and an innate elegance — they also bring durability, integrity, and a quality that can't be matched by other materials. Wooden furniture is also the most sustainable type of furniture you can buy…is there anything it can't do?
In order to maximize the potential of your wooden furniture, you must first know what to look for when purchasing it. There are certain qualities to look out for and things to avoid which today, we're going to discuss. We'll also walk you through (with a satisfying click-clack soundtracking our every step) the types of wooden furniture available on the market, so you're well informed and ready to shop. With that in mind, here are 5 tips for choosing the best wooden furniture for your home.
WOOD SPECIES
When it comes to picking wooden furniture for your home, your first consideration will likely be the wood species. Generally speaking, hardwoods like oak and walnut are the best type of wood material for furniture, since they're especially long-lasting and more resistant to scratches than other, softer types of wood. 
Lighter wood species can lighten up a space whereas, on the other end of the spectrum, dark wooden furniture can create a more intimate feel to a room and, as a backdrop, can be used to show off certain other aspects of your decor.
Warm and honey-toned furniture represents a less dramatic choice than both pale and dark furniture and is perhaps easier to fit into a room seamlessly. Some wood species also have distinct, prominent grain patterns – these can appear straight or swirly, and come in a number of other patterns, too; deploy them wisely if you want a harmonious, homogeneous aesthetic. 
Some of the most common types of wooden flooring include:
Oak – Oak trees have a slow growth rate, making their wood extremely dense. For this reason, oak makes high quality, durable, and long-lasting furniture. It is also resistant to scratches and stains, as long as it is properly finished.
What's more, it also comes in hues spanning from a pinkish-red to a beautiful light brown, so with oak, you have a wide variety of colours to choose from.
The experts at Only Oak Furniture tell us that oak furniture is a particularly popular choice with the buying public because it's known for its character and has a very traditional, timeless look which works with many decor styles, from classic to modern. We couldn't agree more.
Mahogany – Like oak, mahogany is another durable type of wood that can last for generations. However, due to its immense durability and fine grain, mahogany can be rather expensive. You get what you pay for, though; mahogany furniture is a fine investment, and can even be sold off in auctions years after your purchase.
Do be aware that some stores harvest mahogany unethically or even stain wood to make it look like mahogany. Check out these useful tips on how to identify real mahogany for more.
Pine – Looking for something that's a bit cheaper but still durable? Then wooden furniture made of pine might be for you! Pine is incredibly lightweight, and perfect for families who might cause a fair amount of wear and tear over the years. Pine also has a rustic quality to it, making this type of furniture a particularly good fit for farmhouses – think long, rectangular and wooden tables, with enough room to accommodate seating a large family. Lastly, it also maintains its shape for the long term, as it can resist any type of swelling or shrinking.
Walnut – Walnuts aren't just for the munchies; their wood can also be used for furniture that lasts for years! For wooden ornate furniture, walnut wood is your best bet as it carves extremely well. Also, like mahogany, walnut furniture is something you can invest in as it holds its shape (and therefore, its value) for years and requires high levels of craftsmanship.
DOES IT HAVE A GOOD FINISH?
A question that's especially important if you're picking up antique or second-hand wooden furniture; does it have a good finish? A beautiful finish on wood furniture requires three steps, and when even one of these steps isn't done properly, the quality of your furniture might be affected.
The first step is sanding. When selecting furniture, you must feel its surface to detect any element of roughness. You must also inspect if the stain looks cloudy or blotchy — if it does, the wood hasn't been sanded properly.
The second step for a good finish is the stain that's been applied. Assess if the stain has been evenly applied — one side of the furniture must not look disproportionally darker than the other. Wood furniture can be stained to change the colour of the original wood, often taking on a darker look. That's fine and normal, but you should still assess if the application has been even and consistent.
Lastly, you should inspect the overall finish. Do you see any bubbles, rough spots, or worse, finger marks? If you see none, then you can rest easy. Your furniture has a quality finish!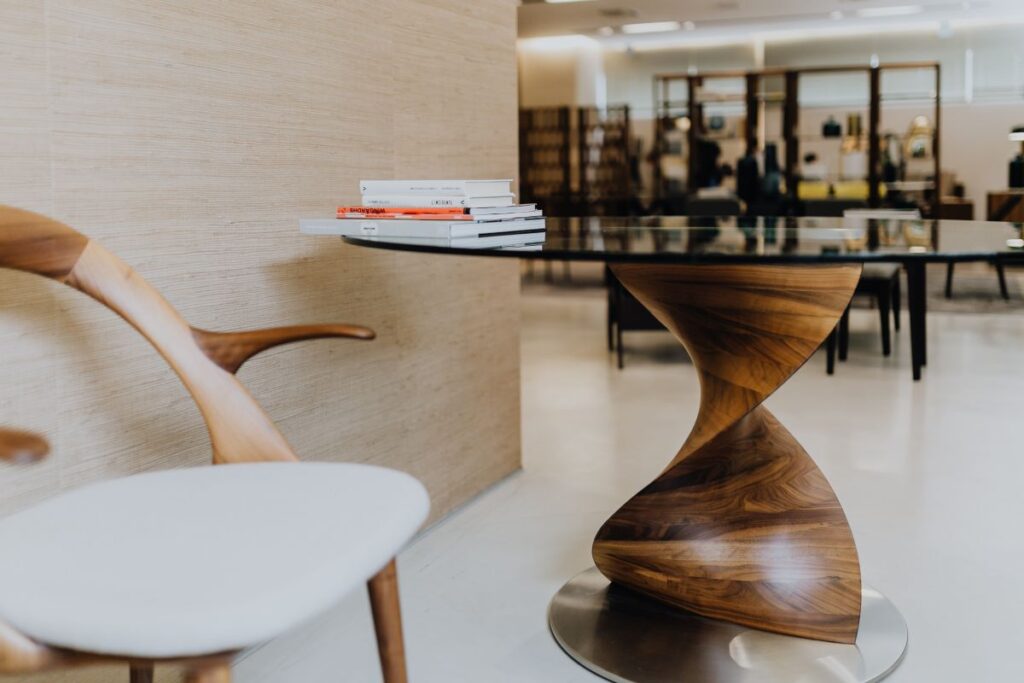 OVERALL CONSTRUCTION
The most important aspect of all, you should check if the craftsmanship or overall construction of your wooden furniture is of the utmost quality.
Is your furniture only held together by staples and wood glue? That should be a massive warning sign, right there. If yes, then know that corners have been cut. And what's more, staples rust easily. When looking for quality craftsmanship, ensure that all joints of the furniture are linked in such a way that is long-lasting and durable.
Assessing the furniture's sturdiness is also a great way to know if it is properly constructed, as sturdiness is one of the key indicators that your furniture will last longer. Tips made of rubber and/or vinyl must be fitted on the ends of the furniture's legs to protect both itself and the floor, and the furniture must not show any signs of creaking or wobbling.
Finally, give the furniture a little tap with your knuckles; the sound should be rich and resonant, and not at all hollow.
MIXING WOOD FURNITURE & FLOORING
If your home has wooden floors, then you need to carefully consider the type and colour of the wooden furniture that you're choosing. Many people are hesitant when it comes to combining different woods in a single space, however, we think it's the way forward. That sense of contrast and juxtaposition can work beautifully when done right.
That said, you should avoid matching the disparate woods too closely. Deploying several wooden pieces and pairing them with wooden flooring, all in the same room, can result in wooden sensory overload a jarring aesthetic. 
When it comes mixing wood tones, the design experts at MyDomain advise that "The goal in design when mixing anything from colors to styles is to create continuity — a design conversation or story, if you will. By paying attention to details such as undertones, finish, and wood grain, it becomes easier to mix and match confidently.''
Wise words, indeed.
THE BOTTOM LINE
Wooden furniture is undeniably beautiful, evocative of strength and nature, and carrying an innate warmth and elegance. Its appeal for aesthetics definitely matches its durability and longevity, which makes the use of wood in furniture a household staple. 
However, before purchasing wooden furniture, there are things you must keep an eye on — indicators of quality which we've detailed above. By being scrupulous in your purchase, not only will your furniture be appealing to the eye, but will also last for generations to come, too.