First things first and straight off the bat; the science is unequivocal that wearing a mask helps prevent the spread of infection and could well save lives. That one's not up for debate here.
While the stark warning that 'if you don't like wearing a mask, you won't like wearing a ventilator' certainly carries some weight, a more gentle approach is required elsewhere.
Of course, there are folk who are exempt from wearing masks, but for others, doing so can sometimes just feel a little uncomfortable; an annoyance to be tolerated, for sure. 
For some, including those over the age of 12 who are advised by the WHO to wear masks, as well as adults who just aren't so keen on doing so, there are things you can do to make the whole thing a little more pleasant and a lot less burdensome. With that in mind, here are 5 ways to make wearing your facemask more fun.
MATCH YOUR MASK TO YOUR OUTFIT
Medical effectiveness aside, we're not quite sure which feels worse aesthetically; the ubiquitous, reusable, disposable light blue facemasks you see everywhere, or those pink ones which look a little like half a bra and have seen a surge on the high street of late. 
Should you be keen to add a little glamour to your facemask wearing, then why not match your mask to your outfit? You could even wear a statement piece over the usual medical, disposable covering to be more hygienic, if you're not keen to keep rewashing your matching masks. 
With facemasks removing a certain amount of allure from your appearance, wearing one in synergy with your style is a great way to inject some swagger back into your outfit. A leopard skin mask paired with a dress in the same pattern? Who could resist?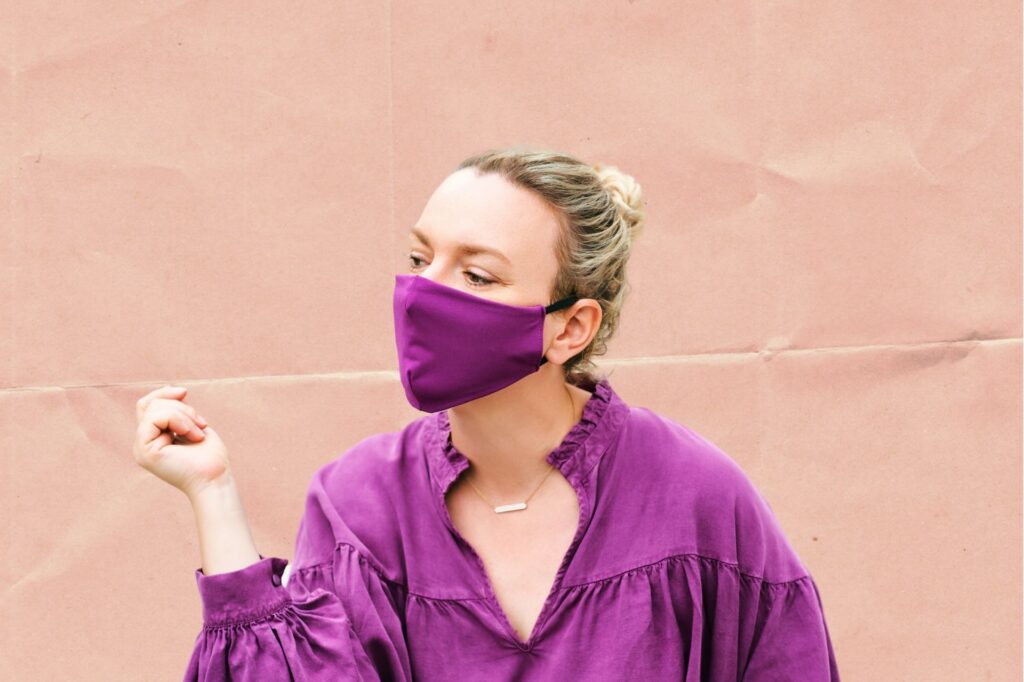 CITY PRIDE
We love the idea of showing pride in your city via your face mask, much in the same way you might wear a football kit, an 'I Love NY' T-shirt, or a hoodie embellished with the university you attended.
Yep, that civic pride so many of us feel has found a new home in facemasks, with many wearers now proudly displaying emblems and icons associated with a chosen city on their mask for the world to see. Some of the best we've seen recently include the rainbow flag for Gay Pride and Brighton, bee face masks for Manchester, and a castle reppin' Edinburgh. Show your sense of community by following suit!
THEIRS'N'THEIRS
Some people find the idea of his'n'hers (his'n'his, hers'n'hers, theirs'n'theirs…) outfits nauseating. But then again, many enjoy the playful frivolity of a couple wearing matching outfits. Whilst once upon a time we scoffed at such silliness, we now fall firmly into the latter camp, largely due to the internet sensation Bon and Pon. These Japanese retirees have worn different coordinated outfits every day for years, and are an inspiration to so many with their quirky sense of cool.
We think that channelling this energy via our facemasks during this challenging time could provide a little light relief. And if nothing else, it might make finding your partner easier in a crowded supermarket.
JOKER FACE
Speaking of light relief, facemasks with an element of practical joke, surprise or silliness are cropping up everywhere, and we're very much here for it. Of the hilarious funny face mask memes doing the rounds recently, we've particularly enjoyed masks depicting full beards (with added hilarity when worn by kids or women) and manic, gurning grins. Perhaps the best of all though, would be a FCUK Boris design. French Connection, are you listening?
MAKE A GAME OF IT
We've been spending more time than ever in queues lately, scrutinising masked faces and searching for something to talk about with our loves ones (we have been seeing an awful lot of them, recently, and have well and truly run out of conversation!). 
So, why not make a game of it; a kind of 'I Spy' for facemasks, if you will. Or, with the little ones, you could practice counting, organising, or colour coding while checking out everyone's masks. 
And with that, it looks like we've run out of ideas…we hope we've given you some inspiration to take pleasure in your facemask in the future!