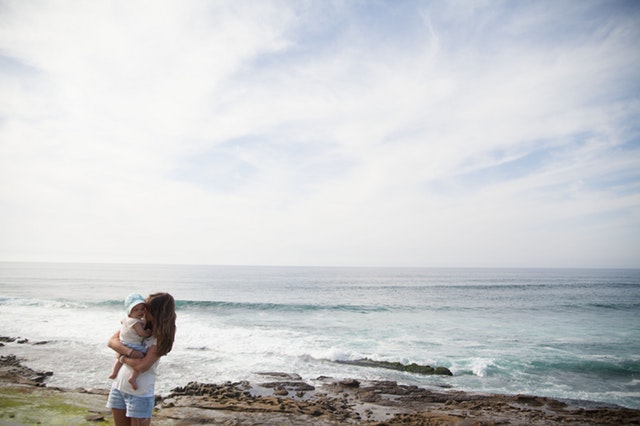 Staycations have become so commonplace in the country's vernacular that the portmanteau needs no further defining. That said, it's a strange, inverse world, that of the British holidaymaker. While most Londoners may have visited far flung corners of the globe with reckless abandon, you'll find many who have never ventured beyond Oxford's M40, who view Watford as a symbolic gateway to the North and who constantly harp on about a flight to Europe being cheaper than a train to Edinburgh. It's time to tap the great, unexplored resource of the Great British countryside, especially if you have kids, as it has so much to offer them. With that in mind, we've teamed up with Baby Friendly Boltholes who is the go-to site for stylish and child-friendly holidays, to present our 6 IDEAL staycations for families for pre-school children.
THE ISLE OF PURBECK, DORSET
The Isle of Purbeck, on England's south coast, is full of fun activities for all the family. Studland bay offers beautiful, white-sanded beaches with water suitably shallow for the little ones to have a good toddle, giving parents peace of mind whilst they paddle. Swanage town has a lovely little beachfront where you'll find crabbing and sandcastle building a plenty, with punters enjoying fish'n'chips on the beach, rain or shine, in true British style. Away from the sand and shore, Corfe Castle is a fascinating site for adults and children alike, with both historical intrigue and the opportunity for some fancy dress fuelled reenactments. It's accessible via a working steam train, which the little ones love, and tickets for the aforementioned ride come with a visit to Corfe's model village included. All in all, the options are endless for good family fun in this part of England.
THE LLYN PENINSULA, NORTH WALES
The LLyn Peninsula in Northern Wales has one of our favourite pubs in the world, Ty Coch Inn. But fear not, this one is for the kids too. The pub 'garden' is actually a small stretch of beach – you can sup your pint while you watch the children build sandcastles – could there be anything better? Port Madog railway is another kid crowd-pleaser and Snowdonia needn't involve relentless climbing; family picnics at the foot of the mountain are a great way to luxuriate in the scenery without the heavy hiking.
THE NEW FOREST, HAMPSHIRE
The New Forest in Hampshire is a wonderful place for walks, wildlife watching and more. Moors valley, in the heart of the forest, is an adventure playground with a difference. It snakes and slaloms through the tall trees, seemingly adapting its shape to the nature around it. The structures are built from wood, camouflaging themselves against the dense forest, which adds a real sense of magic to the play. The area is full of wildlife too, with ponies and deer spotting a particular treat. For the adults, there's some cracking country pubs, many serving grub elevated by seasonality and local ingredients to something much more than the usual staples.
LOCH LOMOND, SCOTLAND
Kids and castles; it's a marriage made in heaven isn't it? Balloch Castle country park is a brilliant day out for the babies, with plenty of room to run about and a castle maintained respectively by the National Trust.  Loch Lomond also has an aquarium complete with ocean tunnel; a fascinating, immersive experience of sharks and turtles swimming overhead and all around.
SOUTH SANDS, DEVON
Two words which will have your kids sold on South Sands – ice cream. Salcombe has an ice cream factory, Salcombe Dairy Ice Cream Factory, which takes visitors and offers free samples. From there, it's only a short walk to the picturesque North Sands Beach, with calm, shallow water perfect for paddling.
LONDON
Although the countryside is often the go-to for a staycation with pre-schoolers, the capital offers so much to do that it should never be overlooked. There are just too many options to list here, but there's sure to be something to suit your toddler's tastes. Attend events and places of interest during the week when it's far less busy, making the most of the years before your little one is at school and you have all the freedom in the world.