The New-Nordic revolution is now anything but. A world order whose influence stretches far beyond its continent, you'll recognise its sensibilities on every high street, in every restaurant, on every off-grey plate. Through all the mimicry – the motifs growing out of plates, the foraged everything, the austere aesthetic – a seasonal, hyperlocal seafood's reverence remains the prevailing pillar of this food movement. In Copenhagen's ultra-trendy Meatpacking district, you'll find Kødbyens Fiskebar, serving some of the freshest, and finest, around.
IDEA
Opened in 2009, Kødbyens Fiskebar was intended as a dining experience not found elsewhere, in a city viewed by so many as a culinary mecca. The emphasis was to be on celebrating, putting on a pedestal even, the best seafood from local waters, to be enjoyed at the convenience and leisure of the customer.  This mission statement, of unique proposition and an ever changing roll-call of different punters and personalities, has been met emphatically. Kødbyens Fiskebar is a must-go-to in a city spoilt for choice.
LOCATION
The restaurant is housed in the former meat-packing district of Copenhagen, in a square with a number of other hip establishments (we'd recommend following your meal with a pint of pokey craft ale in nearby WarPigs).There is outside seating – the area is super sociable during sunnier weekends- with a couple of fire pits leading to things getting atmospheric after dark.
ATMOSPHERE
Diners here should be equally as comfortable dropping in for a glass of wine and a snack as they are having a multi-course blowout. We love a place with this ethos, it encourages repeat custom – we are very much testament to that. This is conceived with a variety of different seating options – bar, sofa, and more formal table settings all available – as well as a range of course options, size-wise. All of this leads to a buzzy, lively atmosphere with pockets of the restaurant occupied with different walks of life. Service is accordant, and it's clear everyone feels very much at ease.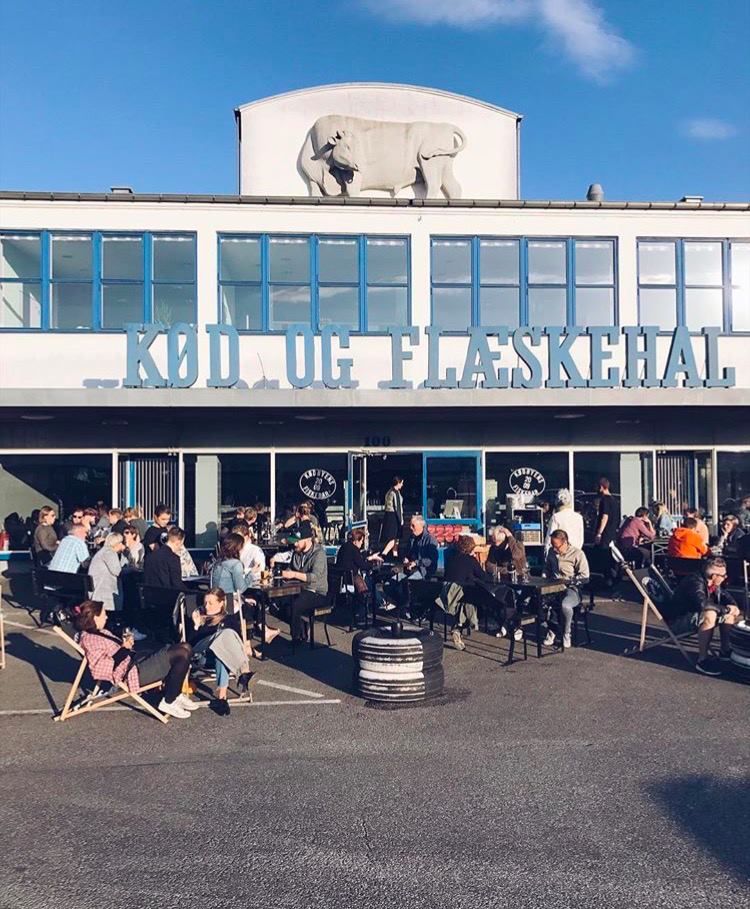 FOOD
In a city whose culinary sea is awash with fantastic, on-point fish cooking, the sourcing and lightness of touch in preparation has to be perfect here for it to succeed. It is, it does, and then some.
Next to each item on the menu, the sea in which it was caught is listed. There are fish tanks. The squeaky freshness is apparent for all to see before your first bite. The menu depends on the catch and changes with frequency. Indeed, during our two trips, the options on offer were different, only days apart. All of this bodes very well indeed for lovers of seafood.
We particularly enjoyed a generous bowl of Limfjorden mussels, pepped up with not much else but cider and herbs – just as it should be and absolutely delicious for it. From the raw bar, mackerel from the Oresund strait glistened and bounced between the teeth in a way only the freshest does. This type of fish goes south very quickly, losing its vibrancy only after a day or so. Serving it raw then, showed a confidence in the product which reassures and titillates in equal measure.
The menu also saves room for a couple of 'bigger' courses, if you have, too. From here we enjoyed the hake, seared to a brown crust in butter, with carrot exploited and manipulated imaginatively to its best. The hake here tasted superb, a real joy.
DRINK
The bar in the name is represented almost as well as the fish, with a sterling, eminently affordable wine list. There is a commendable page devoted to by-the-glass, proving that walk-ins who enjoy just a glass and a dish are very welcome. French and Italian wines rub shoulders with a strong showing from Germany as well as Danish varieties. Naturally, white takes centre stage, with wait staff are primed with the knowledge to guide you to the best pairing with your food.
MUST TRY
Conversely, after all this lauding of the fish, which is undoubtedly the main event, and a damn worthy headliner at that, the desserts were the dishes which had us lingering for too long. A tricky balancing act of fennel and dark chocolate was divine, with the ubiquitous sea buckthorn coming into its own. Rhubarb from Denmark, with, we presume foraged, woodruff, was also sublime. We were moved to let our waiter know that the obvious, noisy ecstasy we were in was due to the desserts, in case he suspected foul play. He informed us the pastry chef was new at the time of our visit. We hope his career is a long and fruitful one here.
WHY GO
Kødbyens Fiskebar is the real deal. Housed in the grooviest part of Copenhagen, sprawling and spacious but welcoming and intimate all at once, it is here that you'll find some of the most carefully sourced and respectfully cooked seafood in the city. The convivial welcome extends across the length of the meal, meaning one could easily let an early afternoon lunch slip into an evening here.  That's even before you miss your flight due to the desserts. An absolute must-visit.
Website: fiskebaren.dk
Address: Flæsketorvet 100, 1711 København V, Denmark