You know what they say, your next holiday will only be as good as the bag on your back. Or something like that. But it's an invented saying that actually rings rather true, and reaches certainty when discussing longer trips and travelling. Because without comfort, space and security, a jaunt across the globe with all your worldly possessions straining at your shoulders can become a very tiresome burden indeed. And no one wants to view their next adventure like that, right? However, we're not talking about those massive travel backpacks, rather the one that you'll be using as a carry-on-bag and taking on those exciting day trips. With this in mind, here are 6 IDEAL tips for choosing a backpack for travel.
IS IT WATERPROOF?
Let's cut to the nitty gritty off the bat; if you're doing travelling in the spontaneous, carefree style, there are times when you're going to get soaked through. Tropically, biblically wet. And that's fine; it means you're somewhere far flung, unpredictable, and on foot, seeing the sights and doing it right. But there's no bigger buzzkill to the spontaneity than possessions ruined by the inclement weather. So, first things first, your priority, above size, shape, colour themes and natty appearance, should be whether or not your bag is waterproof. Be aware that waterproof and repellant aren't the same thing and don't equate to the same level of protection.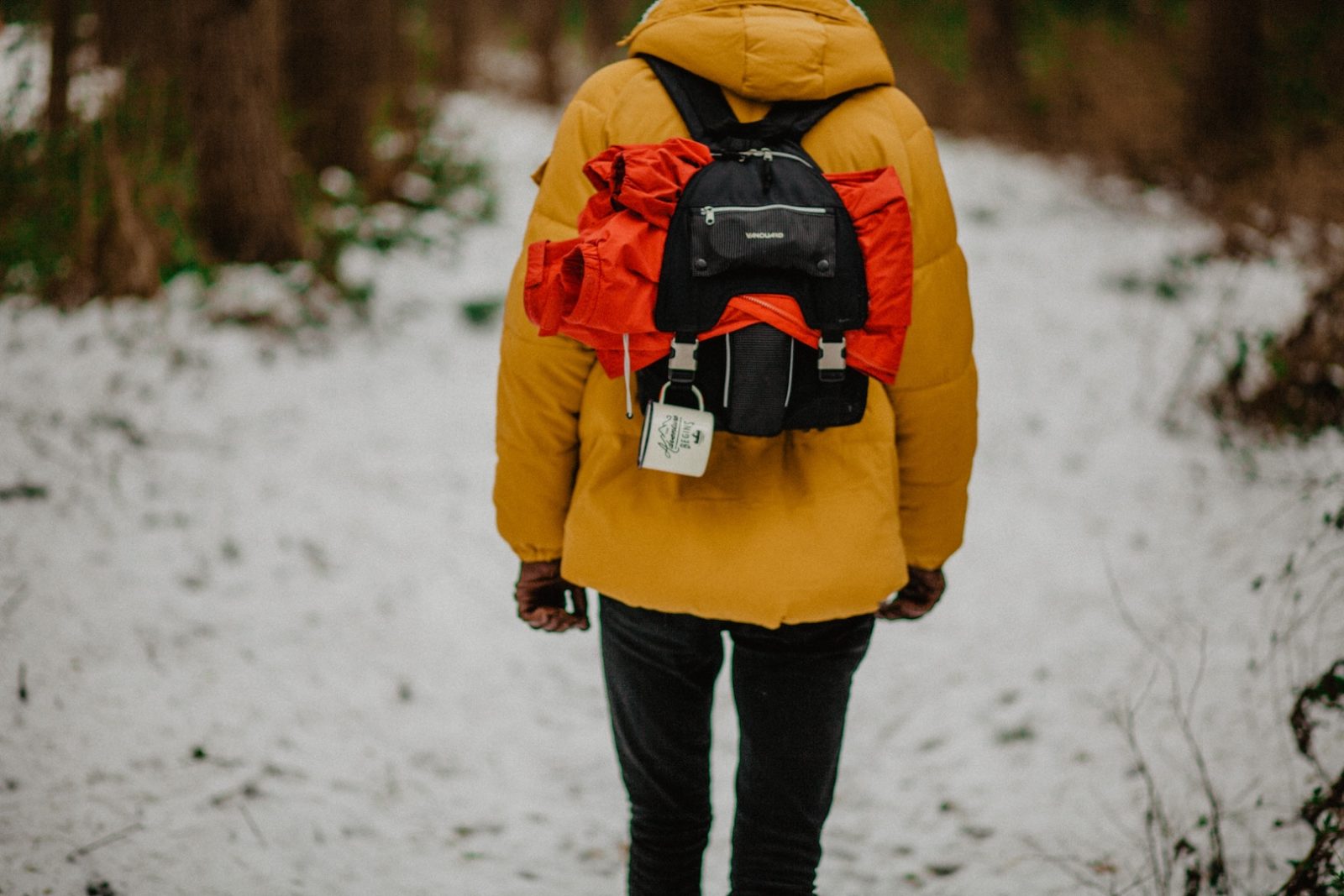 FEEL THE BURDEN
When testing a bag out for comfort on the shop floor, an unfair impression is likely; it'll be empty and the full capabilities of the straps won't be shown. You're going to be spending a lot of time with this bag, through thick, thin and all in between, so you need to make sure it's properly comfy and secure on your back. It's a fair investment too, and as such should be tried out in person, in a shop.
Ask the assistants to fill it up with whatever debris or surplus items they can find so you can assess the full weight of it before buying. To make it as comfortable and secure as possible, always remember to wear it on both shoulders (none of that single slung, looking effortless stuff please) and wear it high up the back; straps should be adjustable on anything half decent. Also, if your bag comes with a chest or waist strap – or even better, both – then that'll ease the burden on your shoulders considerably.
RECOGNISABLE, LOW KEY
A matter of personal preference, this, but also one which needs a little thought prior to purchase; how unique your bag looks, well, it matters. You're going to want your backpack to stand out from the crowd, to an extent, as owning one which shares a similar appearance to all its companions in the hold or trunk makes life pretty difficult when they're all coming off the carousel at quick speed. You don't want to end up wearing Zainy Jim's sombrero and elephant harem pants for the rest of your trip because of a simple case of misidentification.
On the flipside, you probably don't want to stand out too much; those backpackers standing on a street corner, peering into Google Maps and teetering under the weight of their bag are ripe for a scam or two. Keep it low-key, but recognisable, perhaps with a backpack accessory like a tag or patch sewed on for good measure.
COMPARTMENTALISE
One important consideration is what you'll be carrying around in your backpack. Think about what items will serve you on a daily basis and what things you want to have handy and within easy reach. We all know what it's like; digging deep for a charger, losing stuff and finding it again at the bottom of your bag. As such, essential when travelling is a backpack with the ability to compartmentalise, and perhaps the prudent purchase of an organiser – essentially an efficient way to compartmentalise your bag – will save you time packing, unpacking and searching for fundamentals.
STYLE & STATEMENT 
While keeping your purchase low key and practical is important, don't compromise on your personal style. While it must do the job, choose a backpack like you would any other accessory and make sure that it works with your wardrobe. Minimal branding and detailing will guarantee longevity and neutral shades are always a sound choice. However if you normally wear monochrome outfits, consider a bag that will give your look a pop of colour. When it comes to choosing a backpack, keeping in mind your personal style will ensure you enjoy the shopping process as much as the purchase itself. 
A FEW TO CONSIDER….
Simpler, Smaller, and Straightforward
Fjallraven Kanken Classic: This 16L bag is small enough, and it has adjustable straps, so it can be carried as either a backpack or a handbag. Available in plenty of both solid and brilliant colour options.
Eastpak Padded Pak'r: With 24L volume, this one is a bit bigger but still simple enough. It has a single main compartment and a large front pocket. It's more mature in style and colour varieties.
Jansport Superbreak: A 25L backpack with one main compartment, and a front utility pocket with a basic organizer. Coming in 30 different colours and prints, it's perfect for every style of self-expression.
Bigger and More Detailed
Jansport Right Pack: A 31L bag with one large main compartment, an internal 15-inch laptop sleeve, front stash pocket, and front utility pocket with a basic organizer. The bottom is suede for extra durability.
Jansport Big Student: This 34L backpack is for when you need a lot of space for books and binders. It has two large main compartments, lots of pockets, lots of space, and a front utility pocket with an organizer.
The North Face Borealis: A 28L bag which has a large main compartment with a 15 inch padded laptop sleeve, another compartment with a proper organizer that's made with attention to detail and quality pockets, and much better shoulder straps and back padding than the previous options. The price is higher for those reasons though.