Now is the time for the humble bath to make a comeback. In these uncertain times, having a soothing soak can give you a chance to shut out the outside world, reduce anxiety and relieve aching muscles. Yep, bath time has never been so important.
So, with the help of Lorna Veale, founder of No Secrets, who created a range of clean bathing and body products, after years of struggling with health issues linked with toxic cosmetics, cleaning products and environmental nasties, here are 6 IDEAL ways to have the best bath ever at home.
GIVE YOUR BATH A RINSE
The first thing to do when having a bath is to make sure it is 'clean' from any toxic cleaning products that you may have previously used. Because slipping into a dirty tub kind of defeats the point right?
Most regular cleaning products have warnings on the side, displaying words like 'toxic' or 'corrosive'. Not the most relaxing linguistic flourish you might think, but it's one required by law. And you don't want to sit in a bath with chemicals swimming around, giving your skin the opportunity to absorb them. So the first thing to do is rinse your bath with hot water to make sure there is no residue of these products left, giving you peace of mind and a clean, unadulterated soak.
TEMPERATURE & BREATHING
The idea of a long, languid soak for hours seems wonderful on paper, but in practice, around 20 minutes is usually ample. Give yourself a little time to relax and gather yourself afterwards to really appreciate the full healing powers of bath time.
Let's get technical because, well, why not? Your water should be between 32 and 38°C, and the room should be 25-30°C ideally. To help you float away (metaphorically speaking, of course) try breathing in through the nose for five seconds and out through the mouth for five seconds, increasing to ten seconds for each, and continuing for two minutes whilst in the tub; a type of mid-water meditation, if you will. Finally, do make sure you complete your ritual slowly; we all know that particular, disconcerting dizziness from getting out of the bath too fast, so just take your time.
SOAK BY CANDLELIGHT
Most scented candles on the market – from the least to the most expensive – contain petroleum based paraffin wax, a by-product of the crude oil industry; folk you don't want to support and fumes you don't want to breathe in, either. Instead, choose an all natural soy wax candle which are infused with essential oils to illuminate your bath time with soft, sensual flickers.
The candle experts at Devon Wick, who specialise in soy wax, warn us that when soot from paraffin is released into the atmosphere, you're in danger of breathing in "toluene, benzene, methyl ethyl ketone, naphthalene – and many, many more toxic chemicals."
Now that doesn't sound like the relaxing bath we were hoping for. Instead, choose soy wax.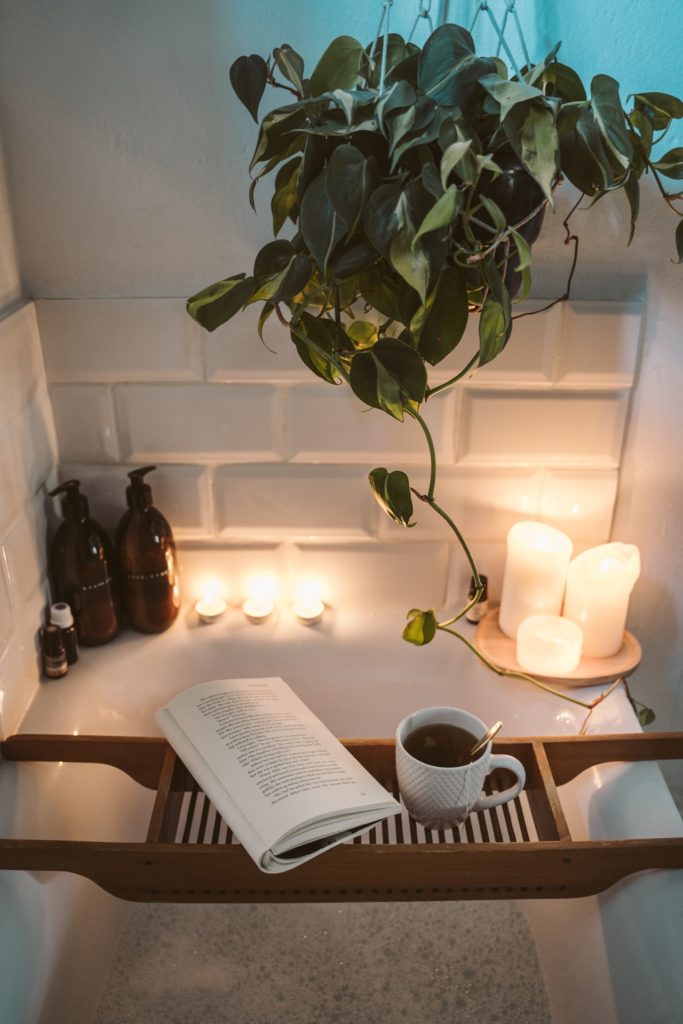 READ YOUR TROUBLES AWAY
Taking a book or magazine into the bathroom with you is also a great way to relax and take yourself into a different world for a while. And right now, we all need a little escapism don't you think? While we can't travel at the moment, books can transport us somewhere new, special and free from worry. Getting stuck into one in the most relaxing place around is a proper flight of fancy and fantasy, we think.
AVOID BATH BOMBS
We're going to put this one out there, realising it might ruffle a few feathers; we only like fizzing bubbles in our champagne glasses. Nothing should fizz in the bath, we think.
Those bath bombs – beloved of so many – are primarily made up of bicarb of soda and citric acid, both of which are totally skin stripping and are actually more appropriate as a natural cleaning alternative than a skin treatment. Keep it natural and you'll feel way better when you get out.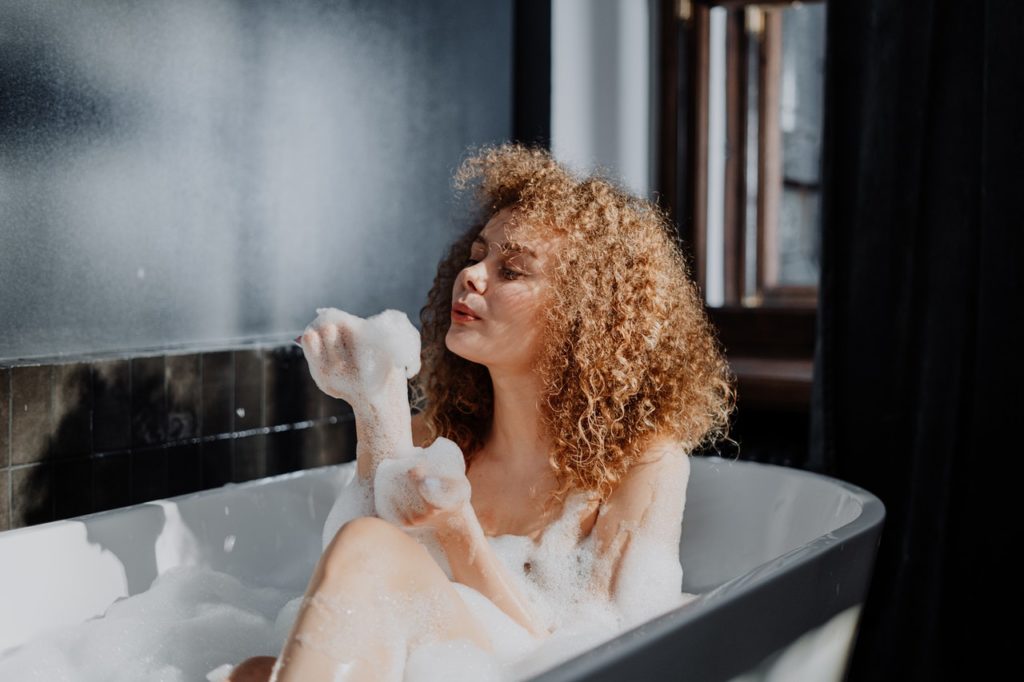 THINK OILS AND SALTS
If you are to perfume your bath, then bath oil has the ability to be a really 'clean', non-toxic product in any natural beauty range. This is because it is simply oil – or a blend of oils – with perhaps some fragrance added. No chemicals, then, and we're all here for that.
Seek out bath salts that contain magnesium sulphate, which is a mineral absolutely essential to the body and without it, muscles physically cannot relax. As chemicals – good and bad – are absorbed through the skin, bathing in water that contains magnesium sulphate means that you are partly replenishing this essential mineral just by sitting there, enjoying your soak.
And with that, we can hear our neighbours screaming in the flat below, because we've left ours running for far too long. Enjoy!