With the average wedding costing a surprising £27,000 based on a survey of 4,000 UK brides, which was reported in the Independent newspaper, getting hitched is anything but cheap. Indeed, prices rose from the year before by almost 10 percent, despite far lower inflation, so weddings are increasing in price.
As a result of increasing costs, it's up to couples to hustle in search of frugal wedding hacks that they can use to reduce the bill when compared to the average wedding price tag. To get you started, here are 6 IDEAL ways to save money on your wedding day and potentially allow for that earlier wedding date you've been wishing for because the total cost has been lowered.
BOOZE BILLED PER HEAD, NOT PER DRINK
You'll be surprised how much alcohol and soft drinks that guests put away at a wedding. Many people indulge in a way that they just don't do when they're paying for the drinks themselves. Bearing this in mind, when negotiating how the drinks budget will be allocated, ensure you make a contract that stipulates how much is to be paid per head.
Being billed by the head avoids getting a nasty headache when the drinks bill arrives after the honeymoon. You have a fixed price, you know the number of guests who are coming, and it's clear what the invoice will be.
Also, see if you can get a discounted price for children under a certain age because they'll only be consuming water or soft drinks, which aren't as expensive. Not every caterer will agree to this stipulation, but it's a negotiating point to use (or give away) to get the per head agreement. Negotiate between multiple caterers to obtain the best per head prices.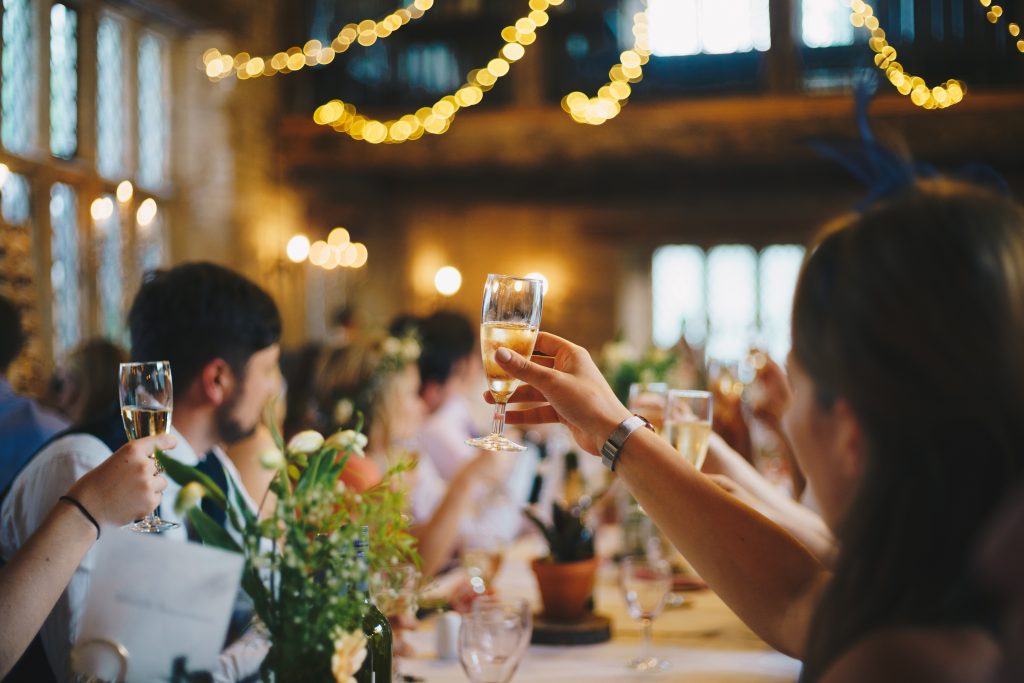 GET THE VIDEOGRAPHER & PHOTOGRAPHER AWAY EARLY
The length of the booking matters to a videographer and photographer. Depending on when and where the nuptials are being held, they might be able to squeeze in two events that top and tail the day. Alternatively, it frees up their time to get back to the office to preview the snaps they've taken or take a look at the video footage to begin planning how they'll edit it up. When their day is shorter, it's easier to negotiate a cheaper deal because they're effectively working a half day. With professionals who don't see the benefit of this request, find their replacement.
The key when completing the critical events like the wedding ceremony, photos with the happy couple and in-laws, and the cutting of the cake is scheduling them early enough to avoid delays. While you might think that you'll want photos of everyone partying the night away, the reality is that they'll be plenty of selfies taken. Best to get the official wedding photos taken earlier when everyone is bright eyed and bushy tailed.
CUSTOM WEDDING FRAMED PHOTOS
While most happy couples aim to have multiple photosets put together for their wedding album, little thought goes to how they will display the best photo in their home. With a wedding album, it's unlikely that you'll look at it as often as you think. Putting wedding photos in an online cloud service to view at any time you like – they can be password-protected to avoid the album become public – is more accessible than an album.
The frame used for the best wedding photo that will have pride of place in your home is important. It says much about the meaning of the moment captured in the shot. To learn more about affordable wedding photo framing, find more info here.
BUY LOCALLY
Compare national wedding services with local ones. It's difficult to get a truly personalised service from a national company when they're managing numerous upcoming weddings. A local provider is likely to treat each customer who lives nearby a little differently too.
Another advantage of buying locally is they won't have far to travel to perform the service. For providers coming from a greater distance, their travel costs and travel time is bundled into the pricing. You're paying for that. Avoid doing so by seeking local providers that offer better value. If you are serious about local, dig down into the marquee wedding concept. This is all the rage right now and you can save a bundle on a traditional hotel or stately home. Click here to see a decent offering from Marquee Vision who serve local regions including Berkshire, Oxfordshire, Hampshire, London, Bristol, Bath, Somerset and Gloucestershire.
DECIDE IF YOU NEED A WEDDING PLANNER
In most cases, a wedding planner makes sense. However, there are planners all the way up and down the spectrum in terms of experience and pricing. If you're looking for a bargain, then you don't want the brand shiny new planner who's never been in charge of a wedding before. Who wants to be their first? We don't, certainly.
Instead, look for a planner with a few weddings under their belt. This is where they have built up enough real-world experience to know what they're doing right and have seen where they fell down; enough to learn from their mistakes at least. Catch them before they've raised their prices significantly to afford a wedding planner on a lower wedding budget. They'll also have their own ideas on how to cut costs too.
USE PLASTIC, NOT CASH
Paying for important wedding costs by credit card offers extra protections that don't come when paying a bill using cash or bank transfer. Should the photographer fail to show, or details aren't as were agreed, then you have some extra options. Either send a lower payment or make a claim with the credit card company for the trader failing to deliver the promised goods or services. This is very difficult to do when you've paid cash in advance.
Going through the early stages of planning a wedding – even if you eventually hire a proper wedding planner – it becomes evident that costs add up fast. Containing the total price of the nuptials and honeymoon by knowing what your priorities are sets things up right. That way, you can be proud of the wedding. The last thing you want on your wedding day is to be concerned about how much it's all costing. Plan and know everything in advance, so you don't have to think about it. It's the best way.