Forget Dubai, Singapore and Santorini. If there was anywhere more synonymous with a traditional, even old-school luxury holiday destination, it just has to be the South of France. Or, more specifically, Provence and the Côte d'Azur…the so-called French Riviera.
Famous for hosting the Monaco Grand Prix, Cannes Film Festival and the Saint Tropez Regatta, as well as being a major inspiration to the works of Picasso and James Joyce and the preferred holiday destination of everyone from Bill Gates to Bono, if it's an opulent yet undisturbed time that you're after, then the French Riviera is still very much the place to be.
If you're looking for inspiration on what to do while you're visiting the French Riviera, then here are 6 luxury holiday ideas in Provence and the Côte d'Azur.
Enjoy The Glamorous Capital, Nice
The French Riviera's capital Nice is reassuringly laid back for a region defined by such luxury, with its inclusive atmosphere, refined pace and artistic soul a world away from the city's more showy neighbours.
That's not to say you can't create your own definition of luxury and extravagance in this sophisticated city. In fact, Nice is a visual delight with striking art-deco architecture, the region's iconic pastel-painted houses, and 19th Century regal palaces all a sight to behold.
Enjoy a stroll along the city's famous Promenade des Anglais, which not only connects the airport to the Old Town, but also represents one of Nice's key attractions. It's a strip designed for a leisurely stroll, with views of the Baie des Anges on one side and on the other, those pastel houses and palaces.
For an even more striking, panoramic view of the French Riviera in all its glamour and glory, head up to Parc de la Colline du Château, a historic park with a man-made waterfall sitting atop Castle Hill, and accessible on foot. 
Back at sea level, Nice boasts several world renowned art galleries. The city has been a haven for artists for centuries; Henri Matisse spent the latter half of his life in Nice and the city's Musée Matisse contains one the world's largest collections of his paintings, alongside objects and artefacts from his life as well as drawings, prints and sculptures.
Indulging in fine art and architecture in one of the world's most regal cities… What could be more luxurious than that?
Stay In A Luxury Villa Overlooking The Lavender Fields Of Provence
A summer trip to Provence and The Côte d'Azur just isn't complete without experiencing the region's lavender fields, with their sweet fragrance and striking appearance at its peak during the flowering season between mid June and early August.
Perhaps the finest place to experience one of nature's most gorgeous and aromatic spectacles is the Luberon Valley, with all of its stunning peaks and troughs dipping revealing the epicentre of where the region's lavender and sunflower fields meet.
To appreciate these views in a less fleeting, more long-lasting way, consider renting a villa in the Luberon Valley. We're huge fans of the Provencal farmhouses in this region, primarily found in the 'Golden Triangle' of villages that make up the north of Luberon, namely Bonnieux, Gordes, Goult, Lacoste, Oppède, Roussillon, Saint-Rémy-de-Provence, Fontaine-de-Vaucluse, and Ménerbes.
Offering refined, understated luxury, immaculately landscaped grounds, and courtyards with expansive vistas of those famous lavender fields, you'll never want to leave! Unless, of course, you're sensitive to the iconic purple plant, that is…
Image courtesy of a villa rental france provence courtesy of Chic Villas
Explore The Roads Of The Côte d'Azur In A Supercar
The Côte d'Azur's coastal stretch of glamorous resort towns extends from St Tropez in the east to Menton in the west, both of which we're visiting today on our luxury tour of the French Riviera.
Whilst many choose to experience the French Riviera via the sea, on a yacht or sailing boat, the Mediterranean coast of Southeastern France is perhaps even more spectacular when driven, its winding roads offering scenic vistas, charming villages and world class eateries.
The road from St Tropez to Menton (or vice versa, of course) takes in the aforementioned Nice, as well as Antibes, Cannes and Monaco along the way. Though it totals just 100 miles of coastal driving, which should take you under three hours to complete, you could take a week or two traversing this gorgeous stretch, taking in the sights and spending a little along the way.
Of course, if your trip is all about glamour and luxury, you're going to want to do the coastal drive in a car you'd be proud to be seen in. Whether you're starting in St. Tropez to the west or Monaco at the eastern end, you'll find plenty of places to rent a luxury car.
Consider GT Luxe in St. Tropez, where you can rent a Lamborghini Huracán Coupé for just €1249 a day, or Elite Rentals, where a Ferrari F8 Spider will set you back €2450 for a day's driving. Or, in Monaco, Top Car Monaco will rent you a Ferrari 488 GTB for €1'300 a day while Monaco Luxury Car Rentals can sort you out with a Rolls Royce Drophead for €3'200.
While you're in Monaco (as long as the time is right, of course), consider planning your trip around the city-state's world famous Grand Prix.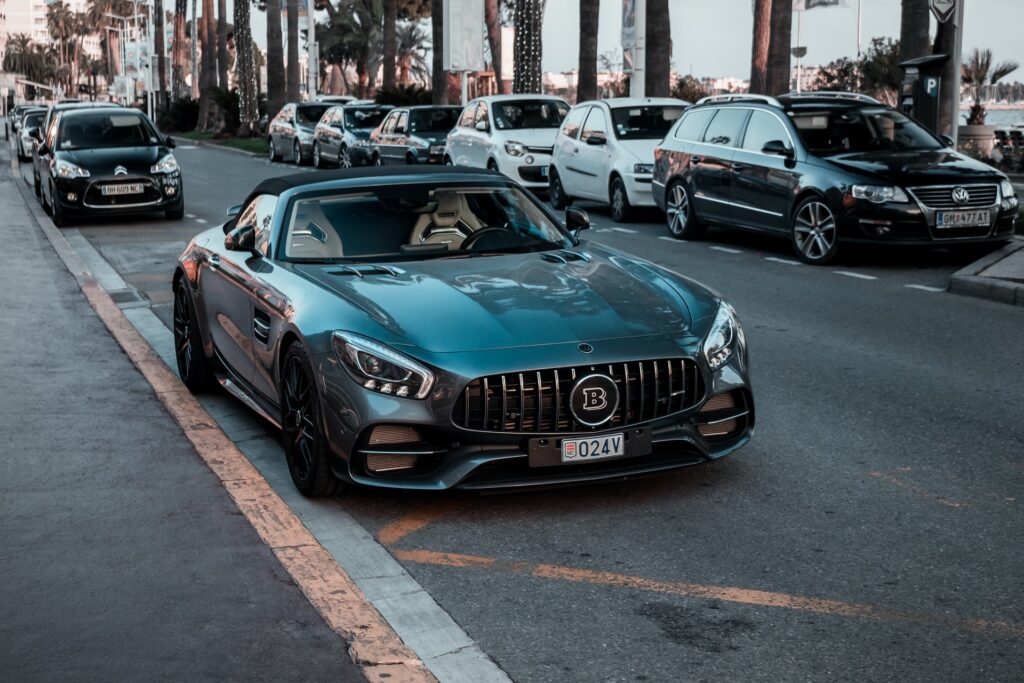 Be Seen Along La Croisette, Cannes
The resort town of Cannes is arguably most famous for its influential film festival, but if you weren't lucky enough to land an invite or exclusive ticket to that event, there's still much to enjoy on the luxurious side of things here.
The 3km stretch of glitzy boulevard known as La Croisette is one of France's most iconic walkways, boasting 5 star resorts, private beaches and a fair amount of celebrity spotting as you stroll the seafront.
Once you're done admiring the Bay of Cannes and looking out for the city's famous residents, turn your attention inland; along La Croisette there are some hugely exclusive restaurants, boutiques and casinos (there are three along the strip) for you to luxuriate in.
The two Michelin-starred La Palme d'Or is arguably the city's most high-class eatery, sitting right on the promenade and boasting views over the bay. You'll pay for the privilege, however; the chef's tasting menu here will set you back €260. Well, you did say you wanted luxury, right?
Go On A Shopping Spree In St. Tropez Old Town
Speaking of spending big, St. Tropez boasts some incredible shopping opportunities, with its tight, narrow streets packed with boutique clothes shops and outlets from some of the fashion world's heaviest hitters.
The majority of the best shopping opportunities in St. Tropez occur in the pedestrianised Old Town. You'll have seen it before; the iconic images of a bikini-clad Brigitte Bardot strolling the beachfront promenade with the honey hued houses of St Tropez behind her. Now, many of those buildings house the likes of Armani, Dolce and Gabbana and Rodini.
The biggest collection of designer names are located on Place des Lices, Rue Gambetta and Rue Allard, and if you're keen to pick up some artisan foods, then be sure to head to Place des Lices Market, which takes place every Tuesday and Saturday morning. 
And it would be rude not to finish up your day by heading to one of St. Tropez's iconic beach bars, don't you think?
Enjoy Michelin-Starred Fine Dining In Menton
Menton, bordering Italy and within walking distance of the country, is the last stop on the French Riviera and perhaps its most delicious dining destination.
Fuelled by the area's unique microclimate (reportedly 3°C warmer than the rest of France) and its varied, prolific fresh produce, the cuisine here has a personality all of its own; largely seafood and vegetable led, light-as-you-like and worth the trip alone to sample.
The jewel in Menton's crown is Mirazur, a 3 Michelin-starred restaurant run by Argentinian chef Mauro Colagreco. It's previously been named the world's best, and celebrates the region's unique landscape in the most refined way. The tasting menu is around £300 per head, sure, but if you're going to splurge on one meal while you're enjoying a luxury holiday along The Côte d'Azur, then it should surely be here.
That needn't mean every meal is going to cost you big bucks. For superb Breton crepes, Fleur de Sel is a lovely spot for brunch. And for a superb selection of bread and pastries from the region, head to the excellent boulangerie Au Baiser du Mitron; their lemon tart is to die for.
Speaking of lemons, Menton is famed for its citrus fruit, and at Au Pays De Citron, on Rue Saint-Michel, you'll find some of the finest limoncellos in the world. What a way to end our luxury holiday of Provence & The Côte d'Azur.