Some say that Santorini, the captivating Greek island and jewel of the Aegean Sea, is the most visually arresting place on earth. Regularly included in 'the most Instagrammed locations' lists, it's a destination focused firmly on aesthetics, from spectacular sunsets to those iconic whitewashed buildings and blue-domed houses. Yep, you know the ones…
But to enjoy Santorini purely through the eyes and the lens would be to miss out on the other sensual pleasures that the island known as Thera has to offer. Nope, we're not talking about that sensual pleasure, but rather, the incredible food of Santorini, much of which is native to the island and only grown here.
To help unearth the hidden gastronomic gems and foods found off the beaten plate, with the help of Elite Estates, who offer Santorini luxury villas across the island, here are 7 of the best local dishes and delicacies to try in Santorini.
TOMATOKEFTEDES
A kind of fritter using a variety of cherry tomato exclusive to Santorini, you'll find tomatokeftedes all over Santorini as part of a meze spread, as a standalone appetiser or even as a vegetarian main.
To make tomatokeftedes, these sweet and slightly acidic tomatoes are crushed then mixed with spring onions and fresh, finely chopped herbs, usually parsley and mint. Flour is then mixed in incrementally until a batter-like consistency is achieved. Then, the fritter mix is deep fried, and is traditionally served with some strained Greek yoghurt.
While you're here, it would be remiss not to visit Santorini's Tomato Industrial Museum, on the island's south coast, to learn more about this famous crop.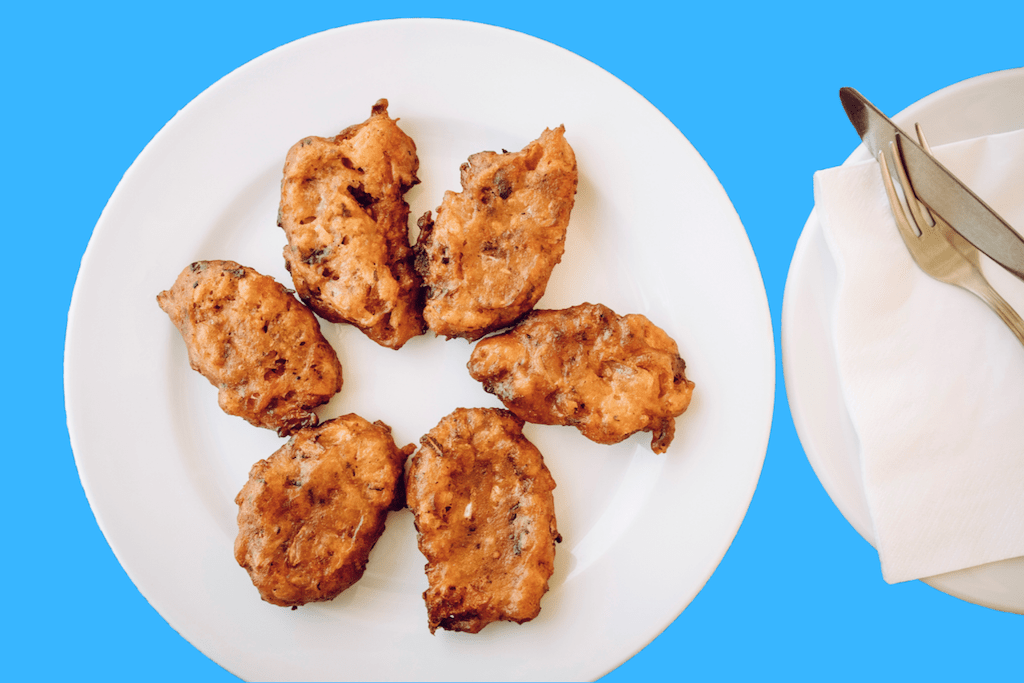 CHLOROTIRI
A subtly sour cheese made from sheep or goat's milk, chlorotiri is only made by skilled local producers and this exclusivity makes it pretty hard to find on the island. If you are lucky enough to come across chlorotiri (look for oval shaped, flat slices, often sprinkled with dried thyme or oregano) you'll savour its creamy yet refreshing quality.
Chlorotiri is often served alongside those Santorini tomatoes we mentioned earlier as part of a reviving salad, perfect for the typically hot days experienced during the island's summer months.
If you're in need of a cheese fix and you can't find the elusive chlorotiri, then saganaki – a slab of haloumi or feta that's been soaked in milk, dusted with flour and then fried – is ubiquitous on Greek taverna menus and is no less delicious.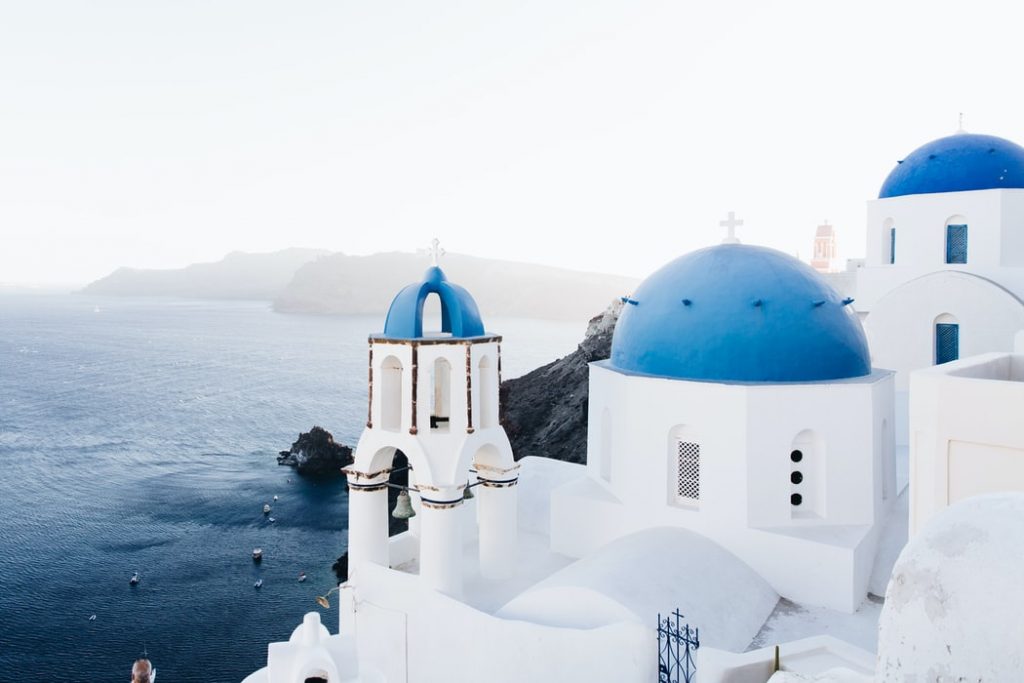 FAVA
Not to be outdone by those marvellous tomatoes and piquant cheese, fava is perhaps Santorini's most famous dish. Not actually fava beans (broad beans to those in the UK) at all, here, yellow split peas are crushed with garlic and onion before plenty of fine Greek extra virgin olive oil and lemon juice is added to create a silky, sexy, hummus-like dip.
The result is a golden-hued bowl of deliciousness (note: not green) that is often topped with finely chopped onion and a few locally grown capers, another speciality of the island, incidentally.
Read: 6 IDEAL foodie tips for your next trip to Greece
AXINOS
As with any self respecting island, seafood is hugely popular in Santorini, the fresher, the better, and ideally cooked with minimal fuss and maximum respect for the ingredient.
Exemplifying this ethos is the way that Santorini's top chefs serve locally caught sea urchin, known as axinos. Here, the barbed shell is cut open using scissors, a little extra virgin olive oil and lemon juice is drizzled over the bright orange flesh (actually the sea urchin's ovaries), and a hunk of bread is used to scoop it all out before it's enjoyed raw, as fresh as you like and oh so delicious.
Read: 6 IDEAL foodie tips for your next trip to Greece
APOCHTI
Carnivores rejoice; it's not only beans, pulses, fresh fish and vegetables to savour on the island. Santorini also has some fantastic meat dishes unique to the island, and one of the finest local delicacies is apcochti, a cured pork loin carpaccio flavoured with pepper and cinnamon.
Sometimes made with wild boar meat, apcochti calls to mind a particularly piquant salami and is enjoyed in a similar way to charcuterie, as part of a meat and cheese (or larger meze) platter with plenty of freshly baked bread.
Read: 5 IDEAL things to do in Santorini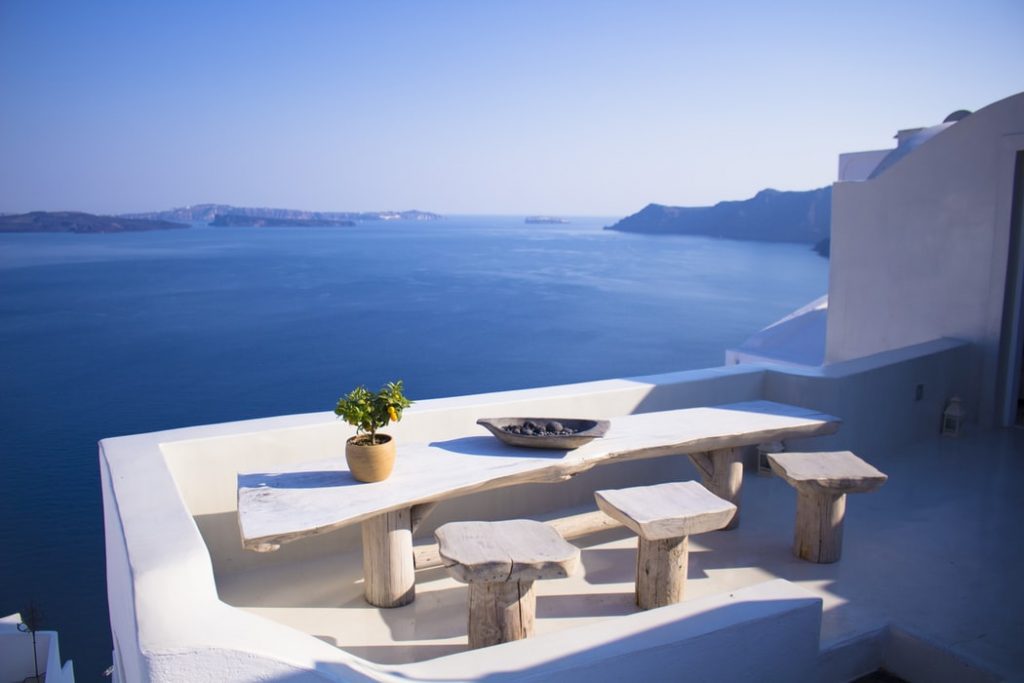 MELITZANOSALATA
An aubergine dip with a similar flavour profile and mouthfeel to baba ganoush, but minus the tahini, melitzanosalata makes use of another product that is local to Santorini; white aubergines. Free from that hint of bitterness that their purple cousines possess, for melitzanosalata, the white variety is grilled hard in its skins over charcoal or in the oven until the exterior is blackened and the inner flesh is yielding and smoky.
Then, the flesh is mixed with Santorini's usual culinary suspects; local extra virgin olive oil, lemon juice and seasoning. To finish, finely chopped parsley and fresh whole olives top the melitzanosalata. Enjoy!
LOCAL WINE
Santorini is sometimes referred to as the Wine Island, and it's easy to see why.
Due to the island's dry and volcanic landscape and mineral-rich soil, there are indigenous grape varieties only found on these shores. This, of course, lends itself to some rare local wines.
If this is going to be your first time visiting Santorini, we'd recommend first sampling the famous Assyrtiko dry white wine of the region, which contains distinctive volcanic mineral notes and the intoxicating aroma of citrus fruit. From this entry level, expand whichever way your taste buds take you, though you shouldn't miss the island's famous, naturally sweet dessert wine, Visanto, which is just perfect when paired with a freshly baked baklava.
Speaking of which, the island's amazing desserts and sweet treats, we believe, deserve their own article. Watch this space!