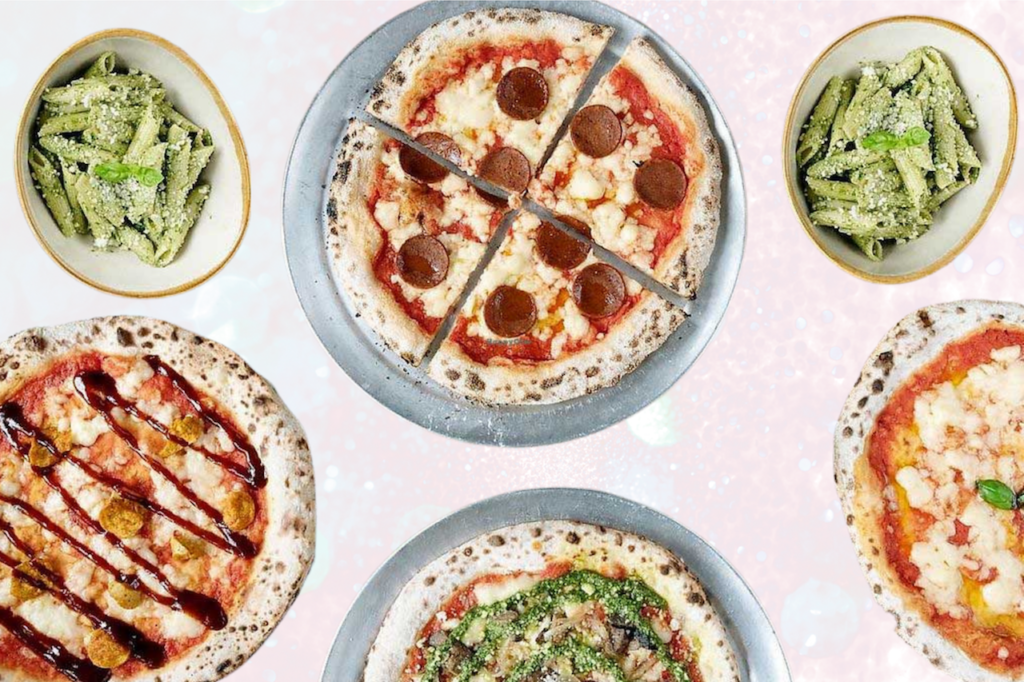 Vegan pizza has come a long way in recent years, and the shift in quality and expectation is particularly pronounced in the capital. Where once the request for a vegan pizza was met with a hastily arranged sliced white topped with a squirt of ketchup, now there are fully-fledged 100% vegan pizzerias, serving up carefully sourced, wood-fired slices of the good stuff. On top of that, some of London's most beloved pizza restaurants have started to give as much care and attention to their vegan offerings as they do their Diavola, Capricciosa et al.
Whether you're going Veganuary and need your pizza fix, or you're a longstanding vegan who simply loves the alchemy of dough, cheese and tomato, or you just want to try something new, here are 6 of the best vegan pizzas for delivery in London for Veganuary 2021.
PUREZZA, IN CAMDEN
Starting out in the UK's Capital of Vegan, Brighton, Purezza is the UK's first plant based pizzeria, doing vegan, gluten free sourdough, 'pioneering' pizzas which don't sacrifice on flavour. The Camden branch is their second outpost (they now have one in Bristol and Hove, too), with the quality remaining consistent throughout.
This isn't a cardboardy, synthetic tasting affair. Huge wood fired ovens churn out pizzas which could pass muster in any Neapolitan pizzeria, with dough matured for forty-eight hours and their pride-and-joy, a brown rice based vegan mozzarella (which took two years to develop), tasting a close to the real thing as you'll find on a vegan version.
Purezza, meaning 'purity' and sounding a bit like pizza (that was the thinking behind the name, right?) also use heaps of delicious seasonal veg to great effect. If you're to order just one pizza, make it the Parmagiana Party, which was bestowed with the honour of 'National Pizza of the Year' at the National Pizza Awards last year. For a pizza so proudly vegan, this was big news.
Arguably the finest vegan pizza in London, and quite possibly the country. Be aware that this branch of Purezza only delivers locally to Camden and surrounding boroughs, though click and collect is also available throughout Veganuary and beyond.
Order: purezza.co.uk, deliveroo.co.uk
VOODOO RAYS, IN DALSTON & PECKHAM
Back in those halcyon days when we were actually allowed to congregate in pubs, bars and restaurants, Voodoo Rays attracted late-night pizza lovers from all over East London for their by-the-slice New York style pizza.
For the time being just open for click and collect or delivery, the restaurant's Queen Vegan pizza has earned something of a cult following among London's hungry vegan community, and it's easy to see why. The pizza focuses on vegetables and sauces which complement each other perfectly, rather than utilising any meat or dairy substitutes; yep, there's no cheese on this guy, vegan or otherwise, and it's all the better for it.
Instead, the Queen Vegan is topped with red onion, sun-blushed tomatoes, artichoke hearts, green olives, and both tomato and green sauce. Absolutely delicious, and available by the slice, or in 12 or 22 inches.
A 10 inch gluten free base is also available.
Order: voodoorays.com, deliveroo.co.uk
BASILICO, IN HAMSTEAD, WIMBLEDON, MARLEYBONE & MANY MORE
Should Purezza's Camden location or Voodoo Rays lack of 'cheese' be an obstacle to you ordering the best vegan pizza delivery in London, then fear not. With eleven outposts covering every compass point of the city, Basilico has got your vegan pizza needs covered.
Serving up classic thin crust, stone-baked pizzas (note; not wood-fired), Basilico boasts a wide variety of vegetarian pizzas and four dedicated vegan options: A Sicilian, which uses vegan feta, a red pepper pesto, and artichokes; one loaded with vegetables including aubergine, courgette and fresh tomato; a classic Margherita using vegan mozzarella; and a white-based pizza using artichoke crema as the sauce, and topped with plenty more artichoke and courgette. Gluten free bases are also available.
Order: ubereats.com, just-eat.co.uk, deliveroo.co.uk
ICCO PIZZA, IN FITZROVIA & CAMDEN
With two branches in Central London and Camden, Icco Pizza is renowned for its incredibly affordable pizzas, with the cheapest (the Marinara, which is incidentally vegan, too) clocking in at just £3.95. Though not an 100% vegetarian or vegan restaurant, Icco's vegan pizzas are beloved of London's vegans.
Go for either the Vegan Veggie, which includes aubergines, courgettes and caramelised onions alongside vegan cheese, or the Vegan Seitan, which uses meat-free salami and mushrooms, for those craving that umami meaty kick during Veganuary. At just £7.90 and £8.50 respectively, these are some of the city's cheapest vegan pizzas, too.
Order: icco.co.uk, deliveroo.co.uk
PICKYWOPS, BRICK LANE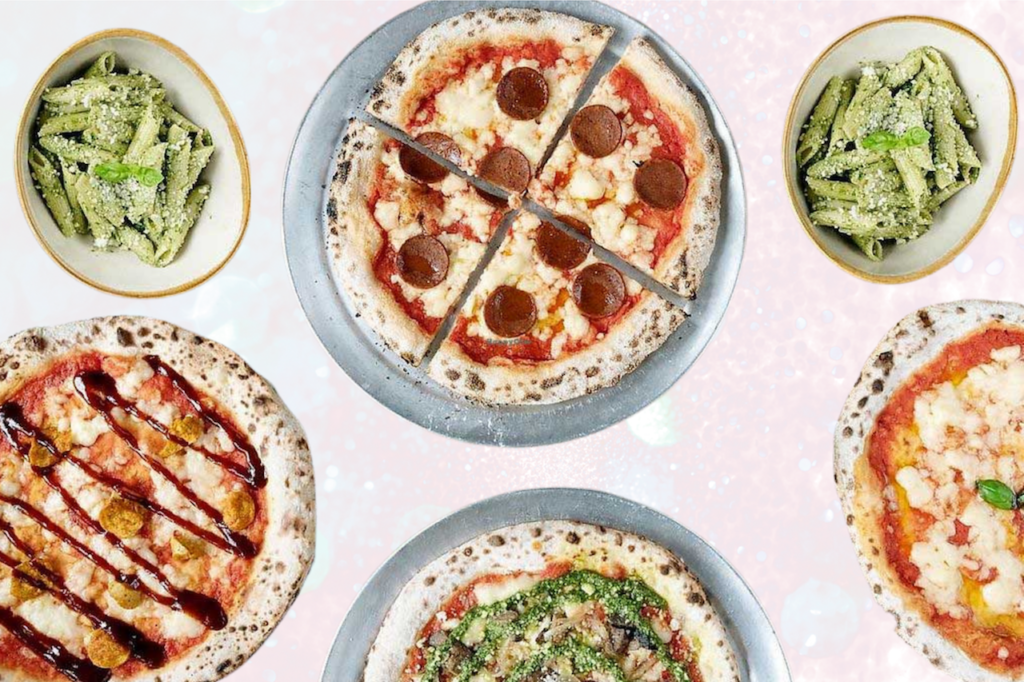 With an 100% vegan menu, and Italian, pizza making heritage running in the family (the chefs are part of Italy's AVPN Pizza Association), PickyWops sounds like it has alighted on the perfect recipe for vegan pizzas.
Rest assured, Cristiano and Andrea don't miss; the pizzas are superb, with a variety of out-there toppings and interesting flavour combinations sure to tickle a set of tastebuds recently tested by too much quinoa and quorn. That's not to say tradition isn't respected in the duo's offerings; close your eyes, take a bite of their traditional Magherita (the 'Maggie') and you could be in Naples.
But if you are seeking novelty and excitement, you'll find it, too. Right now, to celebrate Veganuary 2021, PickyWops have teamed up with four vegan food legends on a 'PickyWops and Friends' five pizza delivery box bundle. Costing £44 and available for delivery nationwide, all you have to do is warm the pizzas through in the oven at home. With bases made from burnt wheat and plantain, and a roll call of toppings which include kimchi, BBQ chicken and even vegan nduja, this is one exciting vegan pizza party.
If that's not enough, the Brick Lane restaurant is offering 50% off all their pizzas for delivery during January. There really is no reason not to!
Order: deliveroo.co.uk, just-eat.co.uk
VEGAN EXPRESS, IN TOOTING
Hey, the clue's in the title with this one. Though this popular South London vegan restaurant doesn't only serve pizzas – the menu is a globetrotting, generous affair, with tofish and chips rubbing shoulders with vegan lasagna and even miso roasted jackfruit – Vegan Express specialises in 100% vegan pizzas, with more than a dozen on the menu at any one time.
The 'garden pizza' is a best seller, and a celebration of fresh, delicious vegetables. Topped with vegan mozzarella, mushrooms, peppers, courgette, cherry tomatoes and rocket, you'll get your five-a-day in a single slice! Or, if you fancy rewriting the rulebook from every angle, the Seitan Pineapple pizza includes vegan pepperoni and – you guessed it by the name – pineapple.
Gluten free bases, made from rice and quinoa flour, are also available for an extra £2.
Order: veganexpress.co.uk, ubereats.com, deliveroo.co.uk, just-eat.co.uk
Should you be looking for more pizza delivery south of the river, do check out these 6 of the best takeaway and delivery Neapolitan pizzas in South London to get even more of your pizza fix! And if you're still hungry, then check out these 6 of the best vegan meal kit boxes from London's top restaurants, ideal for spoiling yourself during Veganuary 2021.