Because we all need something to look forward to during this tough time, right? A little escapism on your screen, a lot of imagination from your sofa, and several months worth of foreplay to satisfy that wanderlust…with something to look forward to, we might just make it through.
So, although it wouldn't be wise to book anything while the uncertainty lingers, it certainly doesn't do any harm to plan a dream, bucket list heavy trip. With that in mind, here are 7 IDEAL destinations we can't wait to visit once this thing's all over.

MILAN, ITALY

Once borders are back open, the all clear given, and scientists have declared travel can be done responsibly, it's to Italy we're going to head. The country has taken one hell of a knock and solidarity needs to be shown at every turn.
Restaurants, bars and cafes have suffered immeasurably from the necessary lockdown, and will need serious patronage to get back up and running. We're in love with Milan's food scene; the thought of the first Osso Buco back in the city when the crisis is over is a delicious light at the end of the tunnel. Or should that be the saffron risotto through the hollow bone?

DA NANG & HOI AN, VIETNAM

If it's escapism you're after, then the break neck speed of growth and change in Vietnam might be just the ticket. The fastest growing city in one of the fastest growing economies in the world, Vietnam's Da Nang has so much to offer; gorgeous beaches, five star resorts, a 'downtown' with an energetic vibe and a superb, proudly local cuisine based around the sea's bounty.
Should the buzz get too much for you, a 45 minute drive away (if you're brave enough, the motorbike ride parallel to the South China/East Sea is blissful) is Hoi An, one of the world's most serene, stunningly beautiful towns.

Majestically preserved, pedestrianised and simply lovely, Hoi An is also home to Vietnam's world famous silk and tailoring trade, with the skilled craftspeople here able to size you up and fashion you an outfit in record time (six hours on our last visit!). What better excuse to get kitted out in some fine new threads than to celebrate surviving a crisis?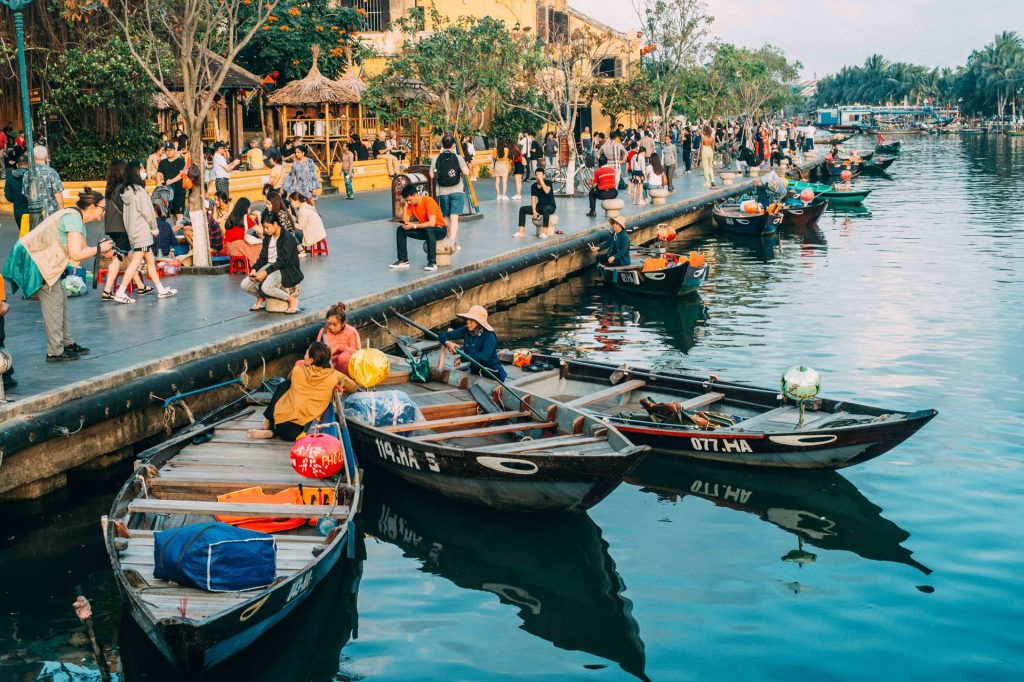 SHANGHAI, CHINA

China is showing the first signs of an infection now under control, with tentative easing of lockdowns and a few face masks being peeled off. Breathe in that newly fresh air guys!
Shanghai, one of the world's great party cities, is ready to go off when this thing is over. Clubs are starting to open again, and the rhythmic sound of bass and cocktail shakers is beginning to rise up in the city's waterfront party district, The Bund (外滩). On the other side, of the crisis and the world, we can't wait to be involved.

HAVANA, CUBA

Communism suddenly seems kinda necessary, right? And with the news that Cuba is sending doctors, knowledge and relief to Italy and other more 'developed' countries in need, a trip to Havana is high on the bucket list of future dream destinations.

The capital Havana is simply iconic, and the name so rhythmic, that we think there must be a song in there somewhere…oh, forget it. Anyway, the Caribbean's most famous city is an idyllic mix of beautiful beaches, cobbled streets and a hugely overlooked cuisine.
With its 1950s American cars and peeling Spanish-style buildings, visiting is like being in a particularly hazy, extremely trendy Instagram shoot for your entire stay. Old Havana is a UNESCO-protected site, with 500 year old plazas, churches and winding streets just waiting to be explored.
For the most typically Havanan aesthetic, it's got to be that Havana Vieja or the Centro Havana neighbourhood, where all the boxes on your Cuban adventure are resoundingly ticked. That's salsa, cars, sandwiches…the works. That photogenic aspect is going to be sorely needed after months of domestic downtime. There are only so many #selfisolation snaps your Instagram can handle.
LISBON, PORTUGAL

Oh to be sitting on the banks of the Tagus somewhere in Baixa, with cerveja in hand and sun on face. Carefree days, indeed. Lisbon is a quick, convenient city break that has it all; a laid back yet exciting disposition, superb, proudly local cuisine, cobbled streets and attractive architecture, as well as a pulsing confidence and energetic, 24/7 nightlife. Moreover, it's got a variety of beautiful apartments and villas to rent across the city…all the ideal ingredients which make Lisbon one of the finest European getaways around.
When choosing somewhere to stay, make sure you read up on Lisbon's different neighbourhoods that all offer something a little different. If you're looking for nightlife then the city's bohemian quarter, Bairro Alto, which is quiet by day but comes alive at night could be for you. Equally Cais do Sodré, which is the city's former redlight district, has a great nightlife and is right next to the Time Out Market where you can sample some of the city's most famous dishes.
The steep and narrowed cobbled streets of Alfama, which survived the capital's terrible 18th-century earthquake is the oldest part of Lisbon, as such, is the most emblematic quarter whereas the Baxia district shows of Lisbon's grand and historic centre.
We can't wait until these quick jaunts to the continent for city break weekends are once again dotted all over our calendar. Take us back (and forward a few months).

SEOUL, SOUTH KOREA

With a captivating blend of the futuristic and historic, Seoul is perhaps the most apt realisation of an 'East meets West' metropolis on the planet. And if there's one thing this crisis has taught us, is that it's about time we broke down borders and barriers, and came together to help one another, right?
We'll defer to the experts on what to there, by directing you to these beginner travel tips for Seoul, South Korea. Yep, those experts are us again. Sorry.

BERLIN, GERMANY
Talking of breaking down barriers, perhaps when this thing is all over, the bouncers at Berghain might be a little more forgiving of our inherent lack of cool, and finally raise that red rope. There's been a lot of talk of the 'party to end all parties' once we've defeated this thing. Even if it's not with Sven, it's in Berlin that we'll be raising our glass.