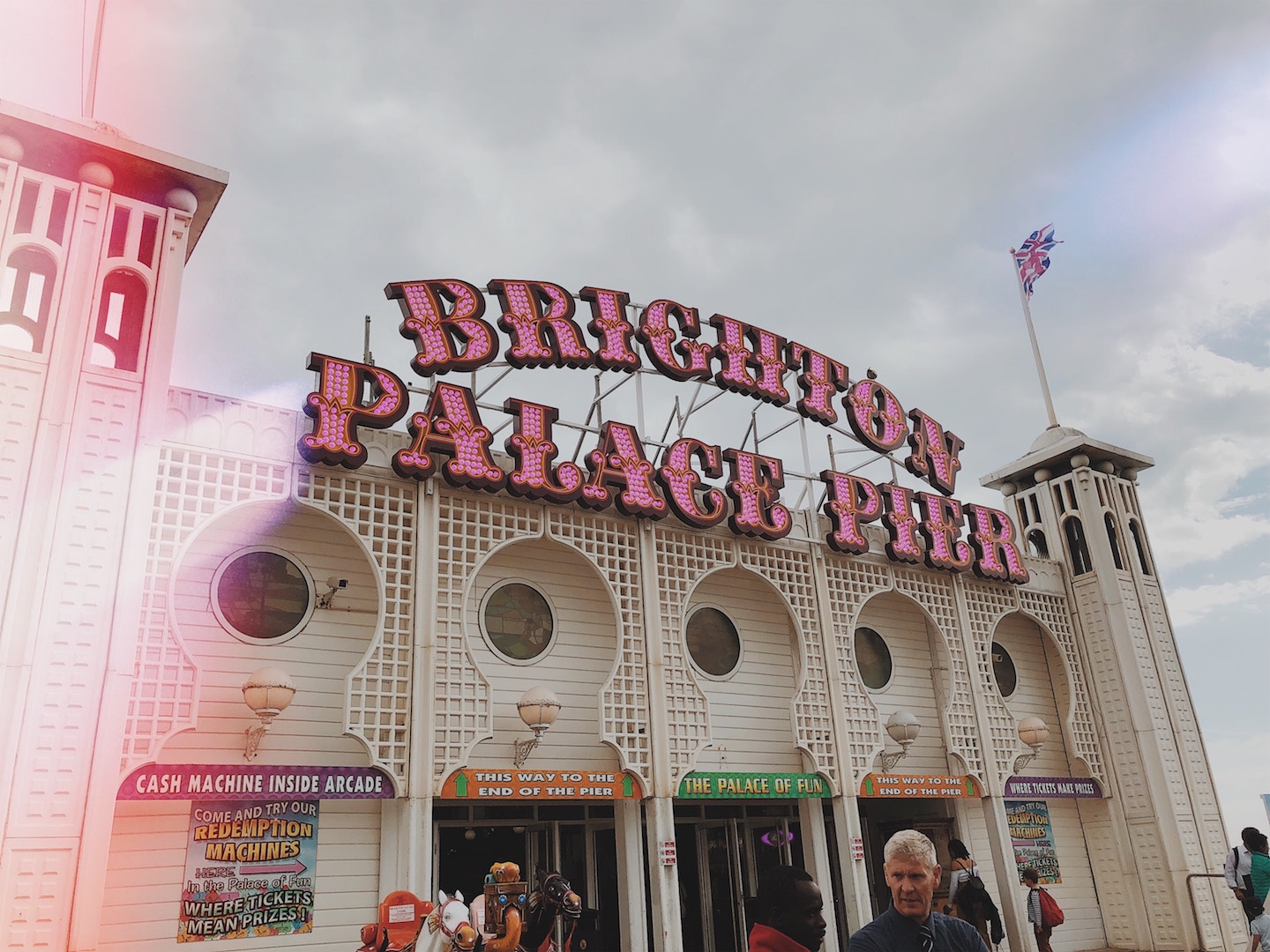 Could there be a more fitting place for fish, chips, pickled cockles and the rest than Brighton? A quintessential seaside town, but with a foodie scene to rival any city on these shores, if it's fish you're after, fine dining or folksy, then this is the place for you. We've filled our bellies with the good stuff (it's a hard life) to narrow down our recommendations to just a handful; our 7 IDEAL seafood restaurants in Brighton and Hove.
RIDDLE & FINNS, THE LANES
A Brighton institution, this one. Established in 2006, and drawing inspiration from high end, counter seating oyster bars in New York, Riddle and Finns is nominally a 'champagne and oyster bar', but it's actually far more than that. The menu is globetrotting; there's bouillabaisse, risotto, cervice, sashimi and a carpaccio (from Venice) with a Thai dressing…hmmm. Fortunately, the vibe inside is unfussy; think white marble countertops easy to wipe down between sittings.
Accordingly, we think, it's best to stick to the 'traditional' stuff, like their 'fruit de la mer', including cockles, whelks and clams from local waters. It's a particularly enticing prospect in the evening, where from outside you can see the chefs at work and the whole place is illuminated with flickering candles which beckon you in. If you can't get a table here, they also have a second joint housed in the arches on Brighton's famous promenade. 
Address: 12b Meeting House Ln, Brighton BN1 1HB 
Website: www.riddleandfinns.co.uk
BRIGHTON SMOKEHOUSE
Head towards the big blue from the city's famous Lanes, get to sea level and next to the pebble beach you'll find a collection of tables and chairs, a statue of a portly, bearded fisherman, and Brighton Smokehouse. With the mise en scene set so succinctly, and the smell of smoked fish permeating the outdoor seating area, it's time to refer to the specials chalkboard for what's good. For us, nothing beats a smoked kipper roll and a fresh lemonade from the adjoining shop on a crisp, sunny day. We've also heard good things about the fish finger sandwiches from a neighbouring diner. It's that kind of place; convivial and relaxed, and the perfect seaside brunch.
Address: Kings Road Arches, Brighton BN1 1NB 
Website: brighton-smokehouse.business.site 
THE LITTLE FISH MARKET
Consistently named Brighton's best restaurant, though actually in Hove, chef and owner Duncan Ray has created a glorious homage to everything seafood in this small but sophisticated 20 cover restaurant. Be warned; it's purely a dinner affair, Tuesday to Saturday, and you'll need to book well in advance to secure a coveted seat, but the effort is well worth it. That's because it's only the finest, freshest fish, sourced as locally as possible and cooked with the respect you'd expect. It's a no choice tasting at around the £70 mark, but the price tag is fair. Already the proud owner of 3 AA rosettes, a Michelin star surely isn't far away.
Address: 10 Upper Market St, Hove BN3 1AS 
Website: www.thelittlefishmarket.co.uk 
BRIGHTON SHELLFISH & OYSTER BAR
You just love to see it when satiating your appetite beachside. Brighton Shellfish and Oyster Bar isn't a 'bar' in the sense of cocktails and blokes wearing loafers with no socks, but rather a beach shack doing lots of traditional British seaside treats that any seafood lover lusts after. All shellfish is laid out and visible in tubs and on ice, and the place feels as old school as it gets. Just lovely. Accordingly, dressings sit on a metal table to the side of the till, with Tabasco, vinegar, gherkins et al for dressing your oysters to your own requirements. You did order the oysters right?
Equally, the £7 lobster roll or bap with gherkin and cayenne pepper mayo is an absolute steal. They have seats to the left, perched on the pebble beach, making this a great choice for a picnic with a cool (not cold) beer in a plastic pint glass from nearby pubs seeming the perfect accompaniment.
Address: The Fishing Quarter 199 Kings Road Arches, Brighton BN1 1NB
Website: www.brightonshellfish.co.uk 
BANKERS FISH & CHIPS
Family owned and family focused, this one, with secret batter recipes discussed in hushed tones but the clatter of kids (drawn in by a great children's menu) decidedly not hushed. We love this kind of place. There's a takeaway, 'express' menu and also a lengthier, restaurant one – expect to see 15 types of fish on the restaurant menu at any one time – and a devoted dedication to sustainable sourcing. It's a 5 minute walk from the beach if you'd like to enjoy your fish'n'chips to the sound of the lapping sea, but if the inclement bluster or threat of seagulls puts you off, there's also ample indoor seating. They are the previous winner of the prestigious Fish and Chips awards and as one of the top 25 chippies in the UK. 
Address: 116A Western Rd, Hove, Brighton BN1 2AB 
Website: bankersfishandchips.co.uk 
THE URCHIN
Housed in a residential area in a working class part of Hove, this is still no doubt a pub acting as the neighbourhood living room, but just with a sterling focus on doing really interesting shellfish dishes.
There's two menus. One, an evergreen, with seaside town favourites like potted shrimp, oysters with pickled, brunoise shallot, and a quarter pint of cockles. The other lets the chef's creativity (and love for travel) run wild, with lots of South East Asian flourishes. On our last visit, Malaysian prawns with lentils caused orange stains on the finger nails and purrs of appreciation on the lips, and clams in a clear dashi broth was clean and lively. Staying true to their pub (formally the Bell) origins, they have a microbrewery in the basement which results in their own beer 'Larrikin' on tap. If it doesn't tickle your fancy, there are around 120 other beers to choose from. An absolute gem.
Address: 15-17 Belfast St, Hove BN3 3YS 
Website: www.urchinpub.co.uk 
THE SALT ROOM
The Salt Room's website claims it as 'Brighton's best seafood restaurant'; a bold claim, indeed, but it's not far off. Part of a group of three – the Coal Shed in Brighton and one of the same name in London – this is a place which ticks all the boxes for great fish cookery; sustainable sourcing and simplicity. The menu resists the urge to globe-trot, and this time, we think that's welcome.
Inside, it's a surprisingly cavernous space with a good buzz and young, enthusiastic staff. The restaurant is compartmentalised neatly and cleverly, with lots of different spaces and areas, so the buzz carries through the restaurant and acoustically it works.
Anyway, we're here to talk about fish, right? The grill is used liberally and it's all the better for it; good news for the whole fish destined to be blistered and burnished on it. Saying that, perhaps the best thing on the menu is the salt cold fritters with whipped cod's roe; yep, as saline as that sounds, and delicious too. 
Address: 106 Kings Rd, Brighton BN1 2FU 
Website: www.saltroom-restaurant.co.uk