Brighton is famous for many things; its proud, inclusive nature, for starters, symbolised by the prevalence of rainbow flags across the city.
Its pebble beach and pier are pretty iconic, too, with the brightly coloured, illuminated sign reading Brighton Palace Pier and letting you know, loud and clear, that you've arrived.
The eccentric, one-of-a-kind palace, the Brighton Royal Pavilion, is another image so often associated with this so-called London By The Sea.
Indeed, so much of the city is instantly recognisable, yet one of Brighton's most famous elements isn't exactly a visual thing. Rather, its tangle of narrow shopping streets, pubs, restaurants and bars known prosaically as 'The Lanes' is one of the main reasons tourists visit, to browse the jeweller's windows, antiques stores, art galleries and boutique clothing shops, and to grab themselves a bite to eat when legs get weary.
But where are the best restaurants and places to eat in the Brighton Lanes? Let's find out.
Burnt Orange
We start our tour of the best restaurants in the Lanes at the newest addition to the Brighton restaurant scene on our list; Burnt Orange.
It's not by chance that we've chosen to start here; the restaurant is open from midday until late every day, and pitches itself as a ''a new grownup hangout for Brighton'', with people encouraged to drop in as much for a cocktail and a snack throughout the day, or a digestif and a sweet treat late in the evening, as much as they are full blown meal. It's that kinda place.
Burnt Orange has recently announced a weekend brunch, too, further extending their welcome to the people of the city. And as everyone knows, the way to a Brightonian's heart is through brunch.
This is the third restaurant from local restaurateur Razak Helala, who also presides over the Coal Shed (also on this list) and the Salt Room, one of Brighton's best seafood restaurants. Though Burnt Orange has only been open a year, it's already garnered plaudits in the form of a glowing review from a national newspaper, and more recently, receiving a Bib Gourmand award from the Michelin Guide.
The latter indicates 'good value and good quality', and in terms of Burnt Orange, these rather prosaic, automated descriptors do the restaurant a disservice. The quality of the output, led by a huge wood fired oven and grill, is fantastic.
On a recent visit, the wood fired flatbread was charred in all the right places yet still super light and pillowy. When dragged through a generous plate of their red pepper hummus, you have yourself the perfect pairing to a cold glass of something fizzy.
Don't stop there; there's plenty of joy to be found in the larger plates, too. The restaurant has a wicked way with lamb, with crispy 'cigars' of long braised shoulder tasting of the farmyard in all the right ways, whilst Sussex lamb koftas tempered with a perky yoghurt are another must order from the 'wood-fired' section of the menu.
Cocktails are delicious, too, with the kind and capable bartenders happy to curate a mix to your tastes. Alternatively, just order a Pandora's Box (featuring mezcal, chilli agave, and cranberry) or two. Lovely stuff, though we'd caution against ordering a third, or you'll be on your arse before you can reach the beach for a lie down.
The only miss – for us – has been desserts. A burnt ricotta cheesecake was less the delicious, ubiquitous burnt Basque cheesecake that's been everywhere in recent years, and more a stodgy, disappointing sponge cake. Oh well; for a restaurant that's so new to the Brighton food scene, Burnt Orange are getting an awful lot right. It's already one of the best restaurants in the Lanes, if not the whole city.
Burnt Orange is open from midday until late every day.
---
The Flint House
In Brighton's Lanes, you can move from orange to ginger in just a few steps…
From the team that brought you the Ginger Man, Ginger Pig, Ginger Fox and Ginger Dog (now sadly closed) comes the Flint House, the only arm of the brilliant, burgeoning restaurant group without a carrot-topped calling card.
If you've eaten any of the East Sussex quartet's food before, you'll know that the restaurant group's cooking is big on flavour and low on frippery.
Though the proposition at the Flint House is a little different, with a more expansive menu and a smaller, sharing plate format, you'll be pleased to hear that confident cooking remains.
From the snacks section, the restaurant's fried bread, parmesan cream and anchovy is an absolute winner when it's on, though the menu does change with the seasons and as we move into spring, it's currently not.
Not to worry, a few stalwarts remain; the ham and gruyere croquettes with black pepper mayo are superb and a menu mainstay, whilst there's usually a perfectly balanced, carefully crafted filled pasta in the 'Vegetables' section. Right now, it's Lincolnshire poacher agnolotti with leeks, and it's god damn delicious, with umami levels turned up to eleven.
In fact, in a city full of great dining options for vegetarians, the Flint House does some of the finest meat-free dishes in all of Brighton. We're particularly fans of their coal roasted aubergine, coconut yoghurt and curried lentils, which texturally boasts several layers of creamy bits without using any actual cream. Kitchen wizardry, indeed. A dedicated vegan menu is also available.
If you can, leave room for dessert, with the doughnut's various guises having earnt cult status in the city since the restaurant's opening in 2019. Alternatively, the restaurant are more than open to you popping in for just a dessert and one of their thoughtfully composed cocktails (ours is a peach negroni, thanks for asking). A fine end to a beautiful day on the beach, don't you think?
The Flint House is open from midday until 10pm every day.
Read: 6 alternative things to do in Brighton & Hove post-lockdown
---
Terre a Terre
From two newcomers to the city's food scene to a longstanding Brighton institution, Terre a Terre is the premier vegetarian dining spot in town, if not the country, and one of the best restaurants in Brighton's Lanes, make no mistake.
The team here, led by chefs Amanda Powley and Philip Taylor, have been doing their sophisticated plant-led menu for over a quarter of a century, and following a recent lunch on their gorgeous outdoor terrace in the first of the spring sun, we're pleased to report that Terre a Terre has still, very much, got it.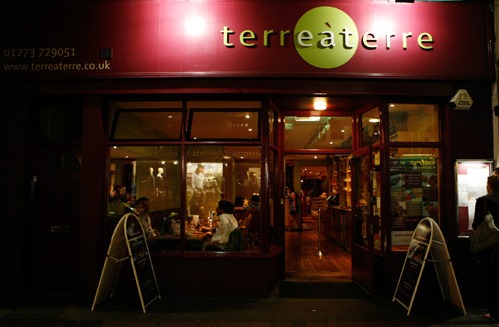 Inspiration is drawn from all corners of the globe – there's plenty of need for Google (or a helpful, knowledgeable waiter) when perusing a menu, which utilises unheard of ingredients – but this makes the experience fun and exciting, which can't always be said of meat-free restaurants.
In fact, it sells Terre a Terre short to give it the ol' ''you don't even miss meat'' line. You'll eat very well here, however you define your dietary choices.
Terre a Terre is open from Wednesday to Sunday, midday to 10pm. It's closed on Mondays and Tuesdays.
---
Riddle & Finns The Lanes
Another Brighton institution, this one. Established in 2006 and drawing inspiration from the high end, counter seating oyster bars of New York, chiefly, the Grand Central, Riddle and Finns is nominally a 'champagne and oyster bar', but it's actually far more than that.
The menu is a globetrotting affair; there's bouillabaisse, risotto, ceviche, sashimi, Thai bits…but we think it's in the most straightforward preparations that the restaurant really excels. A blackboard detailing the local fish on offer that day, with a countdown of how many are left, reassures you of the product's freshness, and when served grilled whole with some chips, cress and aioli, there really is nothing better.
Or, you could simply have a meal of oysters and champagne, if you're feeling flush. There's a daily selection of Jersey Rock, Irish Rock, Poole Bay and Whitstable Bay Rock, with 12 going for £36. Now, that's our kind of meal when down by the sea.
Riddle and Finns is open every day from midday to 10pm, with slightly extended opening hours on Saturdays.
12b Meeting House Ln, Brighton
---
The Coal Shed
Another entry from the empire of local restaurateur Razak Helala (remember Burnt Orange from 1000 words or so ago?), the Coal Shed is Brighton's premier destination for huge hunks of rarebread heritage meat grilled or roasted over coals.
It's a classy room, all dark wood, leather in teal and the gentle hum of grown-up conversation, and the food reflects this; confident, ingredients led, no fuss, no frippery.
It's in the steaks and sharing cuts that the Coal Shed finds its best form, with the restaurant's Chateaubriand with Bearnaise, peppercorn and chimichurri sauces offering up one of Brighton's finest Friday night treats. Indulgent, sure, but utterly delicious, and the leftover steak makes for the perfect sarnie the next day!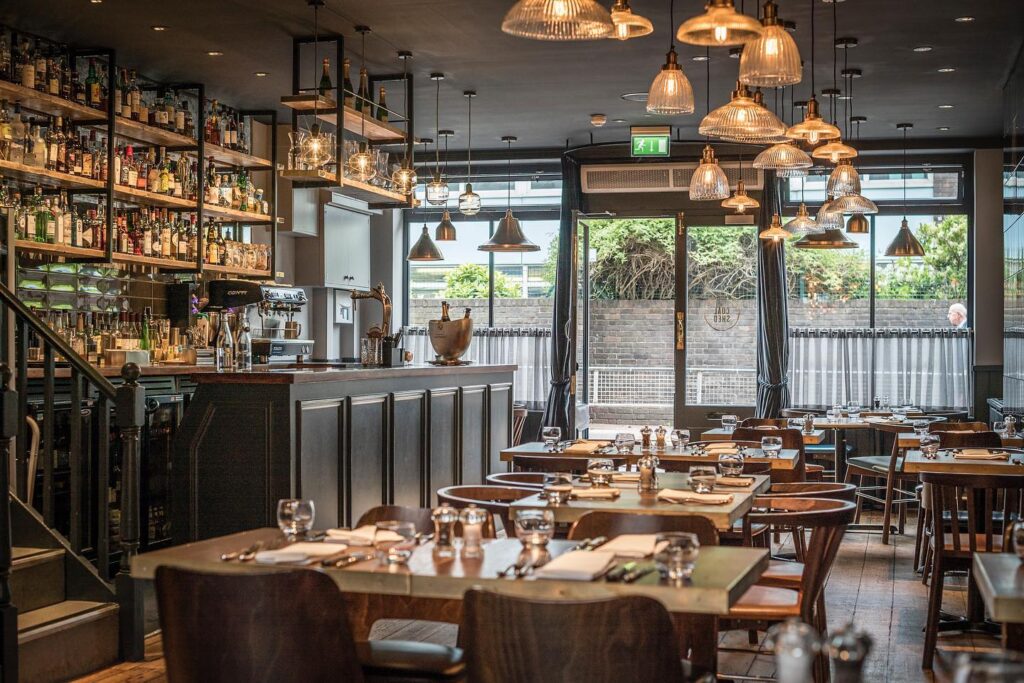 Though there's grilled fish on the menu here too, both in the form of tandoori bream and barbecued monkfish tail, if you're keen on a similar proposition, then the Salt Room, just a five minute walk away and complete with sea views, might be a better bet.
The Coal Shed is open from midday to 11pm every day except Sunday, when it closes at 9pm.
---
Plateau
Nominally a natural wine bar, but with a cracking little French inspired menu to complement the natty juice, Plateau is a great place to find some respite from all that window shopping that The Lanes encourages.
Plateau and their knowledgeable team are all about pouring up the city's best and most thoughtful selection of low-intervention wines, and are one of the only places in Brighton doing so. We're very much here for it.
The blackboard menu offers light, refreshing bites alongside some heartier French country fare. The bread, pâté, rillettes, cheeses and pickles are particularly fine with a glass of the good stuff, but Plateau also have a wicked way with barbied vegetables; hispi cabbage, cauliflower, and celeriac were all given the grill-treatment on our last visit to great effect.
For something a little more generous, a textbook venison pithivier with shallot and wild garlic hits the spot perfectly, and you can't leave without trying the restaurant's signature pan haggerty, a traditional Northumbrian casserole of potatoes, onions and cheese, here served with aioli. It's been on since day dot, or, at least, from our first visit during Plateau's early days of opening.
All in all, Plateau is an effortlessly stylish place to hang out, and with the recent addition of a few tables spilling out onto the street, is now even closer in style to a classic Parisian wine bar.
Plateau is open everyday from midday until 11pm.
---
Kindling
Kindling opened in late 2019, and due to that pesky pandemic, has only been open in fits and starts since. That doesn't mean the restaurant hasn't found it's feet. In fact, they were recognised in the latest Michelin Guide and we weren't at all surprised; their celebration of local produce and open fire cooking (we're starting to notice a theme here) has won them plaudits fast and we are very much among them.
At Kindling, the cooking is deft and done the lightest of touches, with plenty of pickled and fermented notes. The chef's respect for ingredients is clear; no plate is crowded or overworked and the focus falls as much on fresh vegetables as it does meat or fish. All of this leaves you room for pudding, which is superb here. A chocolate and olive oil cake with fig leaf ice cream was the highlight of our last meal, and it should be yours, too.
Kindling is open for dinner only (6pm to 9pm) on Wednesdays, and for lunch (12pm to 3pm) and dinner from Thursday to Sunday. It is closed on Mondays and Tuesdays.
---
Curry Leaf Cafe
Has all that wood fired meat and charcoal grilled fish left your palate in need of a lift? We have to admit, the best restaurants in The Lanes are primarily 'European' in their cooking, but there's one place doing properly invigorating, uplifting and spicy fare in this narrow tangle of streets and thoroughfares, and that's the Curry Leaf Cafe.
Open since 2014 and named in the Waitrose Good Food Guide as a 'local gem' every year since, the restaurant does South Indian street food far removed from the chicken tikka masalas of the high street curry houses. Here, dishes are piquant, heady and fruity, with splashes of coconut and plenty of tamarind leading to intoxicating and sometimes unfamiliar flavour profiles. It's fantastic.
With lunchtime thali platters clocking in at just £12.25, it's also superb value in a part of town which isn't often known for its cheap eats. If all of that BBQ'd meat and small plates has worn you down, you'll find relief and reinvigoration at the Curry Leaf Cafe.
And don't let the word 'cafe' put you off; there's a fine range of craft beers here. So fine, in fact, that the Curry Leaf Cafe were declared the UK's Best Craft Beer Restaurant by the Society of Independent Brewers in 2019 and 2020. Is there anything these guys can't do?
Curry Leaf Cafe is open for lunch (12pm to 3pm) and dinner (5pm to 10pm) every day except Sunday, when the restaurant operates with slightly different opening hours, from 1pm to 9pm.
---
64 Degrees
One of Brighton's most critically acclaimed restaurants, 64 Degrees has recently undergone something of a change in direction, moving to a tasting menu only format. Whilst we haven't tried this new offering, we were huge fans of the place when it was a la carte. Check out our review of those heady days at 64 Degrees, all the way back in 2018, here.
64 Degrees is open for dinner only (6pm to 9pm) on Thursdays, and for lunch (12pm to 2pm) and dinner (6pm to 9pm) from Friday through Monday. It is closed on Tuesdays and Wednesdays.
Now, how about an after-dinner cocktail? Whether you're looking for something seasonal and sustainable, avant-garde and conceptual, or traditional and perfectly, precisely mixed, here's our roundup of the best cocktail bars in Brighton.