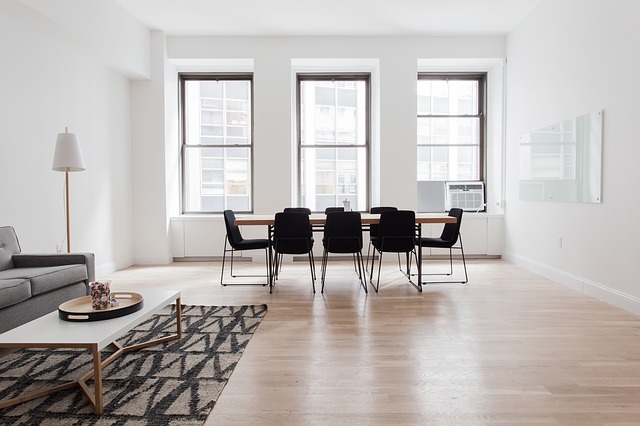 Your home is your castle. It provides a sanctuary far removed from the hustle and bustle of daily life, and as such, needs to be a place of soothing calm. It is your personal space to relax and unwind after a stressful day of work, a place to recharge batteries and reclaim a bit of sanity after a mad day; a place of relaxation and restoration.Yet, this may not always seem the case in a busy, hectic household. But, fear not. All's not lost. Here, we offer 7 IDEAL steps for turning your house into an oasis of calm.
Welcome Natural Sunlight
Do you want to add more positive energy into your home? If so, try to welcome as much natural sunlight into each room as possible, as it will create a light and airy space, and in doing so, will lift your mood no end. You don't want to be blinded by the sun though, so choose your blinds or curtains carefully. For many, the amount of natural light in a room is the make or break as to whether they spend time there, so exercise caution and care for the perfect ambience.
Light Candles
So, what do you do when the sun goes down? You still want those flickers and rays of unpredictability, so light a candle. Candlelight can create a relaxing, romantic atmosphere, which is lovely to walk through the door to. Deploying ones with a homely, aromatic scent will bring further multi-sensory satisfaction from something seemingly so innocuous. So, throw on your pyjamas, grab a book, box set or both and light a beautifully-scented candle. You'll feel relaxed in no time.

© Pixabay
Add A Fish Tank
Few things are more relaxing than watching fish swim their way around an aquarium, adding a touch of tranquillity to a room. You could while away many an hour watching the different fish explore the water; a hypotonic, therapeutic experience perfect for the 'oasis of calm' we're after. You can even customise the aquarium to suit your personality; adding a personal touch in tune with your character will bring further life and personality to your place of sanctuary. If you're looking for an aquarium or another relaxing water feature for your home, visit water-garden.co.uk to peruse some great ideas.
Treat Your Home To Flowers
The beautiful scent and colours of a bouquet can improve your mood and happiness, which is why you should regularly treat your home to a stunning floral arrangement. Bringing nature inside in this way is imperative to positive vibes in the home. Bold colours can sometimes produce excessive energy within the home, so choose muted, wall-colour complementary tones that provide feelings of comfort and balance. Choose flowers of the season, and enjoy the natural harmony that they bring to your home.

© Pixabay
Declutter
Cluttered home, cluttered mind; or so they say. It is therefore essential to declutter your space to create a fresh, attractive home. While you do not have to opt for a supremely minimalist interior, you should eliminate too many decorative accessories, furniture or knick-knacks crowding your shelves and table space. You'll have more freedom to move and your mind will feel much clearer.
Create A Chillout Space
If possible, why not dedicate an entire room to relaxation? We've all heard of the 'man cave', but r'n'r needn't be gender specific. It can be your little sanctuary away from a busy home, as you will have a space to enjoy some time to yourself to chill, pamper your body or embark on deep breathing or meditation techniques.

© Pexels
Cushion Corner to Corner
Do you want to enjoy a quieter, more relaxing home? If so, use textiles to achieve a calmer and quieter home; introduce cushions, a plush rug and decorative pillows into your interior design to absorb the sounds. This can help reduce loud noises within the home and create a happier, calmer home – and they'll also add a touch of luxury and homeliness to a space.