A new year, and a healthier, happier you. It's the dream isn't it? January is traditionally a time when our thoughts turn towards health, wellbeing and reinvention. As well as taking positive steps to improve our physical fitness, more people are also recognising that the home environment can play a huge role in influencing how we feel. Seeking wellness in interiors has been identified as a key trend for 2020; the bond between interior design and our emotions is strengthening as the concept of home-as-sanctuary in a difficult, unpredictable world gains momentum.
And as more of us than ever – especially young women – are working from home, making sure your home is a productive and comforting space is integral to a happy, balanced life. Together with Hillarys and wellbeing expert Liz Earle, we give you 8 IDEAL ways to make your home office a haven of wellbeing during self isolation.
SEE THE LIGHT
Put your desk in front of a window as plenty of natural light is the holy grail of happiness; it significantly increases energy, creativity and productivity. If you're looking for blinds in Essex, wood or faux wood venetian blinds are perfect for home office windows as they filter the light to minimise glare on your computer, with the slats easily adjusted to control light levels as the sun moves round during the day. So go for function but don't forget about style. Roman blinds soften the look of the room and a pretty botanical fabric brings a lovely feel of the outdoors into your office.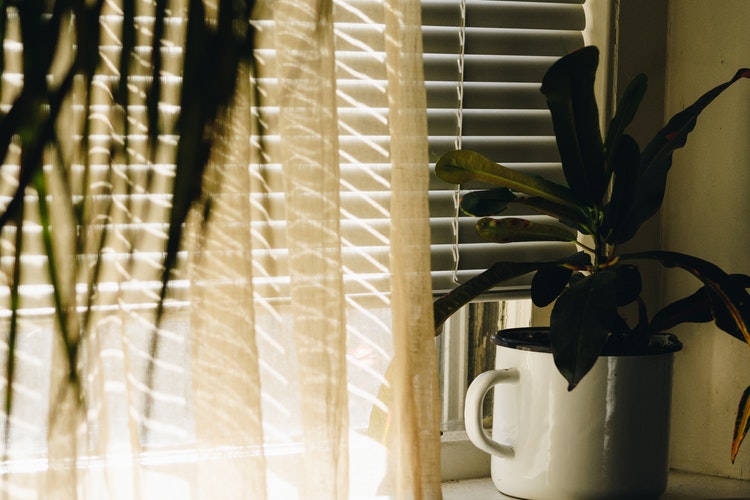 GET CRAFTY
It doesn't have to cost the earth to redecorate your office. Charity shops and car boot sales are perfect hunting grounds for quirky, vintage pieces. Or why not indulge in some DIY creativity? Cover plain cardboard box files with wallpaper or fabric for a fabulous, bespoke look. A pinboard made from a wooden picture frame, foam and fabric is a great way to display photos, to-do lists or any other information you want to see at a glance. It also brings with it a great sense of satisfaction at having done things cheaply and with your own hands.
WOOD IS GOOD
Make your office a little more eco-friendly with a desk made from reclaimed scaffolding boards and simple trestle legs. The former can be picked up cheaply from a salvage yard and the beauty of doing this is that you can design your desk according to your space and needs.
ADD GREENERY
It's been proven that plants in the workplace can reduce stress levels and increase productivity. Aside from these pseudo-scientific benefits, plants are a cheap and cheerful way to add decoration and bring a lovely touch of nature into your home office. Opt for green, leafy plants like ferns or ivy, avoiding cacti whose spikes can create the opposite of a relaxed feeling. Equally, flowers with a strong scent can be distracting or irritating, so probably give them a swerve too.
CONCEAL CLUTTER
A cluttered workplace can be distracting so get creative with your storage. If you can't bring yourself to actively declutter, then it's a conceal job, we're afraid to say. You could use soft, floaty voile curtains to cover up a shelving unit, for instance.
SITTING PRETTY
As tempting as it sounds, dragging a chair from the dining room, or a stool in from the kitchen, is a false economy.  An ergonomic chair may not give the designer feel you're after, but your back will thank you for it! And, you can really pretty it up with a cosy sheepskin or throw. Consider foot rests, ergonomic mouse instruments shaped to fit your hand and soft keyboard pads that allow rest and relaxation for the wrist. If you're going to spend all day at your desk, you may as well be kind to the tools which make you money.
PICTURE THIS
Pictures and photographs can be a great way to inspire creativity and a feeling of wellness. Pick out three or four that are significant to you and make sure those are in your view.  But remember; the more stuff you add to your desk, the more your brain has to keep track of. Working in a crowded space can be mentally exhausting, even if you don't realise it, so tend toward the minimalist, when possible.
KEEP IT COMFY
Your desk is for getting down to business, but you probably need a place to read, take a break or just have a cup of coffee.  A comfy chair or sofa is a great addition if you have the space. Add plenty of cushions and a throw and you'll be all set for those important thinking breaks.
SQUEEZE IN MINI BREAKS
Even if you can't fit in a full workout, you can still do some simple stretches and strength moves in your office. And even if you don't have equipment, you can do things like chair yoga using nothing but your office furniture. Be smart, be resourceful, and good things will come.