Eating your way through Porto is a lot like having a history lesson. Not only will you leave with a belly full of delicious food, but also a greater understanding of the culture behind this wonderful city, country and its peoples. As with any great cuisine, the food here is heavy on the narrative; a story of war, peace, resistance and resilience. It's enough to feed a whole novel. Instead, we're afraid, you just have this article; our 7 IDEAL things to eat in Porto.
SUCCUMB TO SARDINES GRELHADO
Speak about Portuguese cuisine to anyone in the know and sardines will soon be a central talking point. They're just so damn good here, the temperature of the surrounding Atlantic waters seemingly bringing out the best in the catch. Visit in late June, during the Festa de Sao Jao, and you'll see them getting the grill treatment all over town, blistered, aromatic and at their best. If you still haven't had your fill, catch a small boat across the river Duro to a small fishing village called Afurada where fish, it seems, are always on the barbie. Gourmet tinned sardines are also a big deal in Porto, and shouldn't be missed.
PUT AWAY SOME PORT
The clue's in the name with this one. In the UK port is synonymous with being your grandma's favourite tipple, the one which only comes out at Christmas when you've drunk the rest of the house dry. But coming to Porto will completely change your opinion of this sweet, rich elixir forever. Try a refreshing glass of white port mixed with tonic, with a slice of orange; the Portuguese answer to gin and tonic and a light, refreshing libation.
ALHEIRA
Northern Portugal's most famous sausage, Alheira takes its name from the Portuguese word 'alho' meaning garlic, a key ingredient in this meaty treat. This sausage is credited with saving hundreds of lives during the Spanish Inquisition, no surprise then that it's one of the country's most beloved, cherished foodie offerings. Reportedly, it was invented by the Jewish community in Portugal during the Inquisition in order to prevent detection during the period, as traditional Portuguese sausages were filled with pork (not considered kosher and therefore not in the Jewish diet). To avoid detection, the sausages were instead made with duck, game and other meats, mixed with bread, and the product has prevailed in popularity to this day.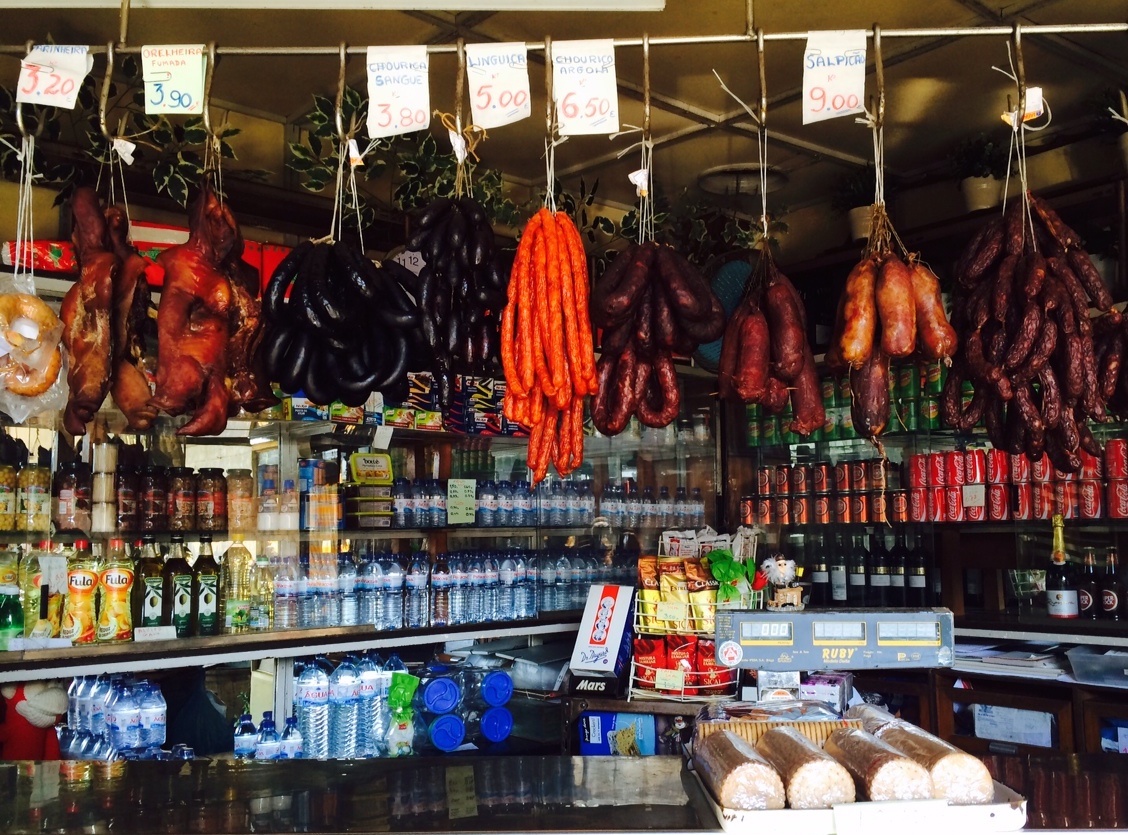 TRY SOME TRIPE
The people of Porto are sometimes nicknamed 'tripeiros" or 'tripe eaters'. Tripe dishes are said to have originated in the 14th century, when supposedly all meat, except for offal, was shipped out of Porto to feed Portuguese troops in Africa, leaving the delicious good stuff behind. Born out of necessity, like so many great dishes across the world, tripe has since become a local speciality. Tripas à Modas do Porto is perhaps the best realisation of this centuries old love affair; a beautiful stew containing, generally, veal tripe, butter beans and dried spices like paprika and cumin. These days other meats are added to the pot; we've had a cracking version which contained smoked sausage and veal shank. Crusty bread is mandatory for mopping.
BITE INTO SOME BACALHAU
Bacalhau is a Portuguese speciality of dried and salted cod. There are lots of different versions; rumour has the number at over 365 and thousands of ways to serve it. It goes without saying, then, that you shouldn't leave Porto without trying one. Bolinhos de Bacalhau, a type of fish cake made with the salt cod, parsley and potato, is perhaps our favourite utilisation of this great ingredient. In Porto, you'll find it everywhere; especially good with a cold beer cradled in the other hand.
FEAST UPON THE FRANCESCINHA
The Francescinha sandwich (literally, 'Little French Female') is, to many, Porto on a plate. Be warned, this gut busting dish isn't one for faint-hearted or for those watching their waistline but it's delicious and a proud symbol of the place. The city's speciality, this artery clogging little number is a sandwich with layers of ham, sausage and steak covered in a rich beer and tomato-based sauce. Now would somebody pass a tissue? There's something Pavlovian going on here.
PUNISH THE PASTRIES
Sure, we've all heard of pastéis de nata, a little puff pastry tart filled with an egg-yolk-rich custard considered to be the national sweet treat of Portugal. However, another puff pastry delight awaiting a face filling is Pastéis de Chaves, a speciality from the city of Chaves in the north of Portugal, which like Cornwall's Cornish Pasty, has Protected Geographical Indication. Eat them at A Loja dos Pastéis de Chaves, a store which prides itself on making them the traditional way. The Duro region is also famous for its almond growing, and the Tarte de Amêndoa (almond tart) is perhaps the finest celebration of this great ingredient's abundance.