Without wishing to be complacent, we're not going to insult your intelligence here. You probably already know that you should practice safe sex, anywhere. It's pretty obvious that in a foreign land, you shouldn't be mouthing off about heads of state. Yep, drugs are bad news, as is glugging out of the tap with wilful abandon. Buddha tattoos are naff and disrespectful and smiling at people will definitely ensure a smoother trip than acting like an arse. Now that's all out of the way, let's get to the really useful stuff, with these; our 8 IDEAL travel tips for Thailand.  
HANDBAG ESSENTIALS
There are a few things which you should carry with you if you're straying far from your hotel or off the beaten track. While not an exhaustive list, these include proper, deet heavy mosquito repellant (not the weak stuff available in 7/11s), toilet roll (the spray gun of public toilets takes some getting used to) and a spoon (delicious, tightly wrapped bags of takeaway food don't always come with utensils).
Getting your phone unlocked and having a Thai sim card – there are some ridiculously good deals like AIS' traveller packages – will also save heaps of headaches. Doing so will give you smooth access to Google Translate, Maps and our favourite app out there…
GRAB TAXI
Uber doesn't operate in Thailand but Grab Taxi is available and running efficiently in all of the big cities. It's remarkably cheap and reliable, with a trip across town rarely coming in at more than a couple of quid. Using Grab also negates the often trying issue of explaining your desired destination to taxi drivers. Your pronunciation may be poor and drivers in Thailand often can't read; a simple pin drop on a map will be your saviour.
CITY FOCAL POINTS
Thai cities and towns often have a sprawling, unfocused quality which makes it difficult to pinpoint the centre. Because of this, knowing where to hang out and base yourself is often difficult. Your hotel may have appeared to be amongst the action when you booked it, but you may find when you arrive that nothing is within walking distance. And due to the heat and traffic of the country, walking isn't much of a popular pastime anyway.
To identify where the hustle and bustle really is, and where the Thais like to have fun, do your research about where to find the biggest night markets and walking streets of a city; a failsafe indication of where it's at. Lakes also host much of the early evening entertainment, with food stalls, family's strolling and wildly enthusiastic exercise classes all offering the opportunity for some excellent people watching.
MAKE BACKUP PLANS
So you've painstakingly done your due diligence about the most esoteric, authentic street food vendor in the city, and you've schlepped across town in the sweltering heat to hunt her down. It's not unlikely that when you arrive, the place is closed. Thai eateries, especially small family run shophouses and those on the street, don't operate with particularly predictable opening hours. Go out with two or three places in mind. Always having a backup in the same area up your sleeve will avoid crushing disappointment.
LEARN THE FOOD LINGO
Even in Bangkok and Chiang Mai, the best street food joints don't often have English menus (or menus at all for that matter). It's essential if you want to eat at some of the cooler, less commercial spots that you know the names of a few key dishes. A simple 'khun mee + dish + mai ka/krap?' will help unlock the world of amazing dishes otherwise unavailable to the trepid traveller. We love the advice of Thai food enthusiast and all-round great guy Mark Wiens on his website dedicated to the good stuff. He's got extensive information about some of the best street eats in the country, and very usefully, the Thai names for dishes which you can have a stab at pronouncing.
WATER-WISE
Be warned; the amount of plastic used and abused in Thailand is astonishing. Do I really need a double bag and straw (and spoon?!) for that bottle of water? Is it really necessary to triple wrap my grilled naem sausage? Make a positive impact on the plastic problem by always refilling your water bottle at one of the many, cheap-as-chips water filling stations located across Thai cities and towns. A simple 'mai ao ka/krap' (I don't want) is also useful when offered plastic at every turn.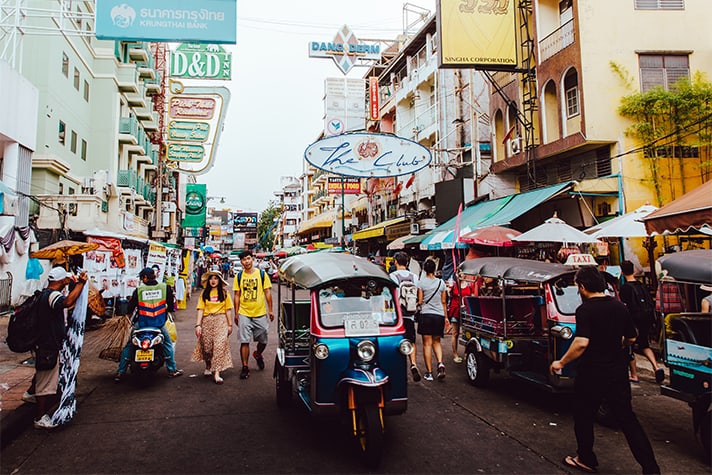 BARTER RESPONSIBLY
Yep, we all know that bartering is part of the fun of shopping in Thailand, and the Thais love nothing more than a bit of friendly banter and back'n'forth. It's important, though, not to let your pride get you carried away. Does that extra 20p saved really matter? Tone the competitiveness down and give a fair price rather than damaging the face of both you and the shopkeeper.