Dubai's rise in the mind of UK holidaymakers shows no signs of slowing. Indeed, British visitors to the self-styled City of Gold topped a million in the first half of 2023, according to Global Media Insight.
It's easy to see why. With its powdery white sand, luxury shopping opportunities, the finest of dining and extreme sports all abundant and in close proximity, packing so much into a short stay in Dubai is a breeze.
On top of that, a slew of recent reforms have been announced to make the city more attractive than ever; weekends have been extended to include Sundays (traditionally, a working day in much of the Muslim world), alcohol is increasingly permitted, and unmarried ex-pats can now live together.
Last year, the BBC aired a new show looking at the lengths of luxury you can uncover in Dubai, titled Inside Dubai: Playground of the Rich. It was insightful, to say the least! And if you're keen to make the most of your trip to the United Arab Emirates' most populous city this year and follow in their footsteps, then here are 7 itinerary ideas for your luxury holiday to Dubai in 2024.
Haute Cuisine On High
We're sure you already know that Dubai boasts the tallest building in the world, the Burj Khalifa, which stands proudly at 830 metres high. It shouldn't surprise you to learn, then, that the world's tallest restaurant is housed within the Burj Khalifa, too.
Sitting (or should that be standing?) on the 122nd floor of this world famous skyscraper, At.Mosphere boasts floor to ceiling glass windows, all designed to allow you to truly luxuriate in the spectacle of dining in the sky. That's if you can take your eyes off the food, that is; here, the ingredients are a roll call of the most indulgent available anywhere on the planet, with 12+ Japanese Wagyu rubbing shoulders with foie gras and yellowfin tuna on a menu of the heaviest of hitters.
Naturally, you'll pay for the privilege; the tasting menu at At.Mosphere is currently priced at AED 980 for seven courses (that's around £220), with an even more extravagant tasting 13 course affair available for those with the deepest of pockets. And that's before you consider the fizz…
And if you're still hungry, check out our guide on where to eat on the Palm Jumeirah, another of Dubai's key attractions.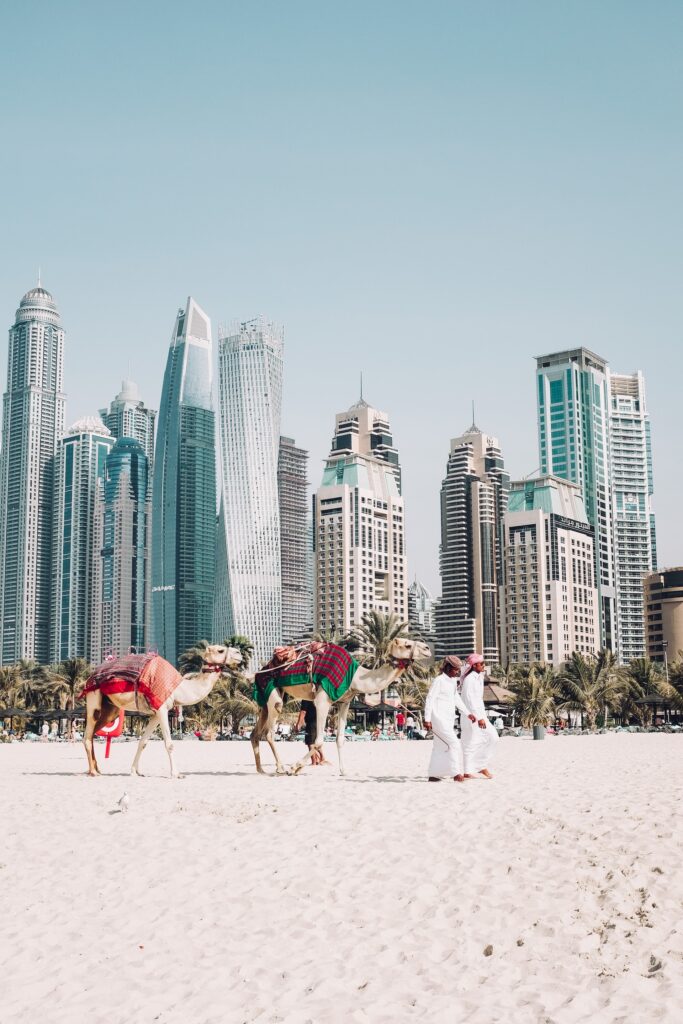 A Mall To Mall Shopping Extravaganza
The City Of Gold is perhaps best known for its luxurious shopping options. For starters, Dubai is home to the world's largest shopping centre, the Dubai Mall, where you can indulge in some retail therapy from designer houses such as Gucci and Armani (if you have the holiday budget for it, that is!).
With a whopping 1,200 shops, Dubai Mall should be your first port of call when visiting the City of Gold with shopping on your itinerary. But there are several other brilliant malls that you simply shouldn't miss, including the Jumeirah Emirates Shopping Boulevard for luxury business clothes, the Dubai Marina Mall for shopping with a waterfront view, and the Souk Madinat Jumeirah, which is great for a more traditional bazaar shopping experience. You can even enjoy a spot of skiing whilst you shop, at the Mall of the Emirates. Yep, for any and all shopping tastes, Dubai has got you covered, so long as your credit card has the capacity.
Read: Things to do in Dubai for fashionistas
Serviced Apartment Paradise
Whilst Dubai's iconic 7-star hotels are certainly worthy of your night's sleep, many find an even more serene, private kind of luxury in the city's incredible serviced apartments.
When you think of serviced apartments in Dubai, several iconic names come to mind. Properties like the Downtown Dubai Residences not only offer panoramic city views but also feature state-of-the-art gyms, spa services, and gourmet in-house dining. Another gem is the Marina Bay Suites. Positioned beside Dubai's shimmering marina, these serviced apartments promise both scenic views and quick access to the city's bustling nightlife.
Serviced apartments in Dubai aren't just about offering a comfortable stay; they redefine what luxury means. Think private butlers, rooftop infinity pools overlooking the city's skyline, dedicated concierge services, and in-house fine dining restaurants. These aren't mere rooms or flats; they're experiences waiting to be unravelled. For instance, the famed Palm Tower Residences offers an underwater gym and spa, setting a new benchmark for luxury living.
See The City By Supercar Or Boat
Aside from world beating skyscrapers, bank balance testing shopping and gravity defying fine dining, Dubai is perhaps most well known for its association with supercars.
Of course, anywhere well known for its ostentatious displays of wealth and luxury has its fair share of Lambos, Ferraris and Bentleys, but in the City of Gold, you'll see them everywhere. In fact, the inner lane in Dubai is reserved for luxury cars travelling only at the most serious pace, with speeds of 200kmh not uncommon.
If you can't beat 'em, join 'em, as they say, so why not consider supercar rental as a (relatively) affordable way of seeing the city whilst doing a lap of luxury. Daily rental starts at around £500 for a luxury car.
And once you've secured your vehicle, you'll be pleased to know that there are some incredible road trips to take out of the city and into the surrounding countryside. Check out Time Out Dubai's guide to the essential UAE road trips for more.
Do be aware that UAE law has a zero limit for intoxication when driving. Do not get behind the wheel even after a single beer. You will be jailed.
Seeing Dubai by boat is one of the most popular ways to experience the city's beautiful skyline and iconic landmarks. If you're an adrenaline junkie, a high-speed boat tour might be more your speed. This can include a tour around the Palm Jumeirah, with views of the Atlantis Hotel, Jumeirah Beach, and the Burj Al Arab.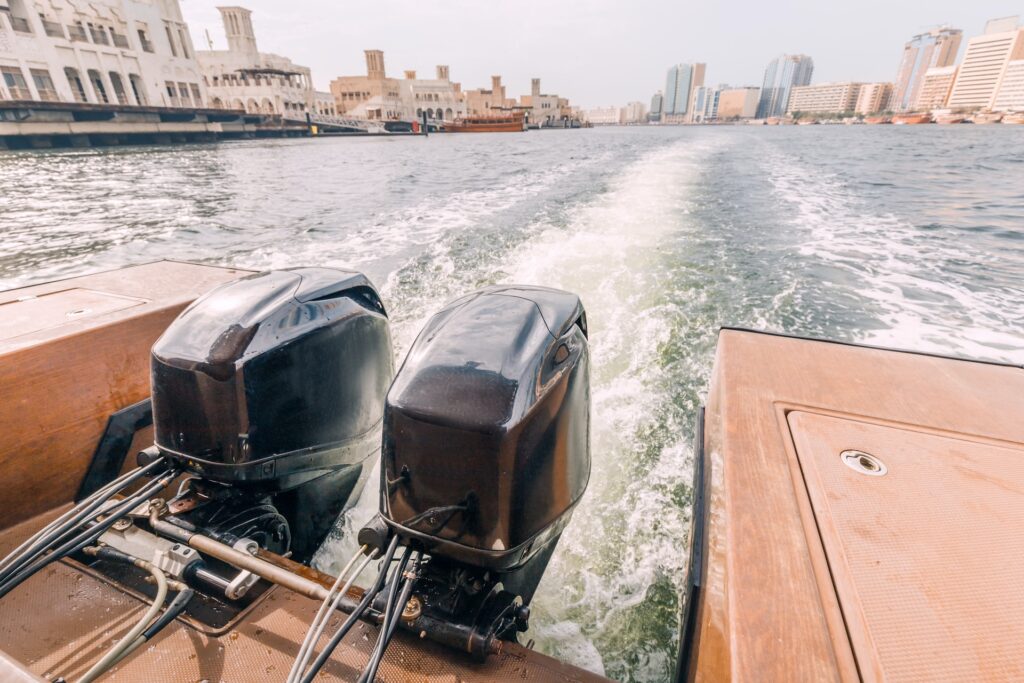 Adrenaline Chasing At Dubai's World Famous Theme Parks
If 200kmh isn't fast enough for you, then why not raise the adrenaline even further at one of Dubai's famous theme parks?
The IMG Worlds of Adventure is the largest indoor theme park in the world, spanning an incredible 1.5 million square feet (that's 28 football pitches, to put things in perspective). Here, you'll find rollercoasters Spiderman Doc Ock's Revenge and the Velociraptor reaching truly dizzying speeds
But perhaps even more thrilling for coasters is Motiongate, which features rides based on movie blockbusters; the Capitol Bullet Train, in particular, is as hair-raising as it comes.
Alternatively, for something a little different, Bollywood Parks brings the world of India's movie industry to life, whilst Legoland Dubai provides younger visitors with a fun-filled day on its rides.
Of course, in a city of such sweltering heat, water parks are big business, too, the undisputed champion of which is Aquaventure, one of the biggest water parks on the planet.
Enjoy A Traditional Hamman Spa
Phew, we've been travelling at great speeds, dining at greater heights and generally splashing the cash in a rather dizzying way, but nothing says luxury like a spa day. And the people of Dubai really do know how to unwind in luxury.
The city is full of beautifully decorated luxury spas, both traditional and modern. While you're here, you have to check out one of the traditional Hammam spas, which is a Turkish or Middle Eastern style spa, more akin to a steam room or wet sauna, all designed to cleanse and relax your body and mind. Aaahhhh.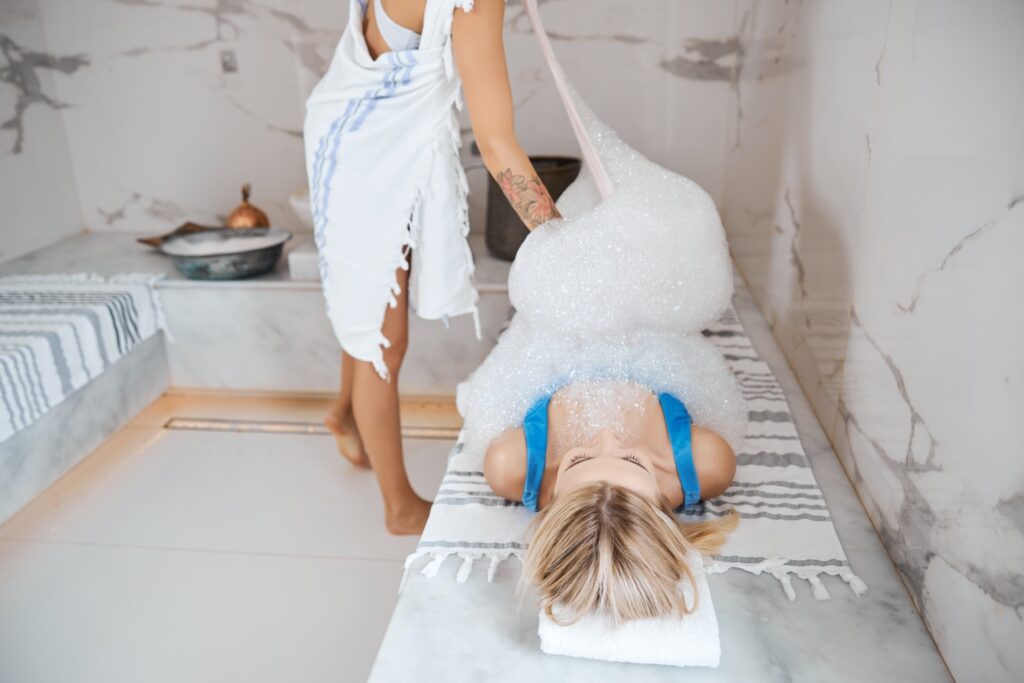 Go On A Desert Safari
Of course, not all of the most decadent Dubai experiences have to happen in the shadow of the city's skyscrapers. There's also plenty of fun to be found in the Arabian Desert, from desert safaris to hot air balloon rides. We've covered it all here; do check it out sometime!
Perhaps after such decadence, you might be considering moving to Dubai? In which case, we've got you covered; check out these 6 essential tips for expats moving to Dubai.