In a world that's never felt more topsy-turvy, there's nowhere we'd rather be than the Harbour City. Boasting one of the most exciting food and drink scenes in the world, and those sun kissed, free spirited vibes we've been missing in the recent gloomy depths of winter, Sydney boasts bouts of escapism like few other places on earth.
Should your stay be short before you head off to explore Australia's vast and varied countryside, you'll want to ring every last drop out of the city in as efficient a way as possible.
Well, we've called in the expertise of Bondi 38, perhaps Sydney's leading serviced apartments provider, to help with that. On their whistle stop tour of the city, here's where we're heading; these 7 of the best places to eat, drink and party in Sydney. 
Lunch At Saint Peter, Paddington
Any self respecting foodie and fish fan has only one place in their sights for lunch after arriving in Sydney. Since we are both those things enthusiastically, we're heading to Paddington first, to one of the world's most talked-about fish restaurants, Saint Peter.
Sitting on Oxford Street in Sydney's Paddington, the restaurant is in the vanguard of a revolution in the way we think about fish. Perhaps you've even seen head chef and owner, Josh Niland, on TV screens here in the UK, discussing his concept of 'fish butchery' – using every part of the fish and wasting nothing – which all culminates in stunning, deceptively simple dishes which highlight the chef's unique approach but more importantly, the quality of the fish from nearby waters.
The menu is ever changing according to the season and the catch, but one thing you can be sure of here is precision cooking of the celebrated ingredient, whether that's in the glorious smoky yet delicate 'coal kissed' bonito served with a black garlic vinegar dressing, or the yellow fin tuna nduja that accompanies crunchy, punchy fried green beans.
And what is a brilliant fish dish without a glass of wine to perfectly complement it? You'll be pleased to hear that at Saint Peter, it's an all Australian wine list to go with the all Australian fish menu, and it's an extensive, exhilarating affair with the list awarded 2* by the World Of Fine Wine Magazine.
Don't leave without sampling the restaurant's iconic desserts, which make use of fish offcuts in the most inventive of ways. If they're on, don't miss the snapper eye ice cream or the custard tart with fish sauce caramel; both are superb.
Sundowners At The Opera Bar
A spot loved by Sydneysiders and visitors alike, no trip to the city would be complete without a visit to its iconic Opera Bar. Located at the water's edge and overlooking Circular Quay, it's one of our favourite spots in Sydney for al-fresco drinking accompanied by a dozen or so freshly shucked oysters.
On evening and weekends there's live music and DJ's, but the best time of day is unquestionably at sunset where you can enjoy cocktails and watch the sun disappear behind the Sydney Harbour Bridge.
Top tip: If the Opera Bar is packed out on your visit, head to the cocktail bar on the 36th floor of the nearby Shangri-La hotel for panoramic vistas over the harbour.
An Evening Of Live Music At Rock Lily, The Star, Pyrmont
The entertainment on offer within The Star complex means that a cocktail and perhaps even a bit of dancefloor action is well within reach of one another.
The Star boasts several cocktail bars – our favourite is Sokyo – but we're heading straight to Rock Lily, an intimate, 200 capacity live music venue, which puts on concerts every Friday and Saturday night. In recent years, the likes of the late, great Chris Cornell has graced its stage, and we can't wait to see what their programme for 2023 promises.
Away from the stage, Rock Lily is famous for its extensive tequila collection, with some of their rare bottles exclusive to the venue. Open until 3am, you really can dance the night away here.
An Early Morning Trip Out Of Town To Hunter Valley, Nsw
Though the Hunter Valley is a couple of hours drive from Sydney, it would be remiss of us to write an article about eating and drinking in the city without mentioning how one of the most highly regarded Australian wine regions going is so close to hand.
We'd recommend getting up early and heading out to Hunter Valley when the roads are quiet, enabling you a peaceful, mild morning of wine tasting before heading back to Sydney for lunch. Bliss!
In New South Wales, the wine regions surrounding Sydney carry some serious prestige. The Hunter Valley wineries are Australia's oldest wine region and quite honestly, one of the most picturesque in the world. There are 150 wineries in the region, with the Semillons produced here garnering accolades globally.
The Audrey Wilkinson Winery is perhaps the most revered, with stunning views of the Brokenback Mountain range just behind, and a world-renowned Semillon to sample. Closer to home, you'll find the Audrey Wilkinson's Chardonnay available in Waitrose, at £15.99 a bottle, the perfect encapsulation of the terroir of the Hunter Valley. Do try it out on UK soil before you base a whole trip to Australia around tasting it!
Oh, and if the mood for a road trip suddenly takes you, firstly, don't; you've had too much to get behind the wheel.
'Linner' At Coogee Pavilion Rooftop, Coogee
Though we'd love to be here forever, enjoying the rolling hills and rollicking wines, we've places to be. So, we're bidding Mornington Peninsula farewell and heading back to Sydney for the evening.
If you are keen for some lunch in the countryside amongst the vines before the drive back, you'll find some serious foodie destinations in Hunter Valley. That said we're keen to get back to Sydney, to enjoy an afternoon spent in the sun at Coogee Pavilion, one of the hippest tickets in town.
Overlooking Coogee Beach, the pavilion has several great restaurants and bars, with Mimi's one of Sydney's most talked about restaurants. But for us, a late afternoon lunch or early evening dinner is best spent in the city's finest sun trap; the pav's rooftop, complete with bar and Vinnie's Pizza Oven, as well as panoramic views of the beach and ocean. We couldn't think of a better way to while away the hours!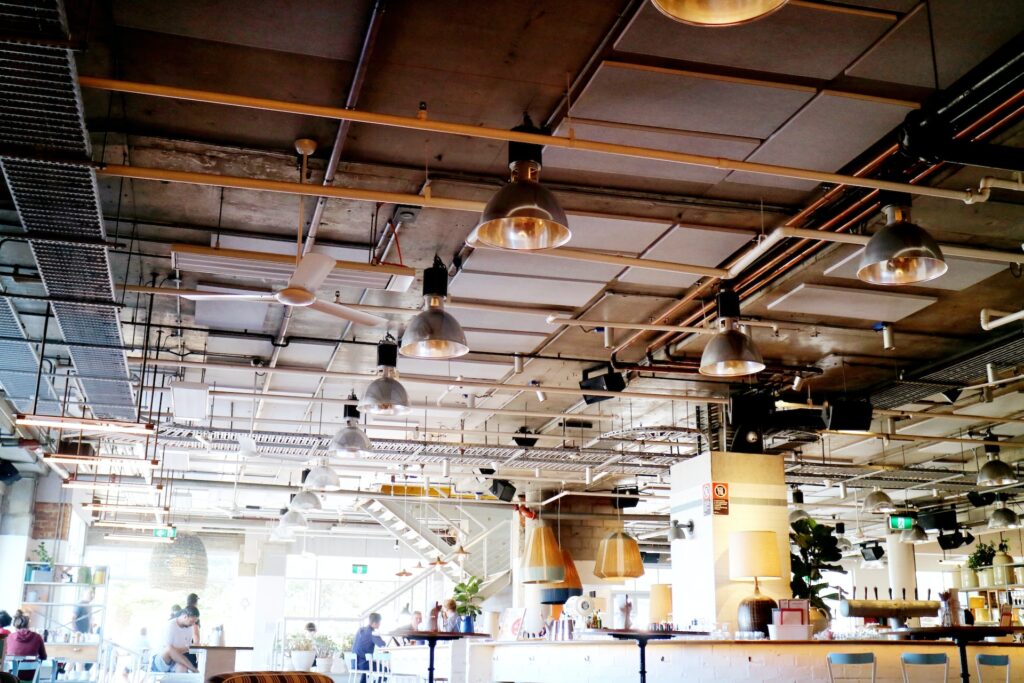 Fiery Flavours At Porkfat, Haymarket
One of Sydney's most exciting restaurant openings of the past year has been Porkfat, a Thai restaurant that's not afraid to be as bold with the aforementioned lard, smoke and spice as the most revered restaurants in Bangkok, and it's all the better for it.
The restaurant name comes from chef Narin 'Jack' Kulasai's use of pork fat in place of regular cooking oil, a common thing to do in Central Thailand where the chef hails from. Having previously headed up Sydney favourite Long Chim, Kulasai certainly knows his Squid from his Tiparos, and the menu balances the robust with the refined in rewarding fashion.
Don't miss the salted duck egg som tam salad, which visually calls to mind a split spaghetti carbonara, but packs a punch you'd struggle to find on Rome's backstreets. Even better is the southern-style curry of king prawns, with the rasping presence of black pepper a welcome top note.
Yep, this is food to share and the savour, and is certainly worthy of lunch or dinner during your 48 hours in the Harbour City.
Classy, Creative Cocktails At Maybe Sammy, The Rocks
For a nightcap, we're heading half an hour north into Sydney proper, for a drink at one of the world's most acclaimed cocktail bars, Maybe Sammy in the funky neighbourhood of The Rocks.
Named last year as 'The Best Bar in Australasia' and #29 in the World's 50 Best Bars, this Harrington Street bar has only been open for a couple of years but is chalking up the plaudits in the process, with it's signature, creative cocktails and Rat Pack inspired aesthetic.
Though such an esteemed joint might sound worryingly exclusive – and indeed, it is swanky – there's a 'mini' list of classic cocktails for just $10 a pop. What's more, they do several wines by the glass as well as some superb skin contact Australian wines, including an Arfion Spring Pinot Noir from the Yarra Valley we were checking out earlier on. Chin Chin!
Oh, you've read all of that and are suddenly thinking about moving to Sydney, too? Then you could do much worse than checking out these 6 essential tips if you're moving to Sydney. We'll see you on that rooftop for a glass of rosé?