Your honeymoon is a once-in-a-lifetime (let's hope it's only once!) romantic getaway, a chance to make lifetime memories with your beloved, and an excuse for phoning in all those freebies from restaurants and hotels along the way. 
If you're looking for a place that offers adventure, relaxation, and a cultural and culinary extravaganza in the same breath, look no further than Tanzania. This East African gem is set to become 2024's dream honeymoon destination, and here's why.
Firstly, How Best To Get To Tanzania From London?
Given the significant distance of approximately 7303 km between London and Tanzania, you're going to be flying here, make no mistake. However, it's important to note that there are no direct flights from London to Tanzania.
The quickest flights from London Heathrow to the Julius Nyerere International Airport in Dar Es Salaam (Tanzania's busiest) takes around 12 and a half hours with a stopover in Istanbul, and cost in the region of £500 for a return ticket.
The Romantic Aura Of Tanzania's Private Islands
Tanzania is home to many exquisite private islands that make for an idyllic honeymoon getaway. Rubondo Island, located on Lake Victoria, and Fanjove Island, part of the Songo Songo archipelago, are perfect hideouts for lovebirds. Offering private island accommodation that usually comes in the form of luxury lodges, as well as untouched beaches and an incredible array of wildlife, you will enjoy privacy, serenity and nature in its purest form.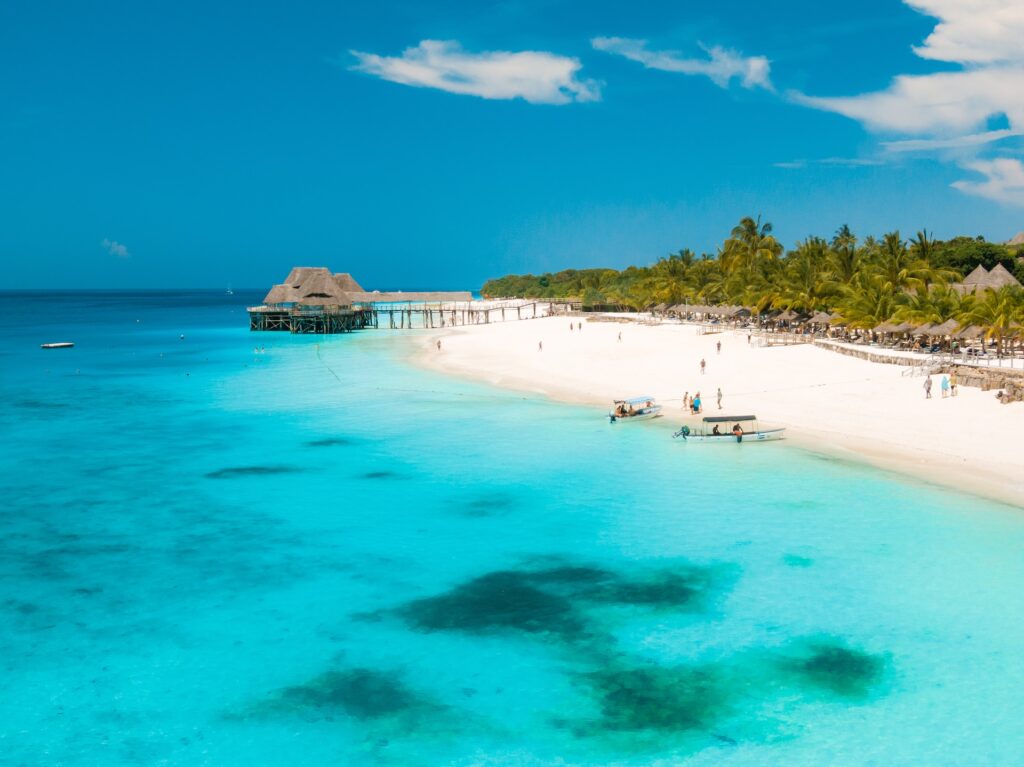 The Culinary Adventure Of A Lifetime
Tanzania's cuisine is as diverse as its landscapes. From the savannahs to the coastal areas, each region has its unique dishes that will satiate your taste buds. Traditional meals based around the staple cornmeal Ugali, and grilled meats known as Nyama Choma, and the coastal region's Zanzibar Pizza (more akin to a Malaysian style murtabak than a pizza, in all honesty), will provide gastronomic delights you won't soon forget.
Couple this with a glass of locally brewed hibiscus wine, and you have a unique and unforgettable culinary journey that will define and delight your first holiday as lovebirds.
Read: 8 of the best local dishes to try on your holiday to Tanzania
The Magic Of Zanzibar
Known as 'The Spice Island', Zanzibar is a tropical paradise that promises mesmerising sunsets, crystal clear water, and a rich history, and is the perfect place to unwind after your wedding stress.
Explore the old town, the UNESCO World Heritage site of Stone Town, enjoy snorkeling in the turquoise water, and lose yourself in spice plantations. The blend of African, Arab, and European influences creates a unique charm that is utterly captivating.
What better way to affect honeymoon affection than the smell of scents of tropical flowers and the warm tropical breeze passing over you as you canoodle in a hammock together strung between two palm trees? Nugawi Village is probably the best beach on the main island Unguja for that romantic walk, and Nakupenda offers the chance to frolic with snorkels and sealife when you've had enough of rolling around with your partner.
Breathtaking Safaris
Tanzania boasts some of the world's best wildlife-viewing destinations including the Serengeti National Park and the Ngorongoro Crater. The Great Migration, where millions of wildebeest and zebras cross the plains, is a spectacle to behold. Imagine enjoying a romantic picnic amidst this backdrop, a perfect fusion of love and adventure
Read: 7 reasons to go on a Tanzania safari
The Always Awe-inspiring Mount Kilimanjaro
For adventurous couples, a trek to Africa's highest peak, Mount Kilimanjaro, could be a thrilling and bonding experience. Experiencing the sunrise together from the rooftop of Africa is an inimitable moment that you'll cherish forever.
Preparing for a Kilimanjaro honeymoon involves both physical and logistical preparation. Start cardio and strength training months in advance and gear up with good hiking boots, warm clothing, sunblock, and altitude sickness medication. A health check-up prior to the trip is recommended and secure travel insurance that covers high-altitude trekking.
The best time to hike Mount Kilimanjaro is during the dry seasons between July-October and January-March. Choosing the right route is key, as they range in scenery and difficulty. There are numerous routes to choose from, each offering varying degrees of difficulty and scenic beauty, such as the popular Machame route, the challenging Lemosho route, or the more gentle Marangu and Rongai routes, though generally, the trip should last 5-9 days, traversing different ecosystems from rainforests to ice-capped summit. Safe, slow ascents ensure a successful trip, and reaching the summit for sunrise makes for an unforgettable honeymoon.
A Rich Cultural Experience
Tanzania's cultural tapestry is vibrant, with over 120 different tribes, each with its unique customs and traditions. Interacting with the Maasai people, visiting a local market or attending a traditional dance performance will give you an authentic insight into the Tanzanian way of life.
Luxury Accommodation Options
From luxury beachfront resorts in Zanzibar, exclusive lodges in the Serengeti, to glamorous tented camps in Selous, Tanzania offers a wide range of accommodations. Imagine waking up to a breathtaking sunrise over the Indian Ocean or the majestic African plains. It's not just about the view, but every detail is designed to provide comfort, luxury, and an unforgettable experience.
The Bottom Line
Tanzania truly offers a unique blend of enchanting beauty, exciting adventure, and rich cultural heritage. It promises a honeymoon that goes beyond the ordinary, creating an endless list of shared magical moments. So are you ready to begin your forever in the jaw-dropping landscapes of Tanzania?
No wonder Tanzania is set to be 2024's dream honeymoon destination, hey?