The latest travel trend predictions are clear; Turkey is due a bumper year in 2022.
As a statement of some intent and a warm welcome to new tourists, the country's megacity Istanbul is due to see Turkey's fastest ever metro line open, connecting the international airport with the downtown neighbourhood of Gayrettepe.
But that's not all; several world-renowned cruise companies have now added Istanbul's Galtaport to their global routes. With Turkey leading Mediterranean tourism in 2022, out-competing its rivals in terms of visitor numbers, and with the country's Ministry of Tourism and Culture launching a new campaign touting ''Istanbul is the new cool'', we can only expect The Land of Four Seasons to become even more popular this year.
Blending that 'new cool' with the most incredible heritage and history, here are 8 must-see places to visit in Turkey in 2022.
ISTANBUL
Of course, we had to start here.
Istanbul is a city rich in diverse culture and history. Straddling Europe and Asia, and enjoying influences of both continents but with a unique vibe all of its own, it's also one of the biggest cities in the world, and certainly one of its most influential, with must-see attractions, thought-provoking museums and historical monuments all over the city to enjoy. 
Located on the shores of the Bosphorus Strait, here you'll find one of the biggest religious structures in the world, the Hagia Sophia. Other must-sees include the Topkapi Palace, the Blue Mosque, the Süleymaniye Mosque, the Basilica Cistern and so much more besides.  
Be sure to visit the Spice Bazaar, where you'll find hundreds of stalls that sell spices, sweets, teas, dried fruits and other goods. Smaller than the Grand Bazaar (which is also well worth a visit, by the way) this shopping hub is also a great place to buy your family and friends souvenirs from your trip relating to Turkey's incredible cuisine.
The Asian side (or the 'other side') is a multicultural mix of Ottoman palaces, galleries, lively cafes and bars, many populated by trendy young Turks. Be sure to explore the Kadıköy district and its cool Moda neighbourhood, in particular, to experience a more laid back side to Istanbul and its culture.
While you're here, actively seek out the famous, glorious balık ekmek, otherwise known as the best fish finger sandwich of your life. As SBS highlights, you can find the finest versions close to the old fishermen's boats in Istanbul's Eminonu district. Here, carts in the street peddle these delicacies day and night.
Read: 9 places to explore the culture and heritage of Istanbul, Turkey
BODRUM
We know that Bodrum has something of a reputation as being a party town, but there are still plenty of quiet corners of the city that reflect the region's authentic way of life, too. Sitting on Turkey's west coast, Bodrum is a cosmopolitan place, famed for its whitewashed houses and windmills as much as for its hedonistic vibe.
That's not to say it doesn't pack a punch in terms of history and heritage. Bodrum Castle is a sight to behold, jutting out into the Aegean sea on its own cape and with incredible views, whilst Halicarnassus Mausoleum, one of the seven ancient wonders of the world, is another must-see.
And if you are heading to Bodrum for a party, you'll be spoiled for choice on its various bar streets and the thriving, thrusting club scene at the marina and beaches. Şerefe!
KAS
Kas is the jewel in the crown of the country's Turquoise coast; a bohemian, laid back town with a lively centre, great cuisine and a globally renowned scuba diving scene.
This small seaside town on the Mediterranean coast is unquestionably one of our favourite places in the whole of Turkey. While it may not have the finest beaches in the south of the country, it has a mellow charm about it that is easy to fall in love with and impossible to forget. Shisha bars, coffee shops and charcoal grills line the cobbled streets, and those streets are perfect for strolling in the evening.
With more than 50 dive sites within just half an hour's boat ride of the town's port, and 15 accredited diving centres within it, Kas attracts keen divers all year round, though particularly from April to November. Assi Island, around twenty minutes from the port by boat, has a reef with octopus, barracuda and even sea turtles calling it home.
Back on dry land, we're in love with the food of this part of the world, and Kas offers some superb Turkish cuisine. Lahmacun, those deliciously spicy minced lamb flatbreads, are found all over town, the finest made fresh to order and kissed with smoke from the tandoor. Of course, being a coastal town, Kas also has its pick of the Mediterranean's bounty and you'll find hawkers in the pretty central square peddling battered and deep-fried mussels and freshly shucked oysters. Heaven!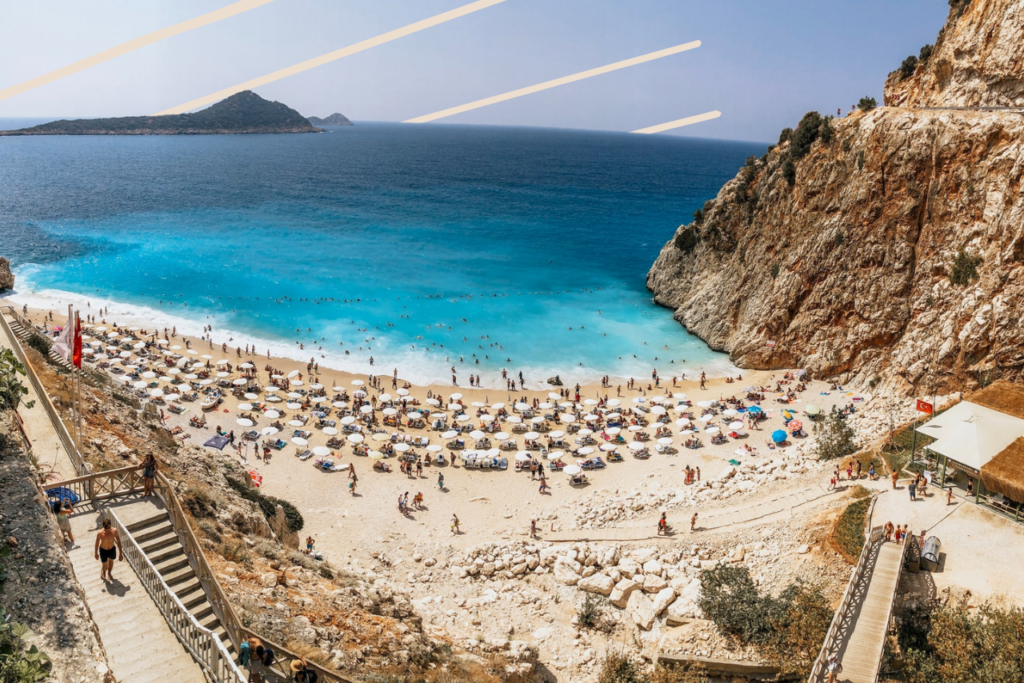 ANKARA
Ankara is the capital of Turkey, and a city steeped in history. With the country's largest museum found here, as well as Atatürk's mausoleum and the ancient citadel district, you'll find many chances to dig deep into Turkey's past in Ankara.
For foodies, this is a wonderful place to explore Turkey's gastronomy. The citadel is home to dozens of restaurants housed in restored Ottoman mansions, here you'll find places serving mezes, kebabs and more. As Ankara is only a short distance from the Black Sea, the city is famous for its fish restaurants.
The city is located at an altitude of 3000ft above sea level, so the climate here is quite arid. On hot summer days, the temperature can top 36°С. However, due to the dry climate, heat is tolerated much more easily than in cities with humid climates. In winter, the temperature can drop to below freezing and snow isn't uncommon.
Ankara is also the most popular stop-off for tourists visiting the world-famous Cappadocia. Speaking of which…
GÖREME
Goreme (also known as Cappadocia) is a picturesque village surrounded by steep slopes, providing residents and travellers alike with jaw-droppingly beautiful views of this rocky wonderland.
The rock formations sparkle in the sun to such an extent that they have been named the 'Fairy Chimneys of Cappadocia'. As well as this, tourists can visit the cave churches, castles and open-air museums of the village. And of course, they can see the most famous experience of all here; the spectacle of hot air balloons rising above the rocks daily.
While you're here, consider walking through the Ihlara Valley. This is a 15km trek through the red-walled gorge that lies between Ihlara village and Selime. Formed by the Melendiz River thousands of years ago, it's one of those rare regions of the planet that seems completely untouched by the modern world. Exploring the surreal landforms of this valley, with churches carved into its walls, will blow your mind – it's thought that it once had more than four thousand dwellings and over one hundred churches.
This is a leisurely trail, so take time to appreciate the chirping birds, the beautiful foliage, the poplar and pistachio trees and the sound of the rushing river that runs through it. Stop for lunch at one of the cabanas by the Melendiz River and make sure you check out the interior of Agacalti Kilise (The Church Under the Tree).
ANTALYA
Antalya, Turkey's fastest-growing city and the gateway to the country's glorious Turquoise Coast (sometimes referred to as the Turkish Riviera), boasts a cosmopolitan vibe, temperate climate, and a fantastic mix of beach life and urban charm. With the Taurus Mountains as a backdrop, there's so much for nature lovers to enjoy on their doorstep.
Phaselis, in the heart of Antalya, is a history buff's dream come true. The harbour city of Phaselis, founded in the 7th century by immigrants from Rhodes, has a long and illustrious history. Check out this amazing Phaselis, Kemer traveler guide to help you plan an unforgettable trip here. Phaselis is also surrounded by natural treasures, making it the ideal spot to get away from the hustle and bustle of modern Antalya proper. 
What's more, the food scene in the city is superb, with a healthy focus on seasonal fresh fruit and vegetables, and grilled seafood taking centre stage. That Mediterranean diet you've heard so much about? It's here, but with flavours turned up several notches via dry spices, chilli and a little local flair!
Of course, kebabs and other freshly cooked flatbread dishes – like gozleme and lahmacun – are also found here in abundance, and are reliably spectacular. Put simply; you'll eat extremely well in Antalya.
Read: Touring Turkey? Here are 5 top health and safety tips
THE POOLS OF PAMUKKALE
Taking a dip at this UNESCO World Heritage site in Turkey will cleanse the soul and refresh the mind. At Pamukkale, a town in western Turkey famed for its most incredible scenic spectacle, water cascades from natural springs down white travertine terraces and into thermal pools below.
Pamukkale translates as 'cotton castle' and when you see it, you'll understand the nickname, as the 'turrets' of the travertine terrace faces are white and appear almost fluffy. The water is warm and rich in minerals, and visually, it's utterly surreal. Just magic.
THE LYCIAN WAY, TURKEY
Regarded as one of the world's best hiking trails (and certainly one of longest, at over 350 miles), the Lycian Way is renowned for its ancient ruins, picturesque fishing villages and secluded beaches.
The best part about this hiking destination is that it boasts a mix of scenic burial monuments and Mediterranean views that could enrapture even the coldest soul. If you're to tackle the whole thing, do earmark at least a month in your calendar! 
Along The Lycian Way, you'll find small hotels and local guesthouses offering typical Turkish cuisine to give you fuel for your hike. Most will provide a typical Turkish breakfast of eggs, tomatoes, peppers, cucumber, olives, local honey and jams, oranges, pomegranates or whatever's in season, all served with fresh bread and Turkish tea or Turkish coffee, the latter of which will certainly give you that all-important caffeine-boost ahead of a day's walking.
THE BOTTOM LINE
Turkey boasts a vibrant culture, world-famous food, and magnificent scenery that ranges from sun-soaked beaches to towering mountains, all of which are sure to take your breath away.