Nicknamed the Land of Fire and Ice, Iceland is so much more than the title of a Robert Frost poem. It is, in fact, home to some of the most breathtaking landscapes and visual spectacles on the planet, from the psyche-shattering Northern Lights to the vast, humbling Blue Lagoon.
Yep, although the island is famously tight knit, with a population of under 400'000, it's surprisingly expansive size-wise, covering over 100'000 square kilometres of surface.
How, then, to hone down a holiday here into one manageable sightseeing extravaganza?
Among its many attractions, the Golden Circle stands out as a must-visit route for any traveller. This 300-kilometre loop starts from Reykjavík and encompasses three main locations: the Þingvellir National Park, Gullfoss waterfall, and Geysir geothermal area. However, there's more to this revered part of Iceland than just those three iconic sites. Here are nine of the best places to visit in Iceland's Golden Circle.
Þingvellir National Park
Þingvellir, or Thingvellir in English, showcases a tapestry of historical and geological significance. Home to the oldest existing parliament in the world, Alþingi, established in 930 A.D., Þingvellir is a UNESCO World Heritage site.
On the geological side, visitors will be awed by the visible Mid-Atlantic Rift, where two tectonic plates are slowly drifting apart, creating a spectacular canyon known as Almannagja. One of the must-dos here is to take a stroll between these North American and Eurasian tectonic plates. It's not every day that you get to walk between two continents!
Þingvellir is home to Silfra, a fissure filled with crystal clear water. If you're an adventure lover, consider signing up for a scuba diving or snorkelling excursion in Silfra, though do mind the cold, of course.
Geysir Geothermal Area
Few places can boast of as much geothermal activity as the Geysir (actually pronounced 'gusher' rather than 'alwight geezer?') area. With its exploding geysers, the most famous being Strokkur, bubbling mud pools, and the sweet smell of sulphur permeating the air, this is nature at its most volatile. Don't miss the star of the Geysir Geothermal Area, the Strokkur geyser. It erupts every 6-10 minutes, shooting hot water up to 30 metres in the air.
Do try to visit early in the morning or later in the evening to avoid the tourist rush. This also offers better lighting for your photos.
Gullfoss
Known as the Golden Waterfall, Gullfoss is one of the most compelling sights in Iceland. Experience the power of nature as millions of litres of glacial water thunders down a double-tiered waterfall right before your eyes.
One of the more unique, up-close-and-personal ways to take in Gullfoss is on a buggy tour, such as those organised by Safari.is and other adventure tour companies based out of Reykjavik. Doing so offers unparalleled views of the glaciers and lakes, and is an experience that needs to be lived to be believed.
On clear, sunny days, witness a sparkling rainbow enveloping the waterfall, making it worthy of its golden moniker. When visiting Gullfoss during the so-called 'Golden Hour', just imagine the metallic sheen on everything!
Kerið Crater Lake
This vividly striking volcanic crater lake pulsates with shades of vibrant aquamarine, starkly contrasting with the burnt red of its caldera walls. Perfectly round and rimmed by a walking path, Kerið Crater offers epic views from every angle and is particularly sublime at sunset or sunrise.
While visiting the Kerið Crater in Iceland, make sure to wear sturdy hiking shoes and approach the rim slowly, as the edges can be slippery and crumbly but offer the best panoramic views. Get there early or late to avoid crowds and enjoy the stunning contrast of the reddish volcanic rock, the lake's deep blue water, and the green mossy sides, which is especially beautiful during those golden hours of sunrise or sunset.
Read: 8 of the best places to stop on Iceland's Route 1 Ring Road
Faxi Waterfall
While not as internationally renowned as Gullfoss, Faxi holds its own charm. This wide, serene waterfall on the Tungufljót river presents a departure from the more trafficked areas of the Golden Circle. The fishing ladder installed on its side adds a unique human element to this tranquil piece of paradise. If you're lucky, you might spot some salmon jumping upstream!
Secret Lagoon Of Fludir
While many tourists flock to the Blue Lagoon, true connoisseurs of geothermal soaking prefer the older, more authentic Secret Lagoon. This natural hot spring offers an opportunity to unwind in its soothing waters amidst an exquisite green landscape.
Like many hot springs in Iceland, it's recommended to book your tickets in advance as spots can fill up quickly. And do be aware that you're expected to shower before entering the lagoon, as is custom in Iceland.
Langjökull Glacier
Langjökull Glacier, the second largest ice cap in Iceland, offers a unique icy adventure. When visiting, remember to dress in layers and wear waterproof clothing, sturdy hiking boots, as well as sunglasses and sunscreen to protect against snow glare. It's best to explore the glacier on a guided tour, which can include snowmobiling, ice cave exploration, or even a trek across the glacier.
Take your time hiking to the ice caves – the terrain can be challenging, but the views are breathtaking. Ensure your camera is always ready, especially for the vivid blue hues inside the ice caves.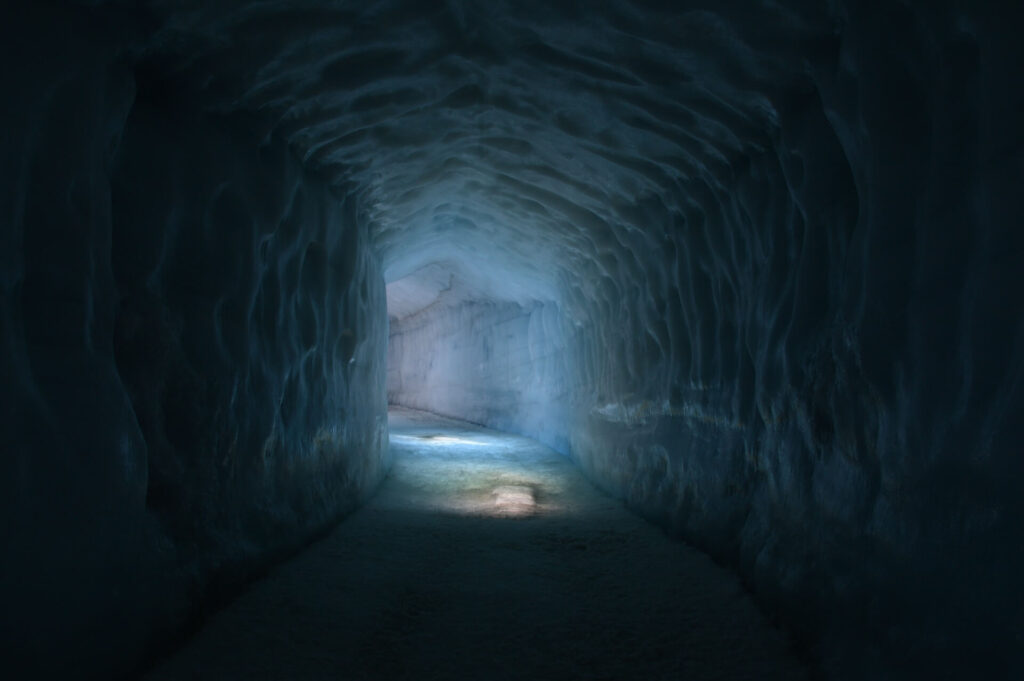 Efstidalur II
Keen on experiencing the authentic Icelandic farm lifestyle? Hey, who isn't? Efstidalur Farm offers a unique opportunity to engage with local farm life – witness dairy production, pet the horses, and relish the fabulous Icelandic homemade ice cream, as well as Iceland's beloved skyr and even farm-produced feta cheese.
Skálholt Cathedral
For something a little different to end on, we're checking out Skálholt Cathedral, a significant historical site situated in the Golden Circle, and an architectural symbol of Christian significance, embodying the country's spiritual heritage.
The cathedral, a place of serene tranquillity amidst Iceland's dramatic landscapes, has served as a vital ecclesiastical centre since the 11th century. It also marks the location where the first school, a precursor to modern universities, was founded.
A visit to Skálholt Cathedral offers a blend of history, culture, and spirituality. You can walk beneath its towering stained glass windows that playfully dance with the light, depicting biblical narratives that inspire awe.
Delve into the crypt below the cathedral, housing the remains of mediaeval bishops, a sombre yet fascinating representation of Iceland's Christian past. Don't miss the unique opportunity to attend orchestral or choral concerts here, where superior acoustics meet an ethereal setting, creating unforgettable auditory experiences. The nearby archaeological site, where small ruins and relics from the past are on exhibit, is also worth exploring, offering a captivating snapshot of bygone eras.
When Is The Best Time Of Year To Visit Iceland's Golden Circle?
The Golden Circle in Iceland is a tourist route that features some of the country's most stunning and unique landscapes, and it can be visited at any time of the year, depending on your preferences.
The summer months (June through August) provide the warmest weather and the longest days (up to 24 hours of daylight around the Summer Solstice in June), allowing ample time for exploration. The landscapes are lush, all trails are open, and driving conditions are optimal. However, this is also the busiest time of year, so expect more crowds at popular sites.
Autumn (September through November) is a lovely time to enjoy the fall colours, and there's also less crowd than in summer. The weather can be irregular, ranging from mild to chilly, and daylight hours start decreasing.
Winter (December through February) brings a snowy, icy charm to the Golden Circle. The waterfalls can partly freeze, creating breathtaking ice sculptures, and geyser eruptions against a snowy backdrop make for Instagram-perfect pictures. Road conditions can be more challenging, and daylight is limited to a few hours, making planning essential. However, you have an excellent chance of seeing the Northern Lights during this period.
The spring months (March through May) are when the snow starts to thaw, and days grow longer. The tourist crowds aren't as large during this time, but unpredictable weather and road conditions can occur.
Every season boasts its unique charm, and the 'best time' very much depends on what you're hoping to experience. If you're nervous about driving in winter conditions, or want to dodge larger crowds, the shoulder months of spring and autumn might be best. For long, warm days and green landscapes, consider a summer trip. For snow-dusted vistas and a chance to see the Northern Lights, winter may be the perfect choice.
When Exactly Is Golden Hour In Iceland's Golden Circle?
We know you've been wondering this since we brought up Golden Hour back in the Gullfoss section…
Well, in summer (around June solstice), Golden Hour in Iceland could be around 3:00-4:00 AM for sunrise and again around 10:00-11:00 PM for sunset.
In winter (like around December solstice), the sun is barely above the horizon during midday. So, the magic light may come between 11:00 AM and 2:00 PM.
The Bottom Line
In the land of the Northern Lights, thunderous geysers, and overwhelming landscapes, visiting the Golden Circle will immerse you in an unforgettable journey through the heart of Iceland's majestic, raw natural beauty mixed with historically rich sites.
These spots are just glimpses of what the magical land of Iceland has to offer, and they will surely leave every explorer in awe. Whether you're a seasoned adventurer or a disarming wanderer, the Golden Circle waits for you with its timeless, captivating charm.