Brrrr. Just looking at the title has got us shivering. We'd be warmer and more comfortable pitching up in the aisles of the supermarket of the same name, right? To make such crap jokes and sweeping assumptions, though, would be to miss out on some of the most extraordinary, captivating scenery on the planet. Because Iceland is a camping lover's paradise, with a bountiful collection of all the ingredients that make an amazing trip under the tent. Striking countryside? Check. Super affordable sites? Tick the box. Serenity like you've never felt before? This. In droves. If your finger is already hovering over the 'open tab' button, ready to fire up Skyscanner, then hold on just a second. With the help of  www.campervanreykjavik.com, here are 5 IDEAL tips for a camping trip in Iceland.
TIMING IS EVERYTHING
So, you've decided on the 'where', that's why you're here. And, you can drive the whole country in half a day, so honing in on one particular area isn't strictly necessary. Nope, it's the 'when' which will determine whether or not your trip is a roaring success or it all ends up a bit Game of Thrones; for all the build-up, pure bathos.
In general (and honestly, you wouldn't want to camp in the other half of the year), campsites open from April to September, though summer is by far the most comfortable time temperature-wise. That's June and August round these parts. Be warned, this is the high season and campsites get really crowded, so it's best to either book well in advance (if the campsite permits) or gets wild (more of that later).
ALWAYS TAKE THE WEATHER WITH YOU
Just as with camping anywhere on the planet, the weather can make or break things. There's only one thing guaranteed when doing things al fresco in Iceland; nothing is guaranteed. Mother nature is unpredictable and unforgiving, and Iceland weather is no exception. Firstly, there are microclimates by the bucketload. One campsite's blazing sunshine might be a neighbouring plot's hailstorm. Everything is just that little bit more extreme than you're probably used to; winds can get fierce and rain unrelenting, so prepare to be stranded at some point during your trip. And that means packing with precaution in mind; plenty of layers, liquid and food. Cornershop's, or their equivalent in the middle of nowhere, are few and far between even when the weather is fine. Be prepared.
TRANSPORT TIDBITS
You won't find the Northern Line in the wilds of Iceland. You'd be lucky to hail a bus, in fact. Part of the joy of camping is the freedom of the road, so your best bet for flexible, comfortable travel is to rent a car or better still, campervan. If you're planning on driving into some of the expansive, rugged national parks, a four-wheel drive is pretty much essential. There are rental car companies easily accessible at the capital Reykjavik airport; look for Herts and Avis, particularly.
Should the idea of nights in a tent under erratic weather scare you, then a campervan isn't as expensive as you might expect; around £120 a day is reasonable. In a country which generally costs a lot, and where hotels will set you back considerably more, this is a pretty budget way to get around and secure a roof over your head.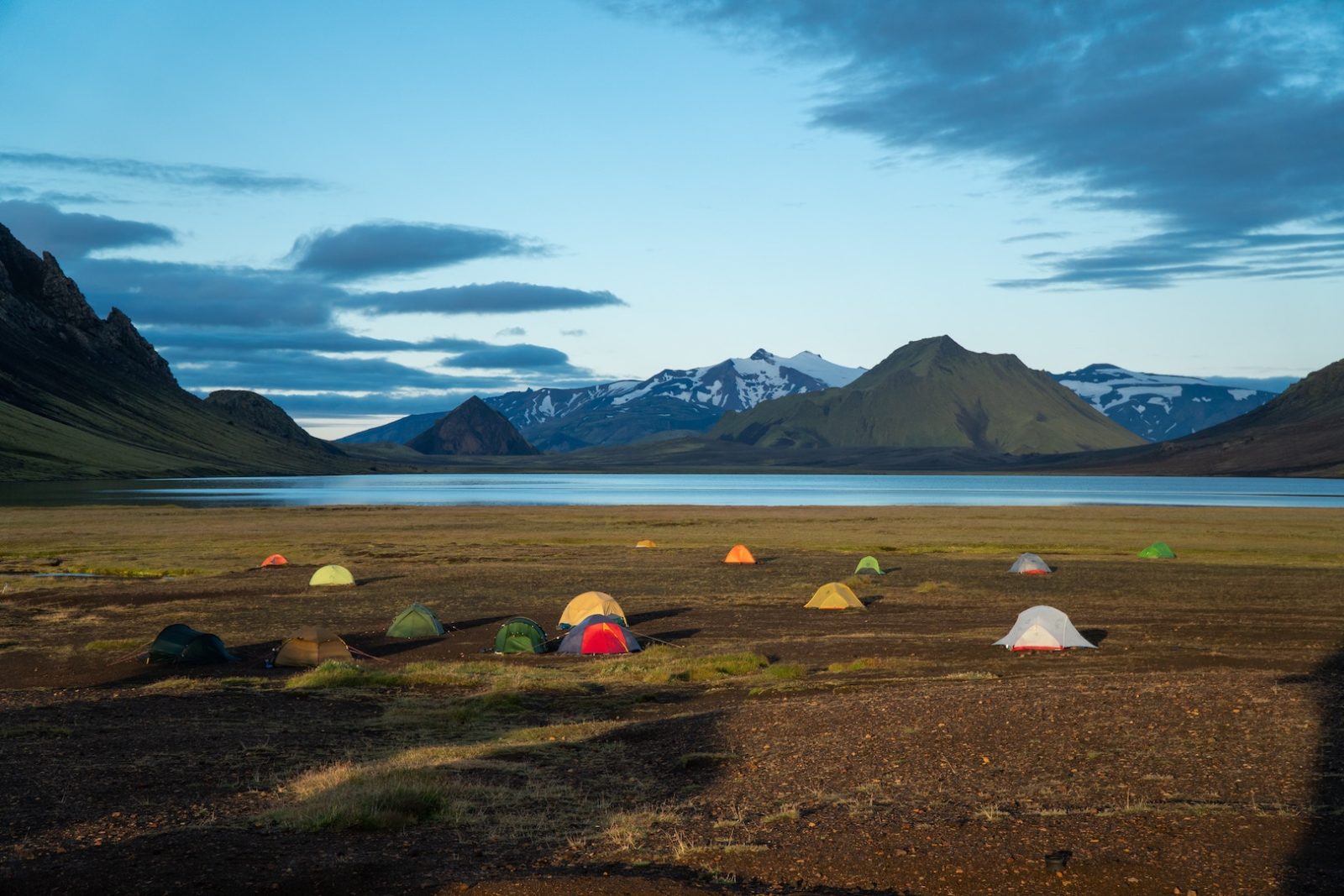 CAMPSITES & DOING IT IN THE WILD
Once you've decided you're doing the whole 'camping in Iceland' thing, there are a fair few different options to choose from to realise that dream. Firstly, the basics; there's the aforementioned camper van and car rental, which can also serve as your accommodation on the road. Also available are campsites with pitches available but you bring your own tent, as well as sites which provide both pitch and tent. And then of course, there's the option of wild camping; out there, in the elements.
Some sites are completely free to use, and all are reasonably cheap (£20 a night, tops). In general, most campsites offer parking as standard, no extra fee, with a small office where you check-in and pay the ranger. Don't expect swimming pools, gyms and other amenities, the vibe is stripped back and essential, and in surrounds of such stunning beauty, that suits us just fine. You can look forward to hot showers, a toilet and little else, though some more upscale places with all the modcons do exist. You're going to pay for it, though.
Some of the most popular places are Breidavik, close to the Latrabjarg cliffs, and Husafell, a short hop from Iceland's famous Langjokull glaciers. Check out a more extensive list of campsite recommendations over here. There is also the option of setting up shop in the wild, amongst and away from it all. Be sure to check the legality and safety of your pitch in advance. This is only recommended for seriously experienced campers.
HAVE A SAFE TRIP
Iceland is an incredibly safe country with a low crime rate, the threat from dangerous animals non-existent, and warm, hospitable people always there to lend a hand. That said, the usual precautions should apply when travelling, particularly solo, so always keep a friend or family member informed of your movements. Travel with enough food and drink to last you for longer than you expect; as we said, you won't come across many convenience stores. Don't take risks with the weather; if it's particularly extreme, don't hit the road, and stay put. Good luck!
If you're looking for camping closer to home, then check out our article on our 4 IDEAL UK camping sites over here.