Firstly, let's address the Thai elephant in the room with a cheery ''sawadee krap'' and an acknowledgement; Bangkok could give you the meal of your life on just about any street corner or down any soi, all for the cost of a Snickers bar back home.
But in such a sophisticated city – and cuisine – chock-full of decadence and deliciousness, it would be rude not to consider the fine dining side of things from time to time, with a whole host of world class restaurants here offering a truly Thai take on haute cuisine that's elegant yet playful, precise but intuitive.
With 15 Thai restaurants in the city earning starred status (including Sorn and R-Haan, which hold two) in the latest Bangkok Michelin Guide, the options for eating out at the finer end of the spectrum can be overwhelming.
Well, we've done the hard work so you don't have to, ascending the Scoville Scale and feeling the breath of the wok on our necks, to bring you these; the best Thai fine dining and Michelin-starred restaurants in Bangkok.
Samrub Samrub Thai 
Ideal for meticulously researched, creatively composed modern Thai dining…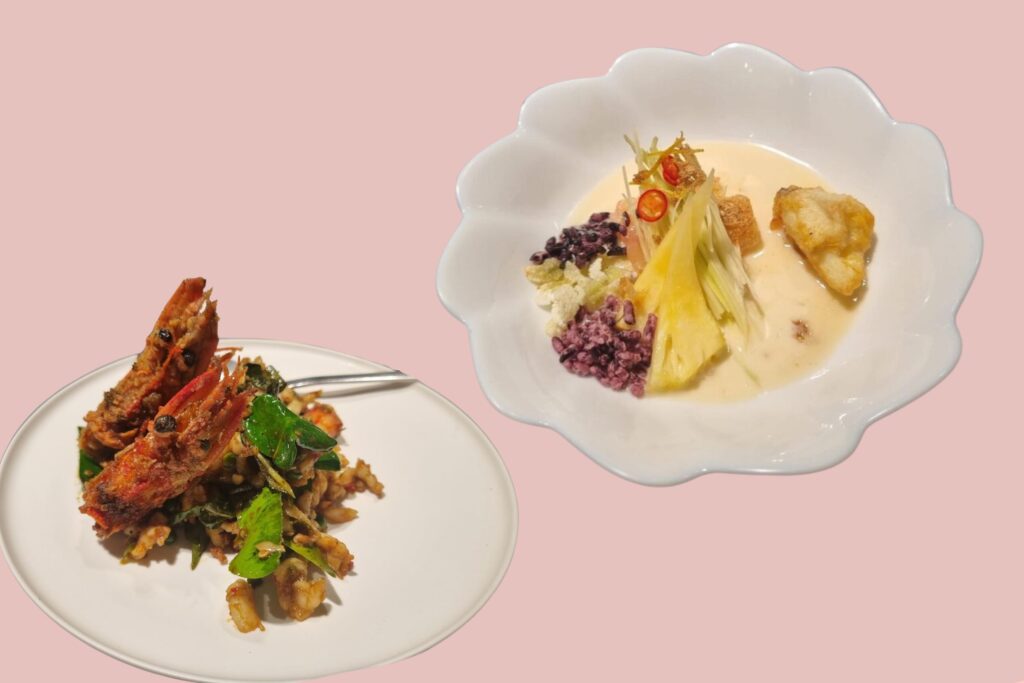 Is this intimate, counter-only, impossible to book restaurant/private kitchen the best Thai restaurant/private kitchen in the world? Whatever you want to call it and whichever superlatives you wish to throw at Samrub Samrub Thai, it is seriously good and worthy of all of them.
The master at the stoves of this compact, counter-dining affair is chef Prin Polsuk, who has some serious pedigree in the world of Thai fine dining, having been the head chef at Nahm in London when it won its Michelin star, the first Thai restaurant in the world to have been bestowed with the honour.
He has an encyclopaedic knowledge of his country's cuisine, and at Samrub, he seems to have his heart set on expanding it even further, with the dishes here sourced from a veritable vault of historic scripts, tomes and chapters.
The results, whether in the buttery, tender-as-you-like grilled beef dressed in delicate Satay-like sauce or intricately stuffed sweetcorn, filled with minced chicken and baby corn then reconstructed, are nothing short of spectacular. Oh, and you're allowed to ask for seconds!
That generous sentiment exemplifies the family-style nature of this brilliant restaurant, with Polsuk's wife Mint running the front of house operations and chef Prin working the counter, doling out shots of homemade banana liquor and soliloquies on the history of some of the dishes he's just set in front of you. Often, their young son will join diners too, crawling across the counter and generally charming everyone in his wake!
In short, Samrub may well be the world's best Thai restaurant…
*Samrub Samrub Thai – preposterously – hasn't been featured in the Little Red Book. One can only assume it's because the inspectors couldn't get a table*
Address: 39/11 Yommarat Alley, Silom, Bang Rak, Bangkok 10500
Website: samrubsamrubthai
---
Sorn
Ideal for trying Thailand's hottest, most difficult to secure reservation…
Or, is it? And speaking of impossible to book, chef Supaksorn Jongsiri's love letter to the farmers, fishermen and producers of Southern Thailand is reportedly the most coveted reservation in the Kingdom, and it's easy to see why.
The first Thai restaurant in the world to gain two Michelin stars, and proudly, resolutely 'Southern' to their soul, Sorn is another restaurant laying claim to the title of the world's best Thai restaurant.
Though it's only been open for five years, this place has been the talk of the town – no, country – for nearly as long. Proudly sourcing '99.9%' of their ingredients from the south, and supporting countless farmers and fishermen in the process, as well as cooking most of the food in clay pots, you'd be forgiven for thinking this traditional ethos wouldn't translate into a 22 course tasting menu of fine dining.
You'd be wrong; this, quite simply, is some of the finest Thai food out there, period. You'll have to run over hot coals to get a table, but if you're lucky enough to do so, it's worth burning your feet for. And mouth; the food is spicy, and all the better for it. Than hai im, na khrap!
Read: Where to eat Southern Thai food in Bangkok
Address: 56, Sukhumvit 26 Soi Ari, Klongton Khlong Toei, Bangkok 10110
Website: @sornfinesouthern
---
Nahm
Ideal for a taste of one of the world's most influential Thai restaurants…
Aussie chef and Thai food oracle David Thompson's Nahm earned a Michelin star, a first for Thai cooking, when in its previous incarnation in London, and the Bangkok version rightly followed suit in Michelin's inaugural Bangkok guide at the end of 2017.
Though Nahm London closed due to the lack of quality fresh Thai ingredients in the capital, and the compromise that forced on the cooking, there's no danger of the produce being found wanting at the Bangkok rendition.
Here, the premium ingredients used shine through, whether that's the wagyu beef used in the enthusiastically seasoned stir fry, the peppery wild ginger deployed across the menu, or the freshly pressed coconut cream that defines this luxurious style of Thai cooking.
Though David Thompson has since moved on (more of that in a moment), the iconic restaurant remains in very capable hands, with revered chef Pim Techamuanvivit now in the (very) hot seat, keeping the flavours bold, robust and refined, but giving the dishes her own spin, recalling childhood memories of special meals and the joy of sharing with family.
Should you be keen to sample the complexity of the Nahm kitchen but for a fraction of the price of the normal dining experience here, then the khanom jin lunch deal is a steal.
For 1'100 baht – equivalent to 25 quid-ish – you get canapes loaded with wild prawn and white crab meat and delivered in the most graceful style, followed by coil of khanom jin (lightly fermented rice noodles) and an accompanying sauce, dressing or curry, the latter of which features blue swimmer crab, and is something of a signature here. Finish with desserts that utilise that just-pressed coconut cream, and you've got yourself a truly indulgent meal for under £30.
Address: 27 S Sathon Rd, Thung Maha Mek, Sathon, Bangkok 10120, Thailand
Website: comohotels.com
---
Aksorn
Ideal for sampling the latest fine dining venture from the 'Godfather of Thai food'…
No writer worth their Red Boat fish sauce could faithfully pen a paean to fine dining in The Kingdom without mentioning chef David Thompson. And whilst we realise you're already acquainted with him from the brief mention above, at Aksorn, the acclaimed Aussie oracle on all things Thai food seems to have found his most succinct expression yet on what makes the cuisine so profoundly delicious.
Here (fittingly house in an old bookstore) the chef combs through historic recipe books – mainly from a defining period in Thai culinary history between 1940 and 1970 when the cuisine was going through seismic changes of modernisation and cross-cultural influence – to source inspiration for Aksorn's dishes, with some menu items unheard of outside of this very special kitchen on Charoen Krung Road.
All that said, it's often the most simple dishes that land the knockout blow. On a previous visit, stir fried sugar snap peas were sweet and smoky, managing to straddle a freshness and umami-heft brilliantly. They wore their stir fry sauce as you might the lightest linen jacket – so good.
And as with any David Thompson restaurant, a procession of superb deserts pick up star billing. The man sure does have a sweet tooth; not that we're complaining when the coconut cream is this luxurious, the jasmine candle's perfume just the right amount of pervasive, and the sweet/salty balance familiar to any Thai sweet lover so intricately poised.
With a regularly changing menu reflecting a different era, recipe book or chef, we can't wait to see where Aksorn goes next.
Address: The Original Store, Aksorn 1266 charoen krung rd 5th Floor, Central:, 1266 Charoen Krung Rd, Bang Rak, Bangkok 10500, Thailand
Website: aksornbkk.com
---
Methavalai Sorndaeng
Ideal for Royal Thai food done right…
For properly old school, refined and regal Thai fine dining, with all the bells, whistles, pomp and ceremony of the Royal courts of The Kingdom as a backdrop to your evening, you can't do much better than Methavalai Sorndaeng, a Phra Nakhon institution still going strong after six decades.
It's a real special occasion sort of place for Thai folk of a certain age, and you'll see old married couples, suited, booted and moonlight-silver haired, enjoying timeless preparations of dishes like rich red curry of duck and pineapple, or intricate tartlets of diced potato, carrot and sweetcorn, that still somehow manages to come up tasting decidedly Thai.
The gold embroidered furniture and crooner louchely leaning on a grand old piano to serenade the dining room only serve to emphasise the vibe here. Resign yourself to its charms; it's irresistible.
For all these opulent associations with royalty and glamour, Methavalai Sorndaeng is an eminently affordable Michelin-starred experience, with larger dishes rarely pushing past the 500 THB mark (around £12) and many considerably cheaper. With very drinkable wine served simply – just choose between red or white, and always by the glass – the value for money here is striking.
Oh go on then, we'll stay for just one more song…
Address: 78/2 Ratchadamnoen Ave, Wat Bowon Niwet, Phra Nakhon, Bangkok 10200
Website: methavalaisorndaeng
---
Bo.lan
Ideal for a truly exceptional Thai tasting menu experience…
Thai food aficionados were devastated when, at the height of the COVID crisis, Duangporn 'Bo' Songvisava and Dylan Jones announced they were closing Bo.lan after more than a decade, citing the financial toll of the pandemic as a major driver in their decision.
But in the greatest comeback since Lee Zii Jia's remarkable win at the Thailand Open in 2022, Bo.lan has recently begun hosting what they call exclusive 'special dining experiences' at the old restaurant site. For a fixed price of 4'800 THB, guests can once again enjoy the zero-waste, zero-compromise cooking of these two very talented chefs.
Be warned, there are only 12 places available for each seating, and dates are sporadic – March only has 8 dinners and zero lunches – but if you're able to snag a reservation for these 'Bo.lan Ah hoc' events, you're in for a real treat.
And if you're not able to get a seat, then all is not lost; Bo.lan's more casual sister restaurant Err has also recently re-opened, now in a new home close to Thong Lor BTS station. All the old favourites have come along for the ride; expect whole crispy chicken skin, the finest grilled naem this side of the Khorat Plateau, and cute as you like pickled garlic cloves. Yes!
Website: bolan.co.th
Address: 24 Sukhumvit 53 Alley, Khlong Tan Nuea, Watthana, Bangkok 10110, Thailand
---
Potong
Ideal for a progressive menu of Thai-Chinese fare from one of Asia's hottest chefs…
At this restaurant, family and building legacy hangs proudly in the air. It can be tasted in the fermentation jars and felt on every plate of Chef Pichaya 'Pam' Soontornyanakij's incredible tasting menu of innovative Thai-Chinese cuisine, of which there are a whopping 20 dishes. Instead of keeping you here, check out our full restaurant review of Potong. Be prepared to have your appetite teased and tempted!