Madagascar, the world's fourth largest island which sits in the Indian Ocean just 400 km off Africa's east coast, is a wildlife lover's paradise. Considered to be just one of a select few countries in the world labelled as 'megadiverse', Madagascar was only colonised by humans in approximately 500AD, and its this relatively untapped quality, along with its geographic remoteness, which has led to huge biodiversity in the country. Perhaps most startlingly, according to the WWF, Madagascar boasts at least eight plant, five bird, and five primate families that live nowhere else on Earth.
Though one of the world's poorest countries, it's also one of its most blessed for flora and fauna, and if you're a wildlife enthusiast, a holiday to Madagascar is one of the most thrilling you can make. To narrow down your itinerary just a little, here are 5 of the best places to visit in Madagascar for wildlife lovers.
ANDASIBE-MANTADIA NATIONAL PARK
Arguably Madagscar's most famous residents are its lemurs, the unique primate which calls the island, and the island alone, home. Famed for its trademark sitting position, which looks akin to a meditative posture, there are over 100 species of lemur in the world, all of which are native to Madagascar. Incredible!
Though they're comfortable in many different habitats, from rainforests to wetlands, mountains and beyond, to see some of these lemurs up close and personal, Andasibe-Mantadia Natinal Park, in the country's east and just a three hour drive from the county's capital Antananarivo, is perhaps the world's premier destination. 
This 150km² park is home to the largest lemur around, the Idri-Idri, as well as at least 13 more lemur species. There's also more than a hundred endemic bird species to found in the park, and a gorgeous, gloriously diverse landscape of dense forest, orchids, bamboo and so much more. If you're a wildlife lover (and we're assuming you are since you've got this far) then Andasibe-Mantadia National Park should be your first destination.
RANOMAFANA NATIONAL PARK
Not to be outdone in the lemur spotting stakes, Ranomafana (meaning 'hot water' in Malagasy) National Park has its own incredibly famous resident; the rare bamboo lemur. Actually, the park is home to 12 species of lemur, as well as chameleons, snakes and mongoose, but the golden bamboo lemur (discovered in 1991) is certainly the 'main event'. Having a guide here is obligatory, to keep the park preserved and protected, and the presence of an expert is most certainly welcome, as seeking out the rare species of Ranomafana requires detailed knowledge of their movements and habitats. Do make sure you book a Madagascar group tour in advance if you're keen on travelling with company, as they do tend to sell out months ahead. 
The park offers five different treks, ranging from an easy four hours to a seriously dedicated three day circuit, with Ranomafana's hot springs and thermal baths are also a major attraction, ideal for rejuvenating even the most weary of legs following that epic trekking! For added intrigue, camping is available in Ranomafana National Park, with several dedicated sites offering basic facilities. You'll never see clearer skies than when nighttime falls over the park. Just beautiful.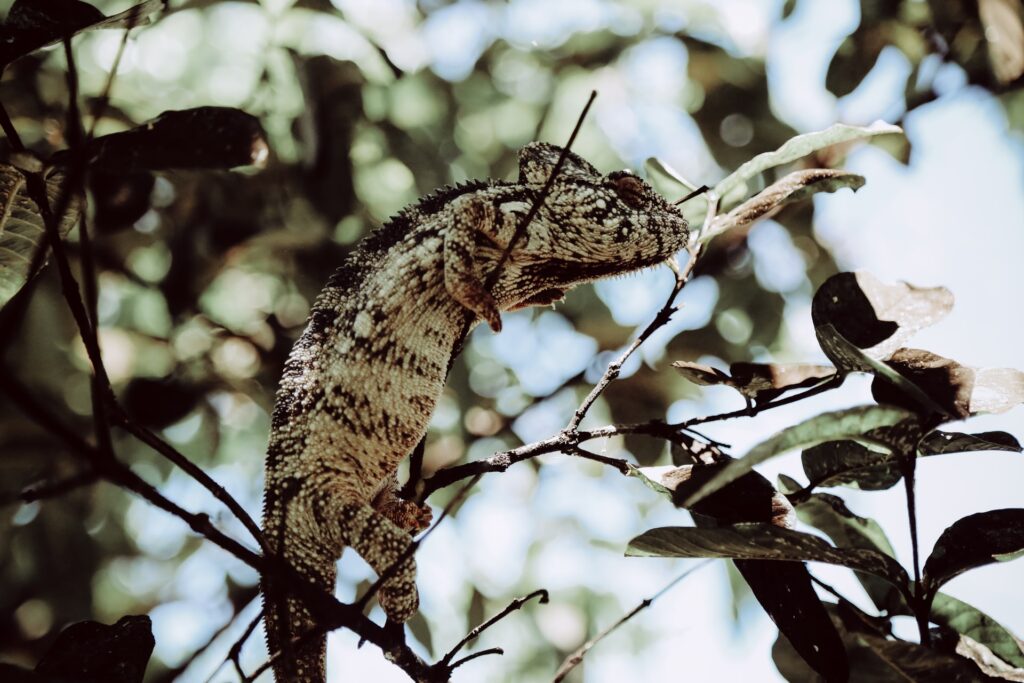 NOSY BE
After all that trekking through dense vegetation and thicker humidity, it's time to head to Madagascar's most picturesque beach. Actually an island just 5 miles off Madagascar's northwest coast, Nosy Be is easily reachable from the mainland and is the country's most popular, developed resort. 
The beaches are picture-perfect, and well worthy of a recline, but we're here for wildlife, and you'll be excited to hear that Nosy Be doesn't fall short in this respect. The island is particularly famous for having one of the world's smallest frogs, but the real action occurs in the surrounding waters. Here, you'll regularly see the ocean's most gentle of giants, the humpback whale, in the months between July and September, as well as bottle-nosed dolphins and more. Boat trips for whale spotting are available from the shore, as well as scuba diving. Dive in!
THE AVENUE OF BAOBABS
For an absolute guaranteed sighting of something spectacular, why not seek out something stationary? The incredible, ancient Baobabs trees are one of Madagascar's most stunning sights, standing at over 30 metres in height, and incredibly, some 2'800 years of age. In short, they're not going anywhere.
The best place to see these trees in all their proud glory is the Avenue of Baobabs, a 250 metre stretch of road in the Menabe region, west Madagascar. Here, crowds gather at sunrise and sunset to appreciate the Mother of Trees in its most enigmatic light; we'd highly recommend you do the same.
ISALO NATIONAL PARK
Finally, we're heading to Madagascar's southwest, and to Isalo National Park. It's certainly not a low, but rather a high point for any nature lover, and is the perfect place for hiking enthusiasts visiting the country. At first glance, it's reminiscent of the Great American West, and more specifically, Utah's famous arches; here in Isalo, the land takes on the same arid, bronzed hue, and the Isalo Window wouldn't look out of place when trekking the Arches National Park, we think.
Endemic bird species and, of course, lemurs all call Isalo home, and during a hike along the famous Namaza Circuit and Cascades des Nymphes trails, you're sure to encounter some of Madagascar's unique species. The natural swimming holes which pepper the route are ideal for cooling off if your hike gets a little steamy.