The open-minded, forward-moving city of Brighton has long been associated with the colour green; from its near 150 parks and playing fields, and surrounding rolling hills of the vast South Downs National Park, all the way to its voting history, with the city the first to elect a Green Party MP back in 2010. Not to mention the wafts of green you'll catch pretty much anywhere you walk here…
… Anyway, today we're here to talk about food. Brighton is pretty green in that department, too. In fact, the city was recently named the vegan capital of the world, due to its high propensity of vegan-friendly restaurants per capita.
That doesn't mean that the food served at the vegetarian and vegan restaurants here is resoundingly, resolutely delicious. A little digging is definitely required to reach the richest, most nourishing soil, after all. With that in mind, here are the best of the best; our favourite vegetarian and vegan restaurants in Brighton.
Food For Friends
Ideal for pioneering plates from a Brighton institution…
One of the true pioneers of Brighton's vegan food scene is Food For Friends, an award-winning vegetarian restaurant tucked away in the winding streets of the city's famous Lanes.
Established in 1981 – long before quinoa got cool on these shores – Food For Friends has been serving innovative, organic, and cruelty-free dishes to both locals and visitors for decades. Their seasonal menus and smart-casual atmosphere make it a popular choice for those seeking delicious plant-based cuisine in a sophisticated setting, with the restaurant featured in both The Sunday Times Top Vegetarian and Vegan Restaurants back in 2016 and the 2018 edition of The Good Food Guide.
Website: foodforfriends.com
Address: 17-18 Prince Albert St, Brighton
---
Terre à Terre
Ideal for Brighton's best vegetarian dining experience…
Another longstanding Brighton institution serving the good stuff since the early 90s, Terre à Terre is arguably the premier vegetarian dining spot in town, if not the country, and one of the best restaurants in Brighton, period.
The team here, led by chefs Amanda Powley and Philip Taylor, have been doing their sophisticated plant-led menu for over a quarter of a century, and following a recent lunch on their gorgeous outdoor terrace in the first of the spring sun, we're pleased to report that Terre a Terre has still, very much, got it.
Inspiration is drawn from all corners of the globe – there's plenty of need for Google (or a helpful, knowledgeable waiter) when perusing the menu, which utilises unheard of ingredients – but this makes the experience fun and exciting, which can't always be said of meat-free restaurants.
In fact, it sells Terre a Terre short to give it the ol' ''you don't even miss meat'' line. You'll eat very well here, however you define your dietary choices.
Website: terreaterre.co.uk
Address: 71 East St, Brighton, Brighton and Hove
---
The Roundhill
Ideal for elevated, all-vegetarian pub fare…
A community-driven pub offering an excellent, eclectic plant-based menu, The Roundhill is the perfect spot for those seeking hearty, home-style cooking. It's also one of the best vegetarian restaurants in Brighton.
This family-run establishment prides itself on sourcing ingredients from local suppliers and farms, with their Sunday roasts, complete with vegan Yorkshire puddings and an array of roasted vegetables, particularly acclaimed. So acclaimed, in fact, that the pub placed as the city's fourth Best Sunday Roast in the BRAVO restaurant awards.
For those who enjoy their wholesome vegetarian fare with a side order of sea breeze, the Roundhill has a charming little outdoor space, ideal for alfresco afternoons that nourish both body and soul.
Address: 100 Ditchling Rd, Brighton, Brighton and Hove
Website: theroundhill.co.uk
---
The Prince George
Ideal for pub comfort food classics that are totally vegetarian…
Another neighbourhood pub with a commitment to sustainable, produce-driven cooking, The Prince George (in partnership the Veggie Dealer) serves an exclusively vegetarian and vegan menu that has got Brighton's veggies cooing. Or rather, crowing. Nope, that doesn't work either. Hang on, are there any phrases that aren't animal noises? Anyway…
There's a hearty, soulful bent to proceedings here. From veggie chip butties to vegan sausage and mash, the menu offers comfort food classics in a warm and welcoming setting. Oh, and all mains can be made vegan. Talk about embodying the inclusive spirit of Brighton!
Address: 5 Trafalgar St, Brighton, Brighton and Hove
Website: princegeorge.pub
---
Bonsai Plant Kitchen
Ideal for South East Asian, grill-led veggie food…
Looking for the best new vegan restaurant in Brighton? Look no further…
Founded by the young dynamic duo of Amy Bennett and Dom Sheriff (who met while working at Food for Friends) this innovative vegan restaurant has garnered rave reviews and accolades, including winning the Plant Champion award at The BRAVOs earlier this year.
Amy and Dom's journey to opening their own restaurant began when they met while working at Food For Friends, a popular vegetarian eatery in Brighton. With Amy's background as a head pastry chef and Dom's experience as head chef, the pair decided to combine their culinary talents and passion for vegan cuisine to create Bonsai Plant Kitchen. We're so glad they did.
Bonsai Plant Kitchen offers a South East Asian menu, with all dishes prepared in a 100% plant-based, nut-free kitchen. The restaurant prides itself on using Japanese coals for cooking, which adds a distinct flavour to their glorious creations (and a unique vegetarian counterpoint to one of Brighton's other most celebrated restaurants, Bincho Yakitori).
One of the signature dishes at Bonsai Plant Kitchen is the tempura cauliflower. While battered cauliflower may be a common offering at many vegan restaurants, Bonsai's version stands out for its supreme lightness, paired beautifully with Korean hot sauce and drifts of toasted sesame seeds. It's superb.
Of course, those coals do a lot of the talking, too, with the Bincho Grill section of the menu throwing up several treats – the Japanese sweet butter bathed in miso butter, soft, giving and caramelised around the edges, is particularly good. Oh, and their scorched sushi rice is darn good too.
The cocktails are fantastic here too, with all syrups and infusions created in house, a veritable celebration of ingredients preserved at their peak. We love it.
Address: 44-45 Baker St, Brighton, Brighton and Hove
Website: bonsaiplantkitchen.co.uk
---
Purezza
Ideal for some of the country's best vegan pizza…
Something a little different and a lot 'Brighton' next. Purezza is the UK's first plant based pizzeria, doing vegan, gluten free sourdough, 'pioneering' pizzas which don't sacrifice on flavour. That's partly because of the huge wood fired (nine times and counting) oven which is the centrepiece of the restaurant in Kemptown, and also in no small part down to their intriguing flavour combinations.
Purezza, meaning 'purity' and sounding a bit like pizza (that was the thinking behind the name, right?), uses a surprisingly tasty rice based mozzarella, and heaps of delicious seasonal veg to great effect. If plant based is your vibe, or even if it isn't, Purezza won't let you down. They've proved themselves in a crowded market confidently.
Read: The best pizza restaurants in Brighton and Hove
Address: 12 St James's St, Brighton
---
Beelzebab
Ideal for late night kebabs with none of the guilt…
If you're in the mood for something a little more casual, Beelzebab is a must-visit spot for kebab and hot dog lovers. Regardless of whether that affair is more commonly a shameful 3am fumble or something all the more elegant, the kebabs at Beelzebab are designed to appeal to the vegans and carnivores alike.
Offering a delicious vegan döner dish, loaded french fries, and fried vegan fast food bites galore, Beelzebab has quickly become one of the best vegetarian restaurants in Brighton. Their forked tongue-twisting name may be a challenge to pronounce, but their food is an absolute treat for the palate.
Address: The Hope & Ruin, 11-12 Queens Rd, Brighton
Website: beelzebab.com
---
Smorl's Houmous Falafel & Salad Bar
Ideal for hummus, hummus and more hummus…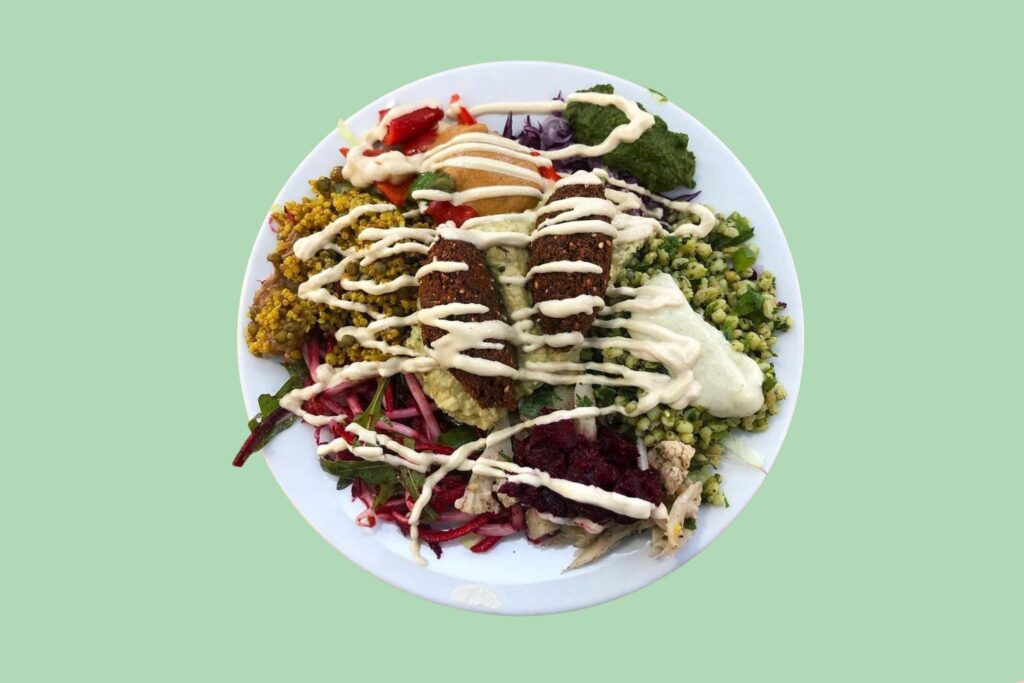 Located in the bustling Brighton Open Market at Marshall's Row, Smorl's Kitchen is a fully vegan café dedicated to all things chickpea, with the revered pulse bolstering the cafe's glorious hummus and its ground brethren giving heft to the falafel here.
Smorl's commitment to quality is truly apparent in that small-batch artisan handcrafted hummus, which is based on traditional Middle Eastern recipes with a touch of Brighton flair. Using only the highest quality ingredients, including organic chickpeas and locally-made tahini, Smorl's hummus is vegan, gluten-free, and free from preservatives. To keep their hummus fresh, they rely on the traditional Middle Eastern method of using fresh lemon juice and sealing it with a layer of olive oil.
Their Original flavour is a classic houmous at its finest, while the Fresh Chilli option adds a spicy kick for those who like it hot. For garlic lovers, the Extra Garlic hummus provides an intensified garlicky flavour, and the Thunder Garlic takes it to the extreme for pure garlic hedonism. Yep, it really is all about the hummus here.
And if you thought hummus was purely a savoury affectation, then wait 'till you get a load (or just, you know, a pot) of their chiclatty chocolate hummus, which is perfect for smothering on your toast in the morning. We get that you're sceptical, but don't knock it until you've tried it – it's a dollop of chocolatey hummus heaven.
Open Monday to Saturday from 10 am to 4 pm, the café provides takeaway options in commercially compostable plant-based plastic or plastic-free packaging. And, if you're not keen to make the schlep up to the Open Market, you'll see Smorl's famous hummus in a whole host of Brighton and Hove's independents, including Taj, Fiveways Fruits and many more.
Website: smorls.com
---
Botanique
Ideal for locally-sourced vegetables and artfully presented plates…
Because vegan food needn't all be driven by 'healthy eating'…
In fact, as Botanique shows, a plant-based menu can be one of high-end sophistication, too. A concept restaurant created by the makers of Food For Friends, Botanique is a minimalist and elegant venue, offering a laid back, breezy atmosphere that never feels overwrought or detracting from the plates on offer.
Some serious work has gone into those plates, we should add. Their dishes are crafted using locally-sourced vegetables and presented as works of art, making it one of the most highly-regarded vegetarian restaurants in Brighton and Hove. Come for the elegantly assembled beetroot carpaccio with pine nut cream, stay for the pappardelle with roast chestnuts and butternut squash, both fine balancing acts of flavour.
Address: 31a Western Rd, Hove, Brighton and Hove
Website: botaniquebrighton.com
---
No Catch
Ideal for vegan fish and chips…
No Catch, a vegan restaurant with a mission to keep fish in the oceans but 'fish' and chips on the plate, is another must-try spot right on Brighton's seafront.
Their convincing 'tofish' substitute for fish n' chips has earned them a reputation as one of the best places in the city for plant-based cuisine, satisfying those seaside cravings without actually, you know, harming the seaside. Beautiful stuff, indeed.
With a commitment to sustainability (there are creamy desserts with no dairy, vegan calamari and prawns…the works), No Catch is a shining example of Brighton's thriving, innovative vegan food scene.
Address: 127a Kings Rd, Brighton, Brighton and Hove
Website: nocatch.co
---
Wai Kika Moo Kau
Ideal for a vegan brunch on a sunny terrace…
Drop in on Kensington Gardens, the epicentre of Brighton's idiosyncratic North Laines, and you'll be met with a whole host of vegetarian and vegan restaurants. The finest, in our view, is Wai Kika Moo Kau, a gaff particularly renowned for its vegetarian breakfasts and brunches (these guys close at 5pm).
With over three decades in the plant-based business, they must be doing something right. Take a seat on Moo Kau's sun trap terrace early doors, order a stack of vegan pancakes – whipped vegan cream, bananas, raspberry sauce and cinnamon sugar – and watch this very quirky corner of Brighton opening up.
And with a good selection of organic wine and local Sussex cider, the chance to turn things into a boozy brunch is staring you right there in the face.
Address: 11A Kensington Gardens, Brighton
Website: wkmk.co.uk
Read: 7 of the best places to eat brunch in Brighton
---
Green Kitchen Vegan Cafe
Ideal for vegan sweet treats…
For those with a sweet tooth, we end at Green Kitchen Vegan Cafe, the perfect place to indulge in delectable plant-based desserts. Found slinging the good bakes over on Preston Road, this cosy cafe offers a variety of vegan treats that are sure to satisfy even the most discerning sweet tooth. The salted caramel brownie is particularly special and their build your own ice cream sundaes will bring out your inner child.
The savoury stuff hits the spot, too, with the 'Refried Dreams' with Mexican style hash a reliable highlight.
Address: 8 Preston Rd, Brighton, Brighton and Hove
Website: greenkitchenbrighton.com
---
Kusaki
Ideal for a foray into the flavours of plant-based Japanese food...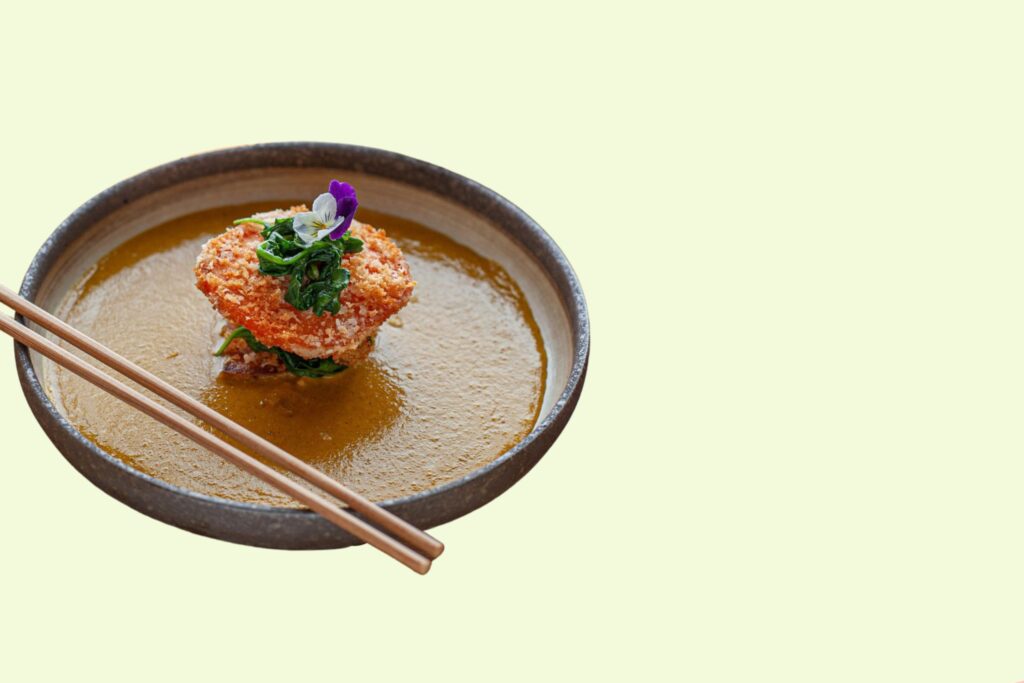 The stage is set for a soul-nourishing, conscience cleansing meal the moment you walk through the shoji partition doors at esteemed Brighton vegan restaurant Kusaki; the dining room is all blond wood and soothing lawn green shades, the chatter gentle but not reverent, and there's a bloody great blossoming tree in the middle of the dining room. 
With a name translating as 'plant' in Japanese, you don't need to be Kousuke Kindaichi to join the dots; here, you'll enjoy plant based food inspired by Japan. Though the sharing plate formula may be ubiquitous by now, that's not to say there aren't some surprises in store on the menu at Kusaki. The split pea cream (a cream made of split peas, rather than one that's separated – sorry) that accompanies both roasted and marinated pak choi is properly rich and soothing, the dots of basil oil mottled across its surface pretty as a picture. Similarly, the kiro curry, a distant cousin of a katsu, hums with a tender sweetness that pairs well with any pickles you might have left on the table.
With a bill that's hard to get into triple figures and a lightness of touch on just about every plate here, you'll be positively gliding through those shoji doors when you leave.
Address: 5-6, Circus Parade, New England Rd, Brighton, BN1 4GW
Website: kusakibrighton.com
---
The Bottom Line
Brighton's diverse and ever-growing vegetarian and vegan food scene offers something for everyone, from casual cafes to sophisticated dining experiences.
We're hopping on the ThamesLink to London next, and checking out these great vegan restaurants in Soho. Care to join us?