So it looks like we're stuck on this island of ours a little longer, with air travel and holidays both grounded and up in the air, simultaneously. Funny that. We might as well make the most it. Fortunately, Britain, and in this article, England in particular, has so much to offer the curious, inquisitive and intrepid.
And since the future is so uncertain, we might as well delve into the past for comfort. Luckily, England is blessed with some of the most fascinating heritage and history around. Should you planning a staycation to explore Blighty and delve deeper into its past, then here's a good place to start; ticking off our bucketlist of Britain, here are 7 IDEAL places to explore England's history.
CAMBRIDGE
Iconic architecture, calming lakes, and a bookish atmosphere; a visit to Cambridge is a must.
One of the most beautiful places in UK, the city takes you back in time, especially with establishments like Kings College and the chapel. University life is at the heart of the city of Cambridge, and many of the 31 colleges spread around the city are open to visitors; a great excuse to get studious, at least vicariously, we think. The most famous are the aforementioned King's, Trinity and St John's, and are all well worth a visit. 
King's is known for its Gothic chapel and choir, Trinity for the Wren Library and St John's for the Bridge of Sighs, but it's also worth exploring some of the smaller and less-well-known colleges too, all with something unique to offer and a sense of serenity to each.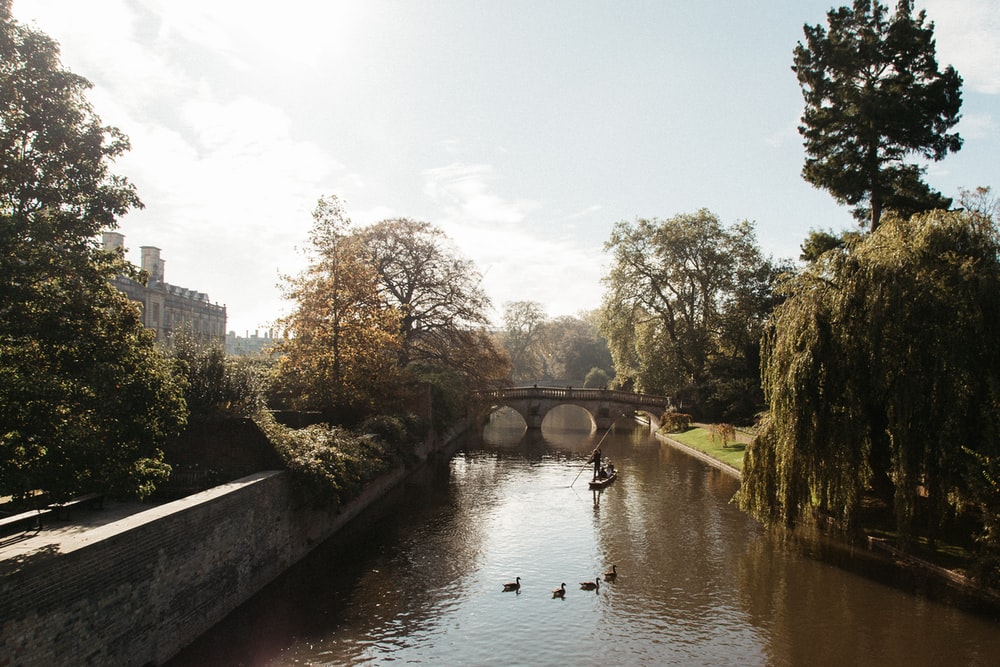 STONEHENGE
Heritage and history of a different kind, here. One of the most mystical places in the UK, and certainly one of the most iconic, Stonehenge holds a special place for lovers of enigma and puzzle, and enthusiasts of ancient legends. A UNESCO World Heritage Site, a visit to this majestic stone monument brings with it a debate of its origins, which remain a mystery to this day. Was it a burial ground, temple or simply the earliest case of fly tipping on record? Probably not the latter, but anyway.
BATH
To describe Bath as picturesque is something of an understatement. The honey hued Georgian architecture, the rolling, verdant hills, the soothing, laid back canal life…it's all here and it's all very British indeed. Heritage and history stalk every narrow lane, in the best way possible, and you'll feel as though you've gone back in time when visiting.
Of course, no trip to the city is complete without a dip in the Thermae Bath Spa (Britain's only natural thermal spa) where you can enjoy warm, mineral rich waters and yet more stunning views of the city at the same time. You did say you wanted to dip your toe into history right? Well, the spa dates back to Roman times. Hopefully any leakages they left in the water will have dispersed by now.
OXFORD
From the famous dictionary to historic colleges made even more iconic by Harry Potter, Oxford is a household name around the globe. When on a trip to Oxford, don't forget to visit Christ Church College, which Hogwarts was largely based on, and the Bodleian Library, one of the world's oldest and most iconic libraries, housing over 12 million items and supplying the knowledge and inspiration which gave us the internet, the Hobbit and the unification of quantum theory and general relativity. Wow!
ST. MICHAEL'S MOUNT
A gorgeous location encapsulated by the ocean, St. Michael's Mount, near Marazion in Cornwall, is without a doubt one of the most alluring pieces of architecture you'll find anywhere in the UK. The civil parish and castle which sits on this tidal island is only accessible by manmade, pebbled causeway for around four hours a day, when the tide is out far enough. If you're lucky enough to reach the island, take in the panoramic views of Land's End and Mount's Bay, before learning about the legend of Jack the Giant Killer and the Archangel St. Michael.
Should you be keen to explore this most brilliant part of the world further, check out our article on 10 IDEAL gems to discover in Cornwall this summer. Well, 9 to you, since we've already mentioned one of them!
CASTLE HOWARD
The United Kingdom has always been known for its royal palaces and castles, but so many of them sit in and around London and the South. If you're keen to explore the wonders of England's north on your staycation adventure, then Castle Howard, 15 miles north of York, is the place for you. One of the country's finest and best maintained stately homes, it's as famous for its surrounding parkland, containing statues, temples, lakes and fountains. A stroll within these grounds is a must.
THE COTSWOLDS
A calm, quaint place famed for gentle rolling hills, honey-stoned villages, cute cottages with thatched roofs, little lanes, sparkling streams and easy flowing rivers, the Cotswolds is rural England at its finest.
As one of just 38 UK areas to earn AONB status (Area of Outstanding Beauty), containing a huge variety of National Trust sites of interest, there's also historical intrigue here; it was the centre for wool trade in Medieval Europe, due to sheep's preference for those rolling hills we mentioned. On a more macabre note, it also hosted some of the bloodiest, most brutal battles of the English Civil War, some 370 years ago.
Don't worry, you won't have to wield a sword if you visit in 2020. Unless, of course, you want to; The Corinium Museum in Cirencester houses many artefacts from the war. Do give it a visit to conclude your historical tour of England.