Let's think deeply for a minute; how often do you actually, genuinely find the time to simply relax and unwind? With life now defined by several screens simultaneously on-the-go, often whilst you're on-the-go, it's become so tough to truly kick back and de-stress.
The only time this feels possible, it seems, is when we're in the bathroom, away from the ebb and flow of normal life and alone with our thoughts.
Accordingly, your bathroom should be a haven of relaxation and invigoration that can fuel your busy lifestyle. Because when the door's locked and you're alone in the tub (or, let's face it, on the can), anything is possible!
By upgrading your bathroom and adding some simple touches, you can transform it from an overlooked room into a place to truly unwind and enjoy. With that in mind, here are some design ideas to make your bathroom a wellbeing sanctuary.
Inspired Wall Design Using Wall Panelling
When you're treating yourself to a long hot soak in the tub, you want the whole room to feel cosy and comforting.
Wall panelling is a great place to start, and inspired wall panelling designs allow the room to feel almost cocoon-like by adding an extra visual dimension.
As the warmth of the bath envelopes you, the room itself feels snug, clean and comfortable, and you can really stretch out and relax completely. Here are some great design ideas incorporating the use of wall panelling to give your bath time that luxurious and modern vibe whilst still being a haven of tranquillity.
Read: How To Make A Small Bathroom Look Bigger In 7 Ideal Steps
Build In Spaces For Candles
There's no denying that a scented candle can improve a room's ambience; you can't beat the flicker of one and its characteristic aroma, after all.
However, one thing that isn't calming – worrying about the candle you've precariously perched on the edge of the bath and thinking that at any moment your shower curtain could go up in flames. Or, that all the hot wax will spill everywhere if said candle accidentally gets knocked over.
Instead, consider adding some open shelving to your bathroom, positioned in such a way that your candles will have a safe and permanent home. Bliss.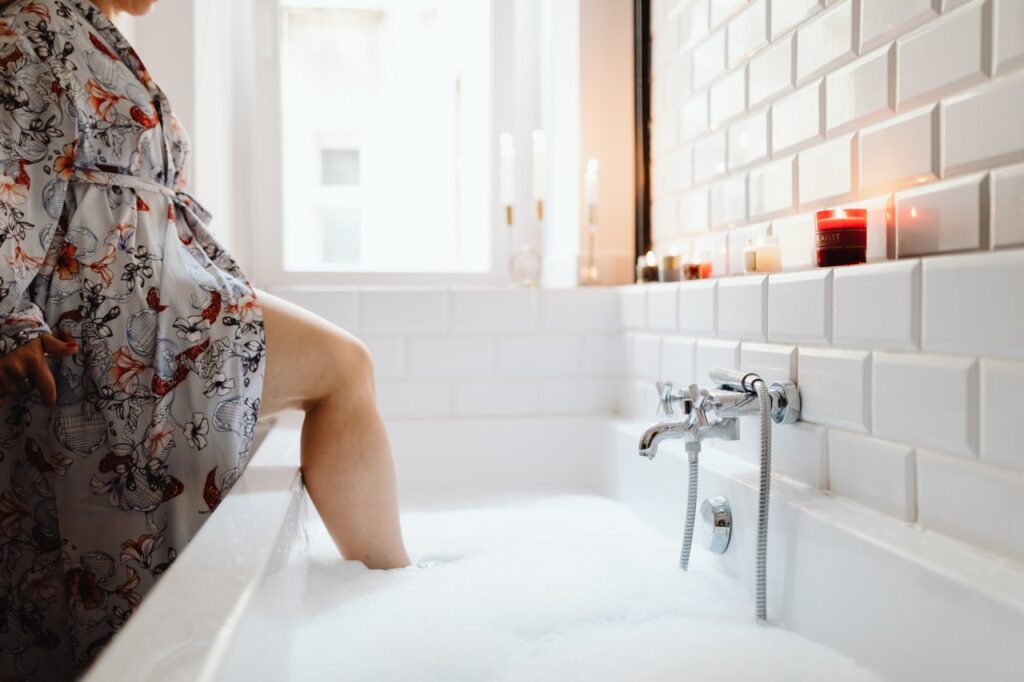 Things That Smell Nice And Spa Like
Speaking of aroma, there's nothing more soothing and calming than that scent with slight tropical notes that you find in spas all over the world. Recreate that heavenly spa like-scent and transform your bathroom into an olfactory spa adventure with essential oils. We're particular fans of electronic aromatherapy diffusers which release relaxing aromas in a measured, sustainable way.
While we're considering aroma, and while there's nothing wrong with a cheap own brand bottle body wash and bubble brand from your local supermarket, they do tend to be rather one dimensional in smell and lacking of those relaxing properties inherent in more expensive products.
Luckily, you needn't spend a fortune on expensive bathroom products – just take a trip to your local Home Sense or TK Maxx and you can nab luxe big brands full of expensive essential oils at a fraction of their true retail price.
Build In A Bluetooth Speaker In The Bathroom
We've considered the sensory experience in terms of sight, smell and even touch, but what about the aural experience in your bathroom? It's certainly not something that should be neglected.
Whether it's classical music, whale song or even heavy metal that helps you unwind, make access to your favourite tunes streamlined and high-tech by installing a bluetooth speaker in your bathroom.
Though a portable one does the job, they can look a little clumsy and incongruous. Instead, why not install a voice-activated bluetooth speaker in your ceiling (usually, these can be positioned where a light bulb would go). No more fumbling around with wet hands trying to change the track, and no more having your portable speaker lose battery and cut out just as you settle down in the bath for a soak…
''Alexa, play some music by Enya''.
Read: 5 modern and smart upgrades to improve your home
Add A Little Nature To Your Bathroom
Bringing a new meaning to 'nature calls', adding a touch of the outdoor world to the design of your bathroom can really introduce an extra level of harmony and relaxation.
Many indoor plants absolutely thrive in the relative humidity of your bathroom and will look superb doing so. Consider aloe vera for its healing properties, as it can help soothe minor burns and combat skin irritation or razor rashes. What better place for it than the bathroom? This is just one plant perfectly suited to that tranquil design you're after. For more inspiration, take a look here.
Cherish Your Travel Memories
Imagine you're unwinding after a long and hectic day. Maybe the phone was constantly ringing, and deadlines for projects were stressful and ever present. As you soak in the bath, your thoughts turn to your next holiday, your next great sun-drenched escape, with azure water gently lapping at your feet and the temperature of the sand on your back reassuringly warm. Aaahhhh…
Sorry, we were whisked away for a moment there.
But why not take this time in the tub to also relive the blissful holiday memories that you have? A tasteful and well-placed ornament from that trip you took to a far-flung island or some piece of art from a journey long ago but never forgotten will take your tired mind to a better place and will ensure that you truly stretch out and relax.
In fact, this is simply a form of visualisation, a tried and tested method believed to help reduce anxiety. What better place to practice it than in the bathroom?
The Bottom Line
By transforming your bathroom into a place that you relish going to each day, you create a space for yourself that helps to heal the mind as well as cleanse the body. Light the candles, let the warm water nourish you, and unwind in your own little piece of paradise!
To further improve the comfort of your bathroom, check out these 5 tips to make your bathroom feel like a luxury spa. And with that, we're off to spend some time in ours!