Sometimes, you've just got to feel a little bit sorry for the bathroom. Not only does this room see the worst of us, but it's also a place so often neglected when the house gets remodelled. Yep, it's not uncommon to see the bathroom dressed like it's still in the 1970s, all carpets, maroon toilet bowls and apricot, textured bog roll.
But really, this is a room which guests are guaranteed to be sizing up. It's also one where you get to spend some well earned 'me time'. So, make it count! If you're considering a home renovation project or just want to give your house a little facelift, then you've come to the right place. From wall panels to ambient lighting, here are 5 tips for remodelling your bathroom.
AMBIENT LIGHTING
Lighting is important for creating the right ambience in the bathroom and for providing proper illumination on its different functions. Yep, we went there, but let's face it; the bathroom is a functional kinda place, first and foremost. Its name is defined by what you do in there, after all. 
As such, you'll need several shades of illumination for the ideal, remodelled, fresh feeling bathroom. Bright, task lighting is essential for brushing your teeth, plucking your eyebrows and other preening. But a soft ambient glow is appropriate for a relaxing soak in the bath. To enjoy both, either employ task lighting tastefully around the room or install a dimmer switch.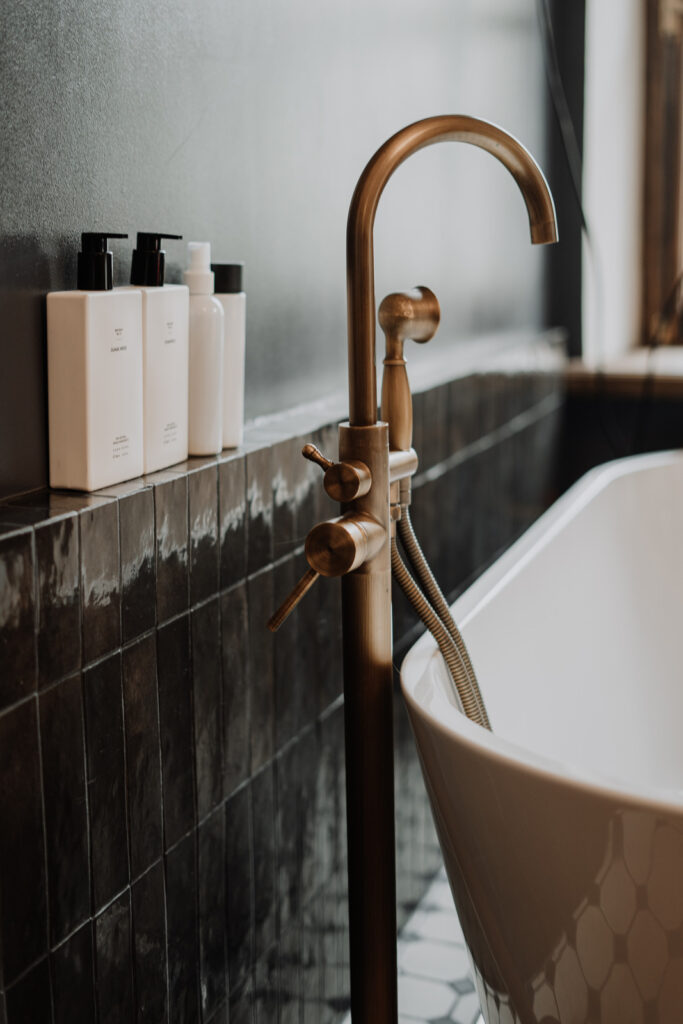 DON'T BE AFRAID OF COLOUR
Stark and white; the hallmarks of a traditional yet sterile bathroom, and way too revealing of blemishes, we might add. Indeed, if you think about spas or a beautiful bathroom suite in a hotel, both of which are designed to make you feel uplifted and relaxed, rarely are they rendered in white. Never are they boring.
Using colour in your bathroom can transform your mood and turn those daily ablutions into something more indulgent. Green is the colour of freshness and has great healing power, so consider a serene shade of verdancy. Or, how about a light shade of pink? The colour represents nurture and love, and nothings says self-love like pampering pink. Blue is also a natural colour to incorporate in your bathroom colour scheme – tranquil and peaceful, and with nautical connotations which fit well in the bathroom space. Or how about an energising yellow? Yep, anything but white is our mantra here.
CONSIDER BATHROOM WALL PANELS
If you need to give the walls a rework beyond simply changing their colour, then a bathroom wall panel is a cheaper option than tiles and is easier to install, since most have a simple tongue and groove system. 
If you'd like to make repairs in the bathroom and at the same time spend as little time and money as possible doing so, then bathroom wall panels are your best bet, ideal for addressing minor issues, making adjustments and bringing aesthetic intrigue, equally. Wall panels for the bathroom have several options, depending on the material chosen. The most commonly used types of plastic panels are MDF, PVC, and Decorative. The choice you make should depend on the function the panel is serving:
PVC plastic
Plastic PVC panels for the bathroom are considered a budget option in terms of cost and are optimal for technical specifications. They show themselves well in operating a damp and specific room, like a bathroom, are resistant to temperature changes, have a satisfactory appearance and are easy to install. However, there is one significant drawback; PVC is associated with significant fragility.
MDF wall panels for a bathroom
The variation of MDF panels for the bathroom is superior to the plastic version. The strength of such a material is much higher, and in addition to resistance to moisture, good sound and heat-insulating qualities can be noted. Waterproof MDF materials are safe for humans and durable.
Decorative panel for tiles
There are variations of MDF material with a pattern that mimics natural stone, brickwork or ceramic tiles. What's more, panels with a decorative surface are not inferior in technical characteristics to their natural counterparts.
DON'T OVERLOOK DECORATIVE FEATURES
Speaking of decorative wall panels; when it comes to decorative features in the bathroom, the devil's in the detail. Small decorative touches can transform your bathroom from a cold sterile place to one that oozes style. Spruce up bathroom cabinets and replace boring handles and knobs with something that adds some intrigue  – brass or copper can add an elegant, sophisticated look.
Or, hang a painting; perhaps not something comical or your university Poo Chart, but displaying a tasteful image can really pull the decor together in the bathroom. A floating shelve looks sleek and stylish and can show off decorative bottles, too.
IT'S ALL ABOUT THE MIRRORS
Mirror, mirror on the wall, who has the best bathroom of them all? You, after reading this article, we'd wager. Consider making a mirror wall, which can make your bathroom seem bigger, adding a much needed sense of spaciousness especially in small bathrooms.
Mirrors also enhance natural light, reflecting even a sliver and magnifying that sense of illumination. And if you don't have a window in the bathroom like many flats, the mirror can even play the role of a window. Is there anything they can't do?