Hands up who's spent the last month living in their pyjamas? But with lockdown lifting for many, Brits lucky enough to be in Tiers 1 and 2 are rubbing their eyes, dusting themselves down, and getting ready to enter the world once again.
The festive party season is going to be looking a lot different this year, with salons, hairdressers, and many beauty shops not fully operational. What better time, then, to try some domestic, DIY cosmetic care? With hair and beauty in mind, here are 5 things to try at home this winter.
EXPERIMENT WITH YOUR HAIRSTYLE
The quickest, most efficient route to a new look is surely via your locks. Undoubtedly, for a more elaborate cut, you should wait for your trusted hairdresser or stylist to re-open; only the incredibly brave or foolish would attempt a Pixie or Patterned Undercut with just scissors, a mirror and their own hands available. A recipe for disaster, no doubt.
However, if you've always fancied a fringe or simply want to give your locks a trim and a tidy up, then this is the ideal time to give it a go. Should your handiwork not quite meet a professional hairdresser's standards, you've got plenty of time to grow it back out before we're all permitted to see friends and family properly again. 
Or, perhaps you want to experiment with the colour of your hair? There's never been a better time for that vibrant blue hue or pastel pink you've been too shy to try. A bold, brash statement to bid farewell to a difficult year? Sounds good to us! 
GIVE YOUR HAIR A REST FROM HEAT
Step away from the straighteners and curling tongs! Fortunately, less going "out out" this festive season means we can give our hair a break from all that heat, which is actually pretty bad for hair health. 
Instead, it's time to give your hair some TLC. Let your hair dry naturally after washing, invest in some decent shampoo and, particularly pertinent for Winter, make sure you're giving your hair ample hydration. 
Yep, you should drink a lot of water to stave off the dreaded dry hair (and skin, too). Just as plants need water to grow and thrive, so does your hair. Getting enough hydration into your body will eventually reach your hair, leaving you with thick, confidently growing locks. Dandruff will also be reduced due to stimulation of the surface of your head, preventing a flaky, dry scalp. Drinking enough water, it seems, is key to hair health.
However, if you have been living in a messy bun for the last few months (we certainly have) and want to do something else with it, then heatless curls have to be the best way to bring some life back to your hair this Winter without using heat to damage it. Heatless curls can be done in several ways but our favourite is the old fashioned way – using rags, just like the Victorians used to do. Check out this great tutorial by Leaf on how to do it. 
We've also written an article on tips for heat-free straightening; do check it out.
EXPERIMENT WITH YOUR EYE MAKEUP
Sales of eye makeup have been particularly strong during lockdown and the various lockdown limbos we've been finding ourselves in. Indeed, a life lived in a facemask has hugely changed the way that we deploy makeup, with how-to guides on tips for bold eyes now ubiquitous on Tiktok and Youtube. The hashtag #maskmakeup is all over social media and people are even coordinating their makeup with their masks in an attempt to stand out. You just love to see it!
Applying eyeshadow and experimenting with different colours and textures is so often the most fulfilling, frivolous part of doing makeup, and we all need a little colour in our lives right now, hey? So, fire up those 'how to' videos and experiment at home this festive season.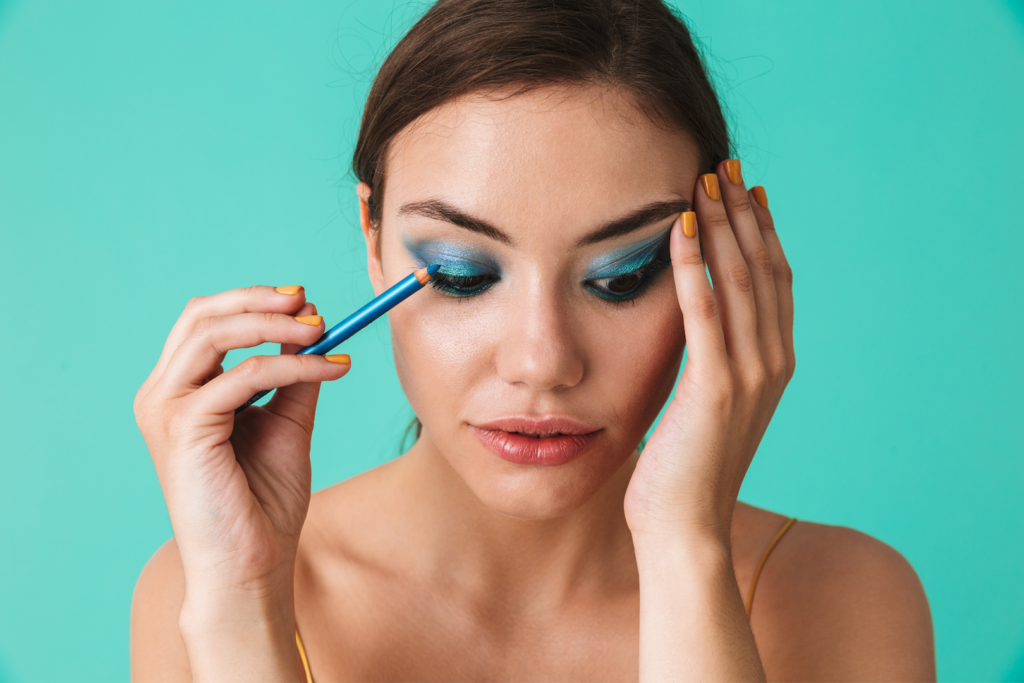 INVEST IN YOUR SKINCARE ROUTINE
For some, lockdown has given us all a chance to invest in our skincare routine, allowing us to experiment with new brands and regimes away from prying eyes. Others have understandably gotten lazy, and 'indoor face' is a very real thing. 
If you fall into the later camp, then it's high time you invested in your skincare routine. Since we're wearing less makeup, we have the opportunity to spend a little more to enjoy some premium skincare products. We just love the totally natural, organic skincare range by Dr. Hauschka, in particular.
We realise we've been talking about DIY beauty care, but smoothing out laughter lines and wrinkles which have been caused naturally by the sun and age isn't quite so easy from the comfort of your domestic dressing table. As such, you may have been thinking about getting cosmetic surgery. You're not the only one; interest in cosmetic surgery has soared during lockdown.
We recently spoke to Europe Surgery, who offer professional cosmetic surgery and anti-wrinkle injections, and they suggested that it's time to ditch the stigma about dermal fillers and botox that prevails in the beauty industry. Indeed, tweakments are fundamentally a personal choice, and shouldn't cause judgment. That said, it's a decision that shouldn't be taken lightly and it's best to be informed and considered. Part of that process should be an all encompassing approach to better self esteem; check out our tips on 5 proactive steps to improve your self-confidence for more on the subject. 
WHITER, BRIGHTER SMILE
Since we've all been advised to stay at home, you may find yourself giving into temptation and snacking more than you usually would. Unfortunately, this isn't great for your teeth. And we don't know about you, but more snacks alongside all those extra tea and coffee breaks, lockdown wines and "quarantinis" have left our teeth looking a little yellower than normal.
As such, we're in need of a brighter smile. And good oral hygiene is where a whiter smile starts. So, something we're trying (and hopefully sticking too) this Winter is a better oral hygiene routine, which is easy to do from home.