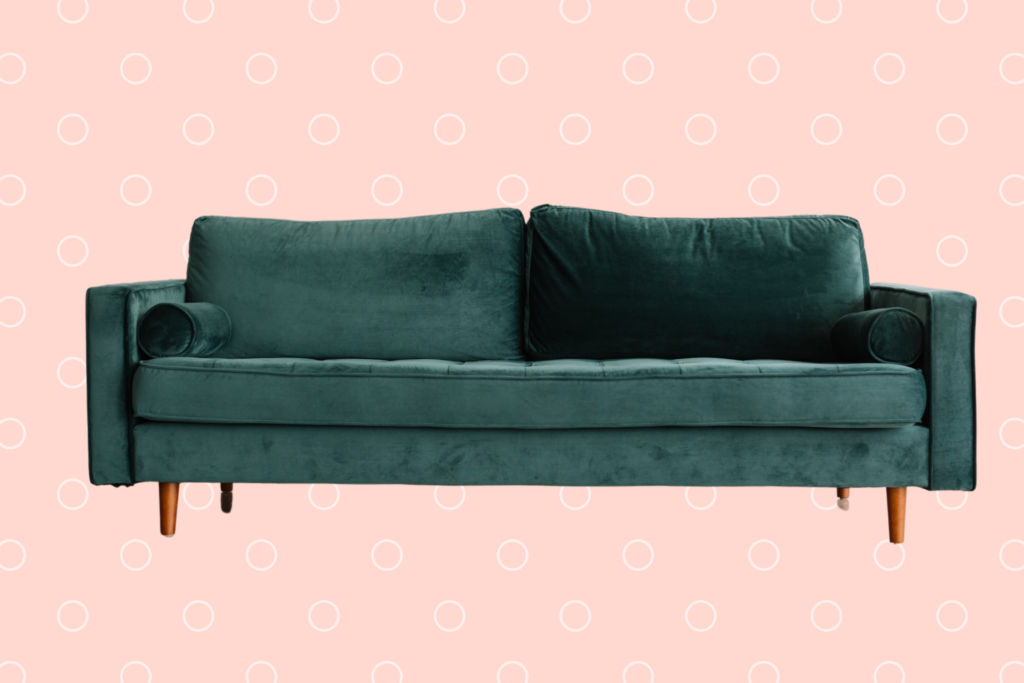 Our sofas have gone through a lot lately. They've been there for us on our darkest days. Since all day Netflix binges have replaced days out, and our sofas have taken the place of our ergonomic office seating, an inevitable wear and tear of our favourite chair has followed.
Whether you have a trusty older sofa in need of some love or you're plotting a purchase in the February sales, we've teamed up with the furniture experts at Made.com to share these 5 simple tips on how to care for your sofa.
PROTECT YOUR SOFAS FROM FADING
A lot of fabrics, including leathers, are affected by sunlight and heat, so to avoid fading and damage from these sources, we recommend keeping your sofa away from direct light and heat sources – this includes radiators.
While all fabrics will naturally fade over time, positioning your upholstered and leather chairs and sofas away from direct sunlight will help to minimise changes in appearance, keeping the material's vibrancy for longer.
It should go without saying, but keep your sofa away from naked flames and cigarettes, too. Naked bodies, on the other hand, are fine.
PLUMP UP YOUR CUSHIONS
Over time, cushions will lose volume, and with increased and extended use, the speed of this loss is only increased. If you have noticed a 'you' shaped groove in your sofa cushions lately, then it's time to take action.
Keep your cushions at their best for longer by plumping firmly from the outside edges after use. If your cushions aren't fixed, it's also a good idea to turn and rotate them to avoid uneven wear. Aim to do this once a week to keep cushions looking fuller.
BLOT SPILLS
Accidents are bound to happen, you are only human after all and we've all been drinking a little more wine on our sofas recently. That said, it's vital that you attend to any spillages immediately to avoid causing permanent damage to your sofa's surface.
Soak up liquids with a dry cloth by blotting; never rub in the liquids as this is more likely to cause matting or deepen any stains if the spilt liquid is coloured. Once the worst of the spill is absorbed, use a hairdryer to avoid water marks, being careful not to place it too close to your sofa as this could burn the fabric – a distance of 30cm is recommended.
If you've spilled something that might leave a serious stain, such as red wine, there are some upholstery specific stain removers that can be purchased. However, ensure that you do your research as to whether they are suitable for your particular sofa's material. If unsure, it's best to ask a professional for help.
CLEANING YOUR SOFA
Fabric sofa: You should vacuum your sofa regularly to avoid dust building up – this can, over time, cause marks to develop on the fabric that can't be reversed. If your sofa is in need of a deeper clean, seek out a local professional rather than trying to clean it yourself.
Velvet sofa: Turn the cushions regularly, and gently brush or vacuum (with an upholstery attachment or cloth-covered regular nozzle) weekly.
If your velvet pile starts to have a crushed appearance, brush the furniture with a clothes brush to fluff the pile back up. Because of the way it's woven, velvet pile will naturally crush over time, but doing this will delay the process.
Whenever there is a spill on your velvet sofa, follow the same steps – blotting and drying with a hair dryer but following the process with the use of a clothes brush to prevent matting. More serious stains and spills will require a professional, though.
Leather sofa: Leather sofas are great for families with children or pets because of how much easier they are to clean (the sofas, not the children and pets!). It's simple; spills can be wiped with a damp cloth and then dried with a towel. To keep your leather looking its best, we recommend you clean it regularly with a leather cleaner, too.
KEEP ON TOP OF PET HAIR
Pet hair has that magical ability to stick to everything and anything, especially fabrics like velvet. To keep rogue pet hair to a minimum, it's good practice to vacuum your sofa regularly, including in the gaps where pet hair may gather.
A top tip: For those more stubborn hairs that refuse to be sucked up, deploy a window squeegee to gather the hair. Use the squeegee in a downwards scraping motion, as this will gather the hairs into neat piles which can then be removed by hand or with the vacuum cleaner.
If you don't have tonnes of time to commit to laboriously vacuuming your sofa regularly, then simply invest in a stylish yet affordable throw or pet mat that you can train your pet to sit on, keeping the rest of the seat fuzz free.