Do you know your downward dog from your warrior? Can you hold a Scorpion Pose for longer than might appear humanly possible? Do you set your intentions for the day cross-legged and flexible, rather than while sitting on the toilet? Well, perhaps you should be sharing your love of yoga with the world, or better still, making money from it. 
Right now, it's a little more complex, with gyms and studios only just reopening and social distancing required in any group sessions. Making web-friendly yoga videos, it seems, is the future, with many practitioners keen to be able to enjoy yoga lessons from the safety of their home, and many teachers looking for new and innovative ways to oblige.
The good news is that creating insightful and valuable videos for online use is not that expensive and time-consuming. Indeed, you can establish a real online yoga studio with just a few investments, and before you know it, you'll be snapping at the constantly peddling heels of Adrienne, Kassandra et al. With that in mind, here's how to turn your yoga videos into a business in 5 simple steps.
HAVE THE RIGHT EQUIPMENT IN PLACE
Offering yoga classes online mainly comes down to preparation, practice and perhaps most importantly, possessing the right equipment. Let's think about the latter point first.
Having the correct equipment for teaching yoga at home, both in terms of the practice itself and its filming, is vital if you're to display enough professionalism to convince viewers to show you continued loyalty.
In terms of the filming, all you need to record good-quality videos is either a fairly modern phone or digital camera, and a laptop to edit your material. Be aware that built-in microphones in cameras often capture an excessive degree of background noise. Therefore, an external microphone may be helpful if you want your voice to be clear and understandable. When teaching yoga, that level of clarity is so valuable.
It's also a worthwhile investment to buy some extra data space and memory cards, as high-quality videos can eat up virtual storage space. There's also a risk of losing your yoga video files, which would be disappointing. As such, downloading this data recovery software might be prudent, too. 
The only physical equipment you'll need to perform your yoga routines seamlessly is a mat and some loose fitting (but not too loose!) clothes. More important than anything tangible, though, is nurturing your own unique style which will charm new viewers and keep regular ones faithful, too…
NURTURE YOUR OWN UNIQUE STYLE
We doubt we're the first folk to have noticed that there are a lot of guided yoga videos out there and online. While a case of 'the more, the merrier' is certainly fair when yoga is such an inclusive discipline, if you're hoping to make any money from your videos then it's vital you create a unique style and voice to stand out from the crowd.
So, let your personality shine in your videos; yogis value relentless positivity and enthusiasm, but that should be tempered by a laid back, loving approach. No one wants screaming, dancing and shouting when they're trying to get all zen, right? Get your tone of voice and style right (and unique) and you give yourself the best chance of seeing the subscriptions, likes and follower counts increase.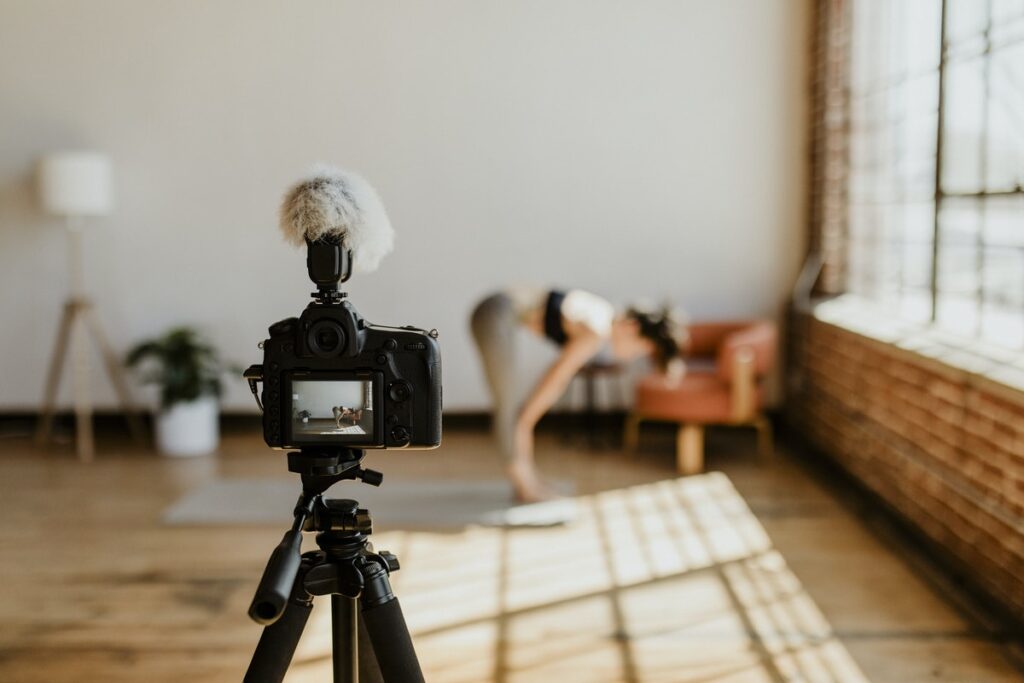 EDITING
You don't have to use expensive editing software in order to edit your yoga videos. You can, of course, but if you're not a pro editor, then you probably won't maximise the available functions of a given program, and its potential will be lost. Try to find easy-to-use and intuitive programs that will not take much time to learn and will enable you to start video processing almost right away, allowing you more time to focus on the practices themself.
Movie Maker on Windows and iMovie on Mac are free programs entirely capable and sufficient for recording your yoga videos. Both these pieces of software allow you to add transitions, trim the clip, and make it look sparkling fresh and professional.
Though of course you should focus your attention on performing in front of the camera, and bring focus to the here and now (very mindful, that), you should also put some faith in the editing process, too, as this gives your video a final look, makes it professional and shows that you take delivering the best content to your viewers seriously.
UPLOAD AND INFORM
When you're all done with editing the video, and it feels satisfying to you and informative to others, it's time to upload it online and inform your students and followers that it's out there. Upload it to the video-sharing platform of your choosing, prioritising the more mainstream channels at first for maximum exposure.
On services like Vimeo and YouTube, you have an opportunity to create a private link only for those who have bought access to your account. For payment purposes, you can create an account on PayPal and have those details available via email. That said, there's also money to made via the oft' repeated 'like and subscribe' model; this data represents cold, hard evidence that you have a following (and value to advertisers) so don't neglect organic avenues of generating interest, too.
Also make sure that you have a channel open for regular dialogue with your followers. Feedback is extremely important because it allows you to develop your brand, improve your content, and eventually gain new viewers who will contribute to your passive income in the future.