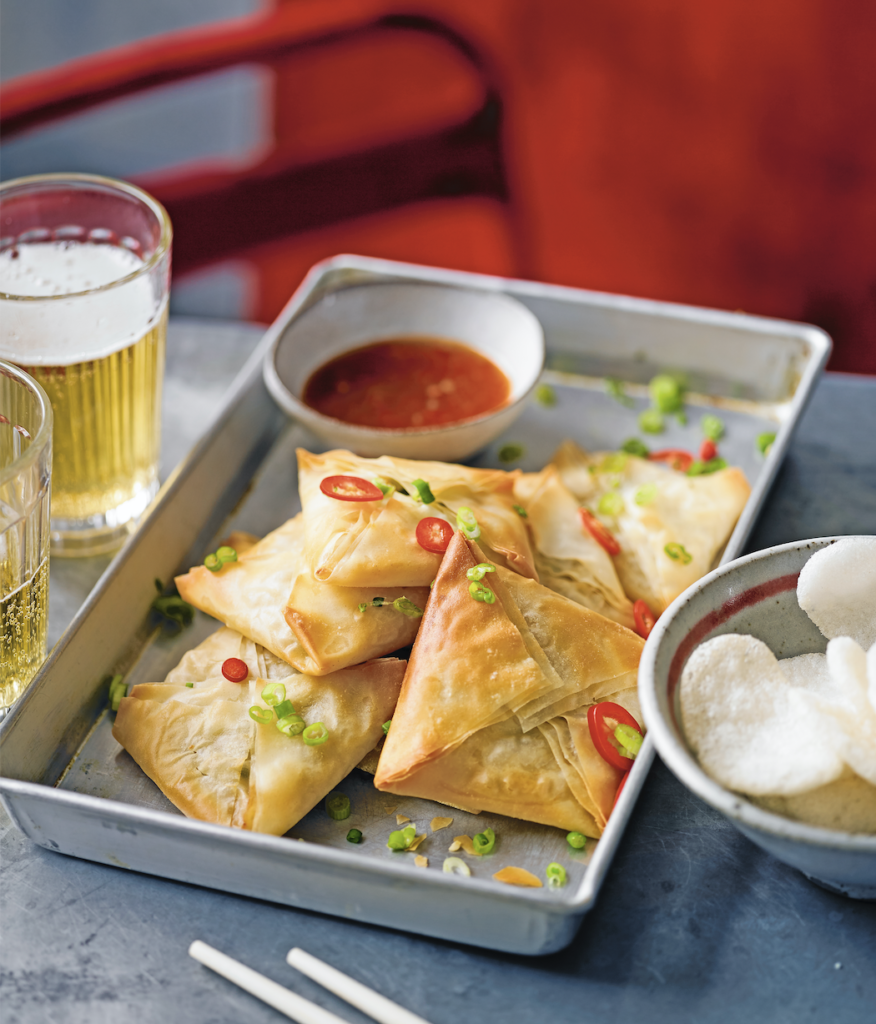 Ideal for a Saturday night treat. Or any night of the week, for that matter!
These guys require a fairly broad range of ingredients and a little dexterity in the assembly, but you'll be richly rewarded with a fantastic beer snack or dinner in its own right. The chilli sauce is a wonderful foil to the crispy, aromatic parcels.
Check out the recipe below for Crispy prawn parcels with chilli dipping sauce from our pals at Waitrose.
Preparation time: 20 minutes
Cooking time: 10 minutes
Total time: 30 minutes
Serves: 4
WHAT YOU'LL NEED
50g butter, melted
180g Waitrose Raw Jumbo King Prawns, any black veins removed
1 Waitrose Green Pak Choi, finely chopped
1 salad onion, finely chopped
2 tsp Bart Infusions Ginger Paste
1 tbsp oyster sauce
1 tsp toasted sesame oil
¼ tsp table salt
6 sheets Jus-Rol Filo Pastry
Plain flour, to dust
5 tbsp Cooks' Ingredients Sweet Chilli Sauce
Juice of 1 lime
1 tbsp Kikkoman Soy Sauce
60g pack Sharwood's Prawn Crackers
Finely sliced red chilli and salad onion, to serve
 
WHAT YOU NEED TO DO
1. Preheat the oven to 200°C, gas mark 6 and brush 2 large baking sheets with a little melted butter. Finely chop the prawns, pak choi and salad onion. Put in a bowl with half the ginger paste, the oyster sauce, oil and salt. Mix together.
2. Place one sheet of filo on a lightly floured surface. Top with 2 more sheets, brushing with butter between each one. Cut the stack in half lengthways, then across 3 times, to make 8 squares about 11-12cm in size. Repeat with the remaining 3 sheets to give 16 triple-layered squares in total.
3. Place 1 tablespoon of mixture into the centre of each square. Brush the edges with butter, then fold in each corner, slightly overlapping, to form an envelope.
4. Place onto the baking sheet and cook for 8-10 minutes until golden and piping hot throughout. Meanwhile, mix the chilli sauce with the remaining ginger paste, lime juice and soy sauce. Serve the hot parcels scattered with chilli and salad onion, with the crackers and chilli sauce on the side.