Ideal for upping your barbecue game this summer
As the late chef and food writer Anthony Bourdain once so sagely said, ''Food may not be the answer to world peace, but it's a start."
Bourdain also once posited that "the way you make an omelet reveals your character", but we think that statement applies just as pertinently to the way you conduct yourself around the heat of the barbecue.
And whilst breaking bread is often seen as the most symbolic of levellers, we think there's much to be said for the allegorical power of the grill, too. Steeped in tradition, this oldest of cooking methods is something to be respected, with its elemental unpredictability connecting us both with our past and our fellow man. Because when the flame is burning and the meat sizzling, there's so much more that unites than divides us.
Over thousands of years, barbecuing techniques have been developed, both locally and globally – some shared, some unique to a specific region, city, or even village – to finesse the grilling experience down to a fine art.
Today, we're exploring just a handful of our favourites; here are some ingenious grilling techniques from around the world, IDEAL for upping your barbecue game this summer.
The Basque Country – A Simple Spritz Of Vinegar
As an article by the BBC on the origins of barbecue culture put it, ''Basque cuisine is an exploration of just how far wood, smoke and flame can be taken as a cooking technique''.
And it's at two revered restaurants within 55km of each other that modern Basque barbecue cooking is perhaps most famously celebrated. The first, Asador Etxebarri, is the holder of a Michelin star and is currently ranked as the third best restaurant in the world.
Here, the legendary chef Victor Arguinzoniz has designed a whole host of ingenious grilling contraptions, including grill baskets, clamps, perforated frying pans, and even specially designed built-in grills whose height you can adjust with an intricate pulley system.
That said, you don't need all of that kit to recreate the essence of Basque grilling at home. In fact, the secret to the success of this style of barbecue lies in something much more manageable; a simple spritz of vinegar. 
This method is particularly useful when grilling whole fish, as they do at Elkano, just a short drive from Asador Etxebarri, in the coastal town of Getaria. Here, the grill chefs are as skilled with a spray bottle as they are with the tongs and spatula, periodically spritzing the skin of the fish with a vinaigrette to stop it from drying out and to, simultaneously, gently season it. 
As the fish releases its juices and gelatine as it cooks, this combines with the vinaigrette, creating one of the most gorgeous sauces you'll ever taste.
The exact recipe for the vinaigrette at Elkano is a closely guarded secret. Known as ''Lourdes water'', only the senior chefs are privy to the exact ingredients and ratios involved. If you're trying to replicate this at home, however, we'd suggest olive oil and white wine vinegar at a ratio of 3:1, shaken together until emulsified.
Read: How to grill a whole fish on the BBQ
Vietnam – An Ingenious Use Of The Domestic Fan
Though Vietnam's most famous culinary exports are undoubtedly the world-conquering noodle soup phở and perhaps the greatest sandwich to ever do it, bánh mì, another dish that's gained global recognition is bún chả, a gorgeous bowl of grilled pork patties and thinly sliced pork belly, cold noodles, a uniquely flavoured dipping sauce, and plenty of herbs.
The dish has been served on the streets of Hanoi for centuries, but in 2015, when our old friend from the introduction, Anthony Bourdain, and the then president of the USA, Barack Obama, shared a meal of bún chả on the former's TV show Parts Unknown, international interest in the dish sky-rocketed.
What that particular episode didn't show you, however, is the ingenious grilling technique used to impart ultra-smokiness into those grilled pork patties and strips of belly. It's simple; a domestic fan is set up on rotation behind a basic, compact grill, sending a particularly alluring smoke billowing into the air and tempting those cruising by on scooters to pull up and have a try. 
The effect is to keep the smoke rising in an almost continuous stream, whilst helping to temper the burn of the charcoal, distributing heat evenly, which is ideal for cooking slivers of pork belly and single patties that might otherwise overcook and dry out. In smaller street grilling operations in Hanoi, the cook will simply use a handheld bamboo fan.
Either way, the effect is tender, juicy meat that tastes both of itself and of the grill. No wonder Obama was such a fan.
Papua New Guinea – The Layers Of Mumu
Underground 'pit' cooking provides the foundation to some of the world's most beloved barbecue dishes, from Mexican barbacoa to Indian tandoori, stopping off in Hawaii for kalua pork along the way.
But perhaps the most ingenious version of this universally loved cooking style is found in Papua New Guinea, and the national dish mumu. Here, as is tradition across the world, a makeshift oven is made by digging a large, deep pit into the ground, big enough to receive a whole pig and a generous quantity of root vegetables and tubers, such as sweet potato, yams, yucca root and taro. Layers of fruit are also added, bringing bright acidity and helping tenderise the pig.
Then, the pit is lined either with hot stones or coals, ensuring a radiant yet regular heat is maintained for the duration of the cooking process. Next, a generous thicket of grass and a layer of vegetable fibre sacks are added, acting as a buffer between the hot stones and the parcel of food, protecting the pig and its companions from fast-acting direct heat (we want this thing to slow cook, after all).
Now, the pit is ready to receive the pig, vegetables and fruit, which have been wrapped in banana leaves to further insulate them and provide an environment for steam, once again protecting the meat from drying out. Banana leaves also impart a gentle aroma and flavour to the finished product. Some areas then cover the pit and parcel with soil, whilst for some tribes within Papua New Guinea, this is viewed as taboo. 
Regardless of how you play it, the results (after several hours of low and slow cooking) are incredible. And the laborious nature of the preparation is actually an advantage, viewed as an opportunity for the whole family, or even, the whole village, to get together and muck in. The rewards are well worth it!
Argentina – Grilling A La Cruz
We simply couldn't write an article about global grilling without mentioning the iconic Argentinian asado, a celebration of grilled meat so beloved of the country (and its neighbouring Chile and Uruguay) that it's basically a religion here.
To the untrained eye, it may look simple, but there's huge amounts of skill involved in the art of maintaining an asado so that all the different cuts of meat cook perfectly over the course of a long, glorious day or eating and drinking. Fast food this ain't.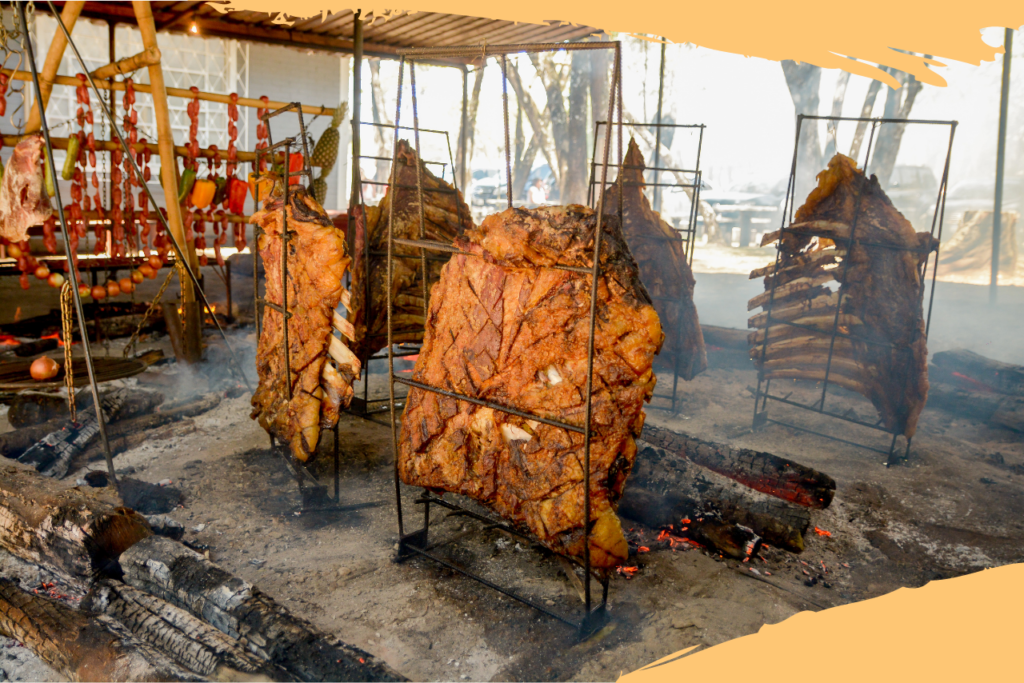 It's in the grilling of larger cuts as the meal's headliner – often beef ribs or a whole flayed lamb – that the real ingenuity of the asado occurs. Such cuts are usually grilled a la cruz, attached to an iron cross using hooks and grilled upright away from the direct heat of the fire. Occasionally, a little salmuera (a basic brine) is used to baste the meat, but that's all, allowing the flavours of the animal and the asado to truly to shine.
This 'on the cross' stance leads to gentle, smoky cooking and yields the most tender, flavoursome meat imaginable. It's such a reliable, ingenious technique, in fact, that all you need as a garnish is some sal parrillera (grilling salt) and you're done.
And with that, we're done, too. Our barbecue appears to have burnt out…