Ideal for affordable and easy meals with the family on your next camping trip.
Could there be anything better? Allow us to set a scene here; it's dusk on a clear, soon-to-be starry night, a group of friends or family are gathered around a campfire, no one is playing Wonderwall badly on an acoustic, and there's a few skewers of something tasty getting licked by flames.
How badly this tableau can tank. It's overcast and a storm looks set to extinguish your centrepiece. There's tension and mosquitos in the air. The skewers are burnt on the outside and raw in the middle. And someone pulls out a ukulele to lift the spirits…
Let's focus on the former paragraph here, and have a wholesome, nourishing time around the campfire, fuelled by good vibes and even better food. So, with the help of CampingStyle, here are 4 hacks for healthy and delicious campfire cooking, IDEAL for affordable and easy meals with the family on your next camping trip.
First Night Frozen
No one wants to arrive at the campsite after a long drive defined by moaning toddlers, with tents needing to be erected on growling stomachs. When camping with the family, it's best to have a delicious and simple meal prepared for your arrival which can be easily heated up on the portable stove.
A great idea here is to make a warming, fulfilling stew in the days preceding your trip, freeze it, and then allow it to thaw gently in a coolbox on your drive to the campsite. When you arrive, simply heat it through thoroughly and serve, before you tackle all that stressful putting up of tents.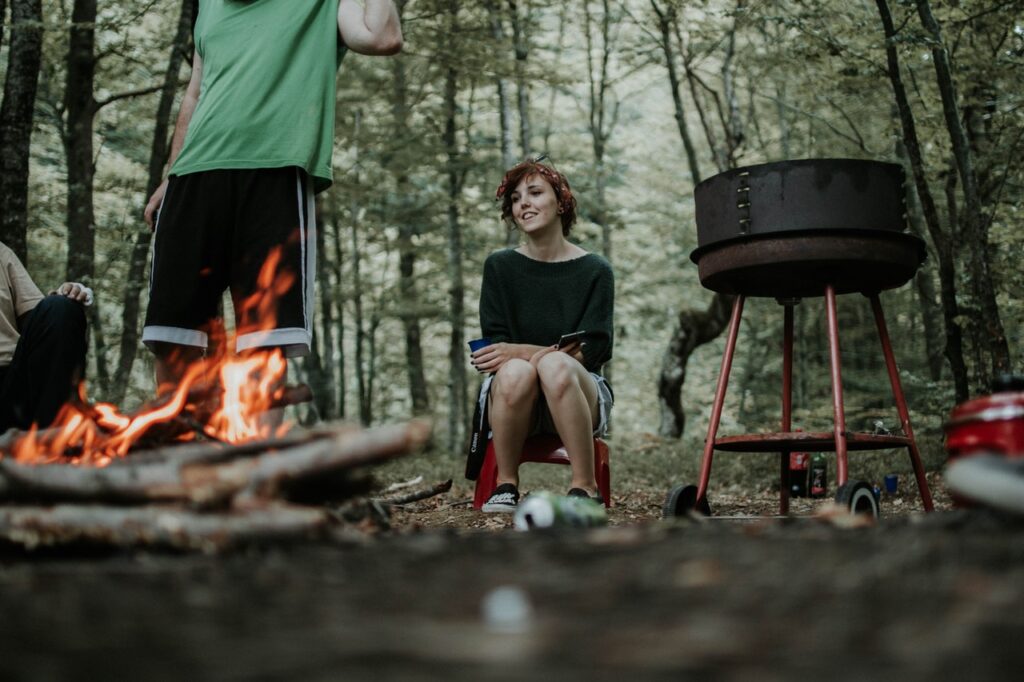 One Pot Wonders
There are so many fantastic one pot wonders which are easy to prep, assemble, cook and serve with only a portable gas stove or campfire for fuel. Of course, the minimal use of utensils and pots is so welcome when you're camping, since it saves hugely on the painful procedure of washing up in the dark afterwards.
You could cook the dish before your trip, or prepare the raw ingredients – sliced, diced and ready for the pot – before bagging them up at home and assembling once your fire is lit. The best actual pot to use for your one-pot-wonder should be something sturdy which conducts heat evenly, ideally made from cast iron, with a snugly fitting lid. Seek out the world famous Le Creuset pot or other dutch ovens for best results when campfire cooking.
Read: 6 gifts to give someone who loves eating outdoors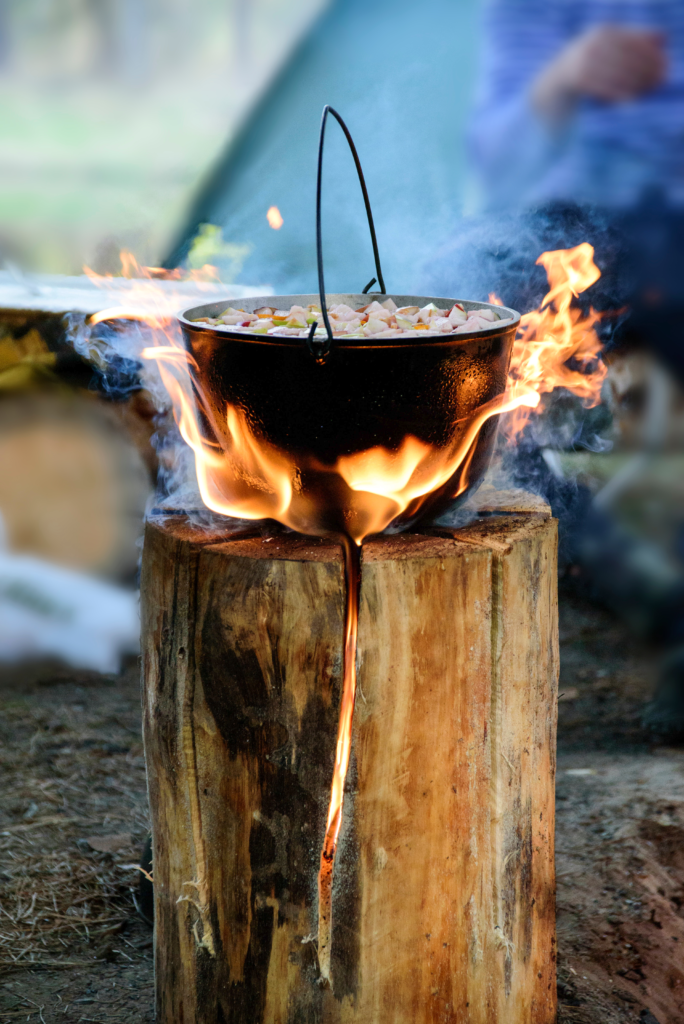 Foraging Fun
Getting acquainted with the natural produce, ingredients, and farming rhythms of the place you're visiting can be highly educational for the children (and adults!) in your group, as well as being the path to truly fresh, delicious tasting food. What's not to love?
So, do endeavour to attend a local farmer's market, fishmongers or butchers during your camping trip to collect ingredients for your evening's cooking, supporting the local community and discovering their specialities in the process. If you're looking to get a little more adventurous with your campsite cooking and are staying near a beach, then a whole grilled fish, locally sourced, on the barbeque is just the ticket.
Even more enjoyable (though some prior expertise is required) is foraging for wild food in and around the campsite to eat at dinner. Right now, blackberries, of course, are abundant and with an easy to recognise ripeness; that's dessert sorted, then. During the warmer months you'll also see bilberries and sometimes even wild strawberries growing. Chanterelle mushrooms can also be found in mossy and beech forests, preferring low-lying, damp areas, particularly. Various herbs like sorrel and nasturtium flowers are also growing out there, and add real intrigue to dinner.
Even if you don't unearth anything, it's an educational, enjoyable experience having a search! Do make sure you exercise caution and respect for the wildlife on your hunt.
Tinned & Canned Goods
Half the joy of campsite cooking is the unpredictable nature of it; your dinner is in the hands of the weather gods, the elements, and all kinds of other external factors and forces. But that elemental nature to cooking outside can also present problems. And that's okay until you've got hungry children on your hands; expect tantrums and a holiday turned sour.
Contingency cooking, or rather, packing, is essential if you're camping with the kids, so you've got something in reserve that you can quickly use to create a healthy, nutritious meal while your significant other wrestles with the firelighters and newspaper.
Tinned fish, beans, and soup, as well as canned fruit, are essential items here, as they keep and travel well, and can be enjoyed immediately in a crisis. Dried or dehydrated breakfast items, like cereal, trail mix, or even jerky, also work brilliantly as a quick snack to keep morale alive until dinner proper.
Now we've got the campsite cooking tips down, let's find somewhere to stay. Check out our favourite 4 IDEAL U.K camping sites for your summer staycation, and get inspired!