If you're a mascara, then you will adore this week's secret fashion fixes from Dee Fitzgerald
We all have those secret weapons that are essential for making sure you look your best at all times! Each week, the wonderful Dee Fitzgerald from Secret Fashion Fixes reveals ingenious and innovative fashion fixes that are designed to make life a bit easier for any woman who wants to look her best, whether it's a special occasion, an important day at work or simply to be more comfortable in her own clothes. This week she reveals some essentials that mascara lovers will just adore.
Pink Mascara Shield £11.00
Placed under your top and bottom eyelashes it allows you to apply your mascara without disturbing other make-up or marking the skin. It helps line & coat each lash making any thin or sparse eyelashes easier to see. For thick and long lashes, mascara application goes on more smoothly and evenly. The Mascara Shield can be used in the same way for eyelash tinting & applying individual false eyelashes. This is a must have beauty accessory.
The Beauty Guard (2Pack) £7.50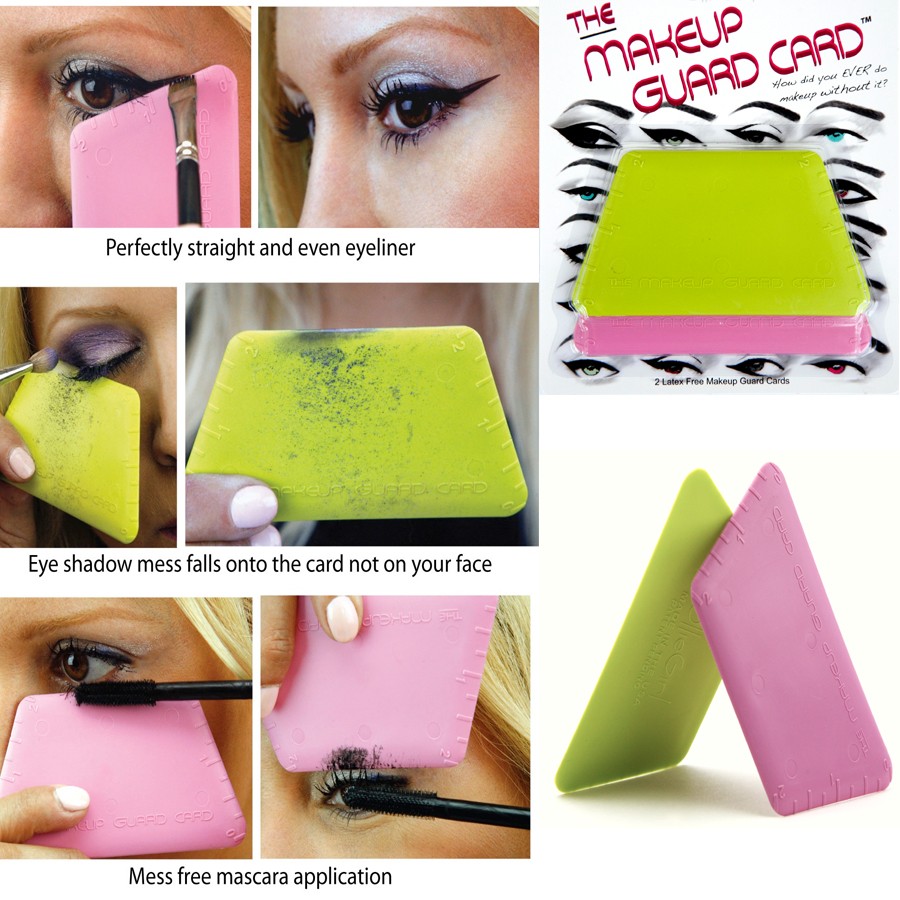 Achieving beautiful eyes is made easier, faster and cleaner using the Makeup Guard.
Get clean, exact applications of eye shadow and eyeliner with this trapezoidal tool which makes eye makeup application a lot easier. Round, bevelled edges resist clumping and catch excess residue and the addition of ruler measurements along the side ensures your eyes are more Angelina Jolie than Maleficent!
Eye Makeup Corrector & Remover Swabs (24 pack x £7.85)
These cotton swabs offer precise touch-ups that cotton balls or wipes can't master. The swabs are pre-filled with a vitamin E & aloe vera eye-makeup remover formula. Snap the swab stick and touch up makeup while applying and for quick on-the-go touch ups. Perfectly packaged to pop in your handbag. Includes 24 pre-filled portable, cotton swabs.
Cleanse off Mitt £2.86
Say bye bye to face wipes! The Cleanse Off Mitt quickly removes all make up naturally – including mascara! A mitt designed to remove all traces of makeup with JUST the mitt itself, i.e. NO cleanser is needed! Just add water to the mitt and remove all makeup/ pollution etc. from the face. Easy peasy! Quick and affordable! Reusable! An innovative Irish product.
The Panda Pen is for all those times you have stopped in front of the mirror to find your eye makeup has let you down…again. This super portable tool cleans up your Panda eyes anytime, anywhere as it is small enough to fit in your bag.  It has a small renewable woven cotton tip with conditioning eye make-up remover that fits underneath your bottom eyelashes and gives you precise control over what eye makeup stays and what goes. It is tough on waterproof mascara and eyeliner but gentle on your skin, and it doesn't leave an oily residue.
Find all these products at www.secretfashionfixes.co.uk