Jeans are such a style staple that it seems redundant to advise on the latest season's trends. If it's denim, blue or black and fits nicely, then what more is there to discuss? This perennial trouser favourite is just that because of its simplicity, versatility and timeless quality, right? Well, there are still a few considerations to take into account if you want to wear them right; ones of shape, wash and brand. Worried that it's all just got a little complicated? Well, fear not; here is the IDEAL guide on how to choose the best jeans this summer.
WHAT SHAPE IS FOR YOU?
Of course, jeans, just like women, come in all shapes and sizes, but it's ladies straight cut jeans that are dominating the catwalk for SS18. They're the most popular silhouette this season and can give off summer vibes with a blue denim or bright white wash. High-rise, straight-leg cropped jeans are being worn by every blogger and influencer around — creating a fitted waist, a slimming appearance down to the ankle and a stylish, straight hem. But which style complements your shape? Well, naturally, the main thing to keep in mind is that you're comfortable. Choose a style that you feel confident in and it'll shine through. Here's a little more information to get you fitted out right:
FOR PEAR-SHAPE: Pear-shaped figures are defined by carrying weight around their middle. A mid-rise style with a straight or bootcut leg can flatter your shape and elongate your legs. Try to avoid high-waisted trousers, as this style can make your legs look shorter
FOR APPLE-SHAPE: If you're apple-shaped, you're likely to carry weight around the middle of your body. A straight-leg is again great for this shape, as it brings a focus to the legs. Match with a pair of heels to dress up the outfit.
FOR PETITE FIGURES: Shorter women can find it difficult to find a pair of jeans that aren't too overpowering. High-waisted trousers can create the illusion that you are taller as well as showing off your small figure. Low-rise jeans are also a good fit — wear with a cropped top in the warmer months to create a summery look.
FOR TALL FIGURES: If you're tall, make the most of your long legs. Low-rise with a straight or skinny leg will achieve this, or if you want your pins to look even longer, go for a high-waisted cut.
WHICH WASHES ARE IN THIS SEASON?
When spring and summer hits, fashion shops become filled with lighter colours. Think of brightening up your wardrobe with the latest trend; coloured jeans. These come in the form of pretty pastel shades of yellow and pink which have taken inspiration from the catwalks, right through to cool khaki green washes which will have long-lasting appeal.
Do you like to opt for a classic blue jean? Aim for a slightly faded Californian shade for everyday denim, with a focus on frayed hems and ankle grazing lengths. If you want to take a more polished, work-appropriate approach, opt for crisp, clean washes. For denim in technicolour, look to the pastel shades of lemon and pink with touches of khaki green. Or consider stylish crops in Blossom pink and Cornflower blue for a real investment for the season. For a quirky look, choose a slit hem with exposed stitching to add an edge to any outfit.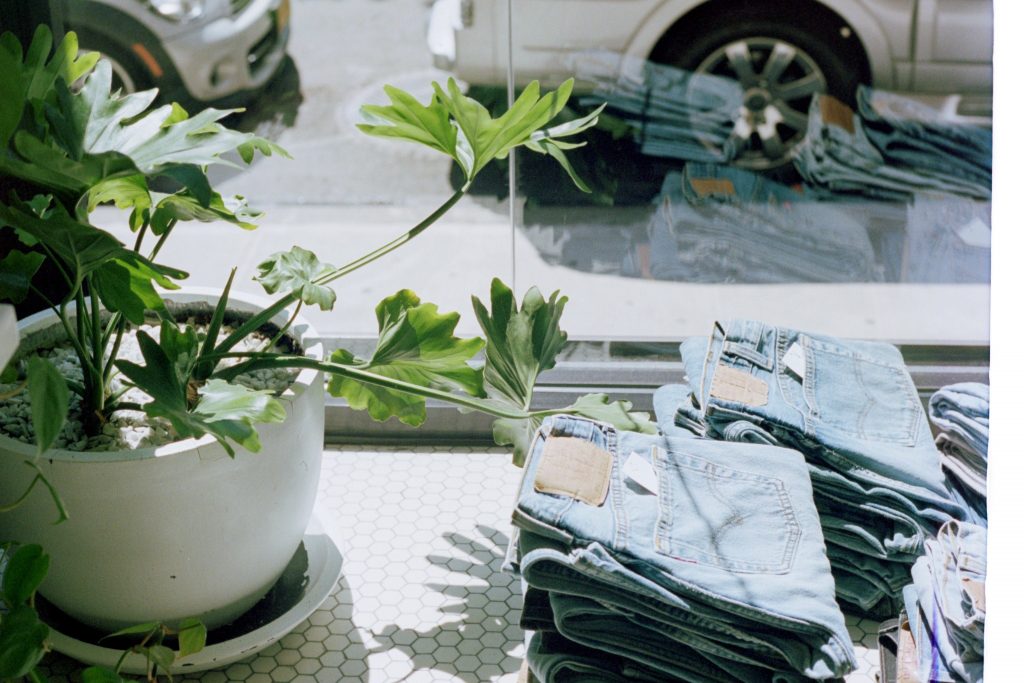 WHICH BRAND TO BUY?
Why not treat yourself to a pair of designer jeans rather than a pair from the high-street? Think Citizens of Humanity, Frame and AG. You'll probably already have realised that these jeans are worth the price point thanks to their impeccable tailoring and fabric technology, like J Brand's Photo Ready fabric – which is ultra-slimming and promises to contour to your shape. This spring and summer, expect to see big-name brands from the jean scene, such as Paige Denim, with a unique offering of skinny and straight leg jeans that you won't find anywhere else in the UK.