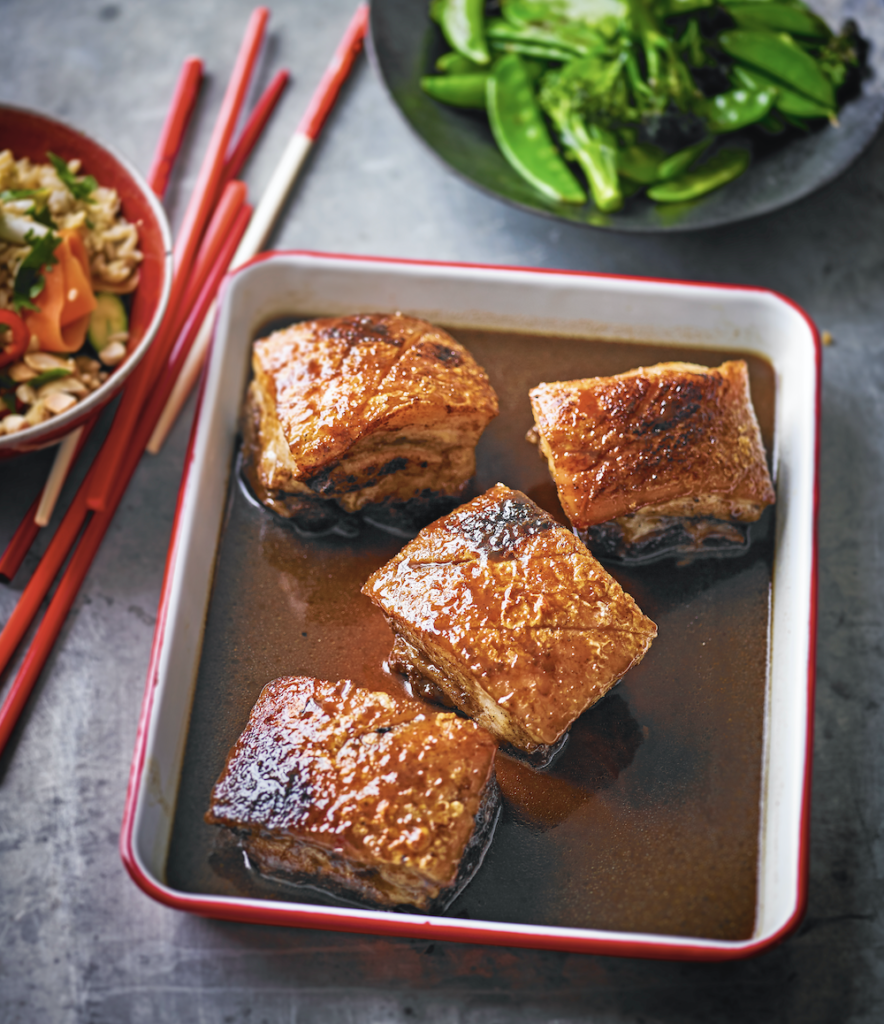 Ideal for those craving some serious flavour.
Our pals at Waitrose share their recipe for Braised sweet & sour pork belly, and it's a cracker. If you love unctuous, giving pork belly in a Chinese inspired broth, full of heady notes of five spice and the umami bomb of soy sauce, then this one's for you.
Preparation time: 10 minutes
Cooking time: 2 hours 30 minutes
Total time: 2 hours 40 minutes
Serves: 4
WHAT YOU'LL NEED
1kg pork belly (from the meat counter)
2 tbsp Bart Chinese Five Spice
640ml bottle Tsingtao Beer
250ml malt vinegar, plus extra to taste
100g light brown soft sugar
4 tbsp Kikkoman Soy Sauce
Finely grated zest and juice
1 extra-large orange
1 tbsp Bart Infusions Ginger Paste
3 tbsp vegetable oil
½ x 200g pack Waitrose Trimmed Sugar Snap Peas
½ x 200g pack Waitrose Trimmed Mange Tout Peas
½ x 200g pack Waitrose Tenderstem Broccoli Spears
WHAT YOU NEED TO DO
1. Preheat the oven to 170°C, gas mark 2. Cut the pork into 4 even pieces. Place all the ingredients but the pork, oil and vegetables into a large ovenproof casserole with a lid. Bring to the boil over a high heat, then carefully add the pork. Return to the boil, cover with the lid and place into the oven for 2 hours.
2. Remove the casserole from the oven and lift the meat out of the stock with some tongs. Set aside. Skim and discard any fat from the liquid. Bring to the boil over a high heat for 25-30 minutes until reduced and thickened.
3. Meanwhile, pat the meat dry with kitchen paper. Warm a frying pan over a high heat. Add 2 tablespoons of the oil, and fry the meat for 3-5 minutes until the skin is crisp. Turn over, and cook for a further 2-3 minutes, until piping hot and golden with no pink meat. Remove from the pan and keep warm.
4. Return the frying pan to the heat. Add the remaining oil. Stir fry the sugar snaps, mange tout and broccoli for 3-5 minutes until just tender. Keep warm. Serve the pork drizzled with the sauce and the vegetables alongside. Delicious with rice.