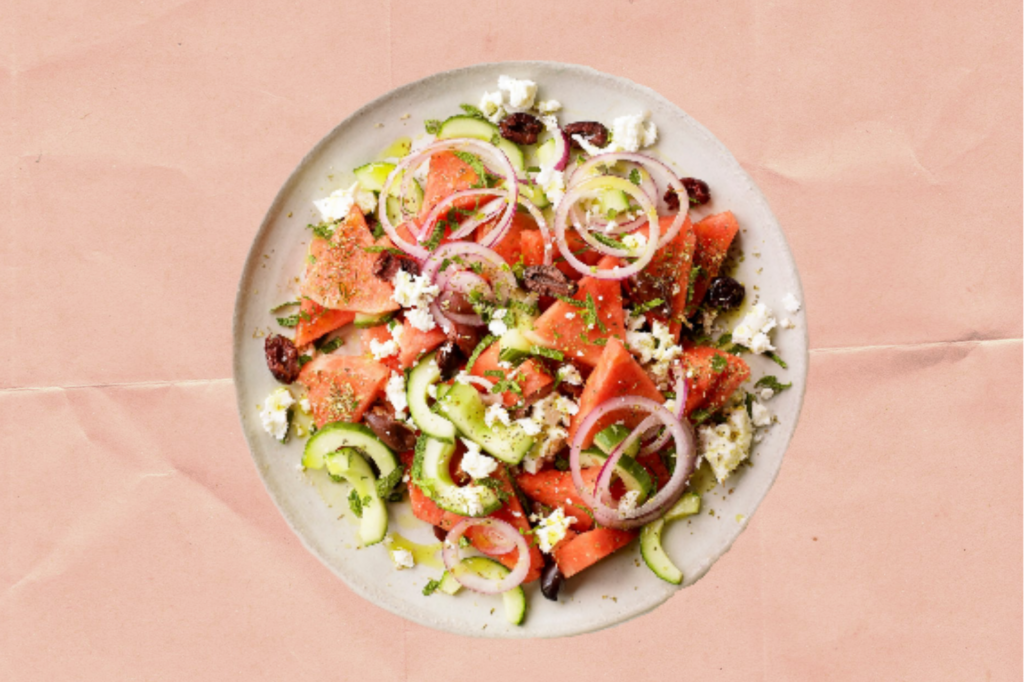 IDEAL for a summer barbecue or picnic in the park.
Harry Styles was right when he wrote about it. A true summer superfruit sweetheart, nothing beats the refreshing crisp sweetness of a juicy watermelon. We don't know if we could ever go without, either.
One of the finest uses of this great fruit, we think, is in an otherwise salty, savoury salad. Watermelon with rich olives and salty feta…the fresh, summery ingredients in this salad are just delightful together. Enjoy as a barbecue side dish or package up for a picnic, and bring your speakers along with you for the theme tune. All together now, here's our IDEAL recipe for Greek feta and watermelon salad.
Preparation time:20 minutes
Cooking time:0 minutes
Total time: 20 minutes
Serves: 4
Ingredients
½ red onion, thinly sliced
½ Waitrose & Partners Watermelon
1 cucumber
20 pitted Kalamata olives, torn in half
100g feta, crumbled
4 tbsp extra virgin olive oil
4 tsp red wine vinegar
5 mint leaves, finely shredded
¼ tsp dried oregano
Method
1. Put the sliced onion in a bowl of cold water and leave to soak while you prepare the remaining ingredients. Carve the watermelon lengthways into three wedges, then cut away the skin and slice into 1½cm-thick pieces. Halve the cucumber lengthways and scoop out the seeds with a teaspoon, then slice into half-moons about ½cm thick.
2. Arrange the watermelon and cucumber on 4 plates, then scatter over the olives and feta. Drain the onion and add to the salad. Drizzle each plate with 1 tbsp oil and 1 tsp vinegar; season. Serve immediately, sprinkled with the mint and oregano.
Cook's tip
Soaking raw onion in cold water helps to tone down its pungency before it is added to a salad.
Recipe courtesy of Waitrose & Partners.