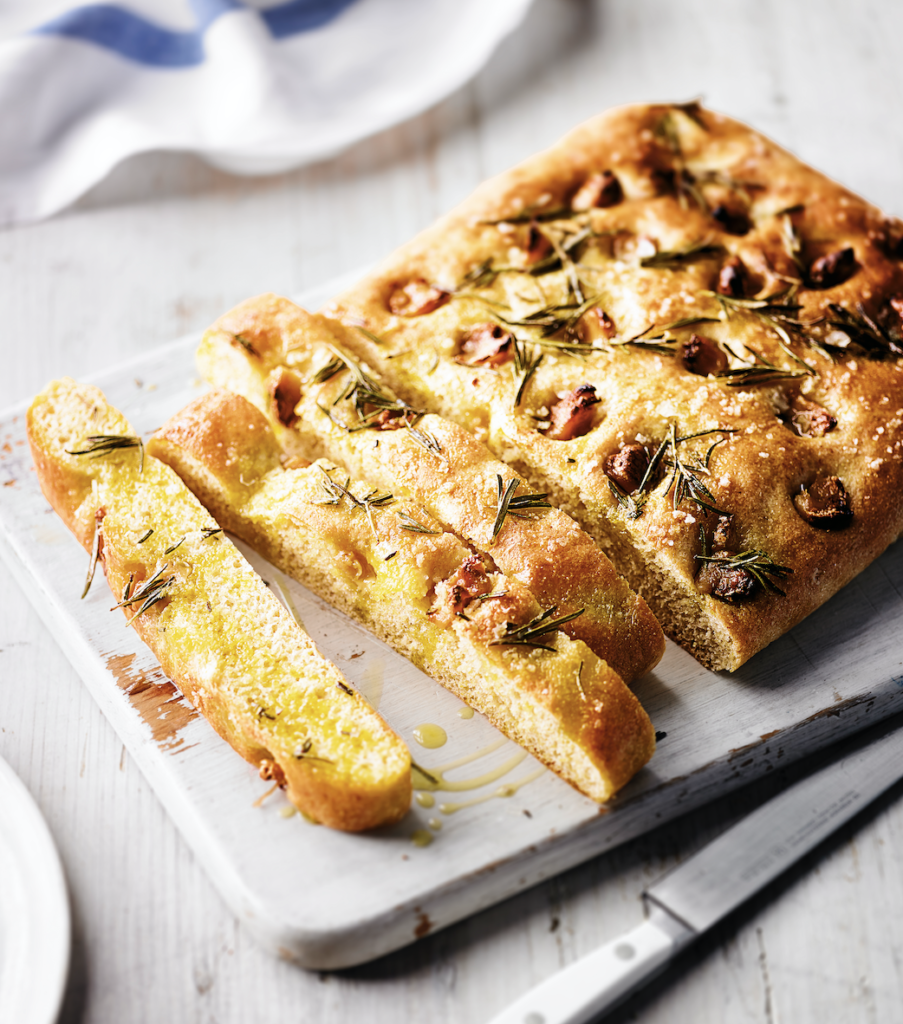 Ideal as a great side dish to pasta, soup or as a dish all of its own.
This recipe from our friends at Waitrose for roast garlic & rosemary bread is so much better than the stuff they sell in the shops. The key here is good olive oil and properly proving the dough. Trust us on this one.
Preparation time: 20 minutes + proving
Cooking time: 1 hours
Total time: 1 hour 20 minutes + proving
Serves: 8
WHAT YOU'LL NEED
2 bulbs garlic 
1 tbsp olive oil 
400g strong white bread flour, plus extra for dusting
100g fine ground semolina, plus extra for dusting 
1 tsp sea salt
7g sachet fast action dried yeast
½ tbsp golden caster sugar
½ x 20g pack fresh rosemary, leaves stripped 
50ml Italian extra virgin olive oil 
Sea salt to sprinkle 
 
WHAT YOU'LL NEED TO DO
1. Preheat the oven to 200°C, gas mark 6. Place the whole garlic bulbs on a sheet of foil. Drizzle with olive oil and close the foil up to form a packet. Sit on a baking sheet and place in the oven to bake for 40 minutes until soft and caramelised. Leave to cool.
2. Place the flour, semolina, salt, yeast and sugar into the large bowl of a stand mixer with a dough hook attached. Add 300ml lukewarm water and mix until combined into a soft, smooth and springy dough.
3. Tip the dough onto a floured surface and shape into a ball. Place back in a clean, oiled bowl and leave to rise for at least 30 minutes until doubled in size.
4. Sprinkle semolina into a 20cm x 30cm tin. Tip the dough out of the bowl and knock back. Pat into the tin, pressing into the corners with your fingers, making lots of dents across the surface.
5. Squeeze the garlic cloves from their papery skins and push into the indentations.
6. Toss the rosemary in half the olive oil and scatter over the bread. Sprinkle with sea salt flakes. Leave to rise for a further 20 minutes.
7. Drizzle generously with the remaining olive oil and place in the oven to bake for 20 minutes, until risen and golden. Remove from the oven and leave to cool before cutting into 8 lengths.