The Barbie film feels, let's face it, pretty unavoidable right now. And if the preppy main character is famous for one thing and one thing only, it's her love for pink, with the flurry of recent movied-based memes seemingly sparking a resurgence of this colour now splashed across social media.
According to research by Booking.com, 58% of UK travellers would prefer to travel to an 'instagrammable' destination with beautiful sights to post on social media. It's only natural, then, that in the summer of 2023, travellers might feel be inspiring by the aesthetics of the Barbie movie to colour-code their next holiday.
With that in mind, and with the help of Booking.com, here's some top preppy pink stays to enjoy a picture-perfect holiday. Be pampered in rose quartz-coloured hotels in Jaipur and Marrakech or party poolside at hot pink properties in Ibiza and Beverly Hills… It's all here.
Paradiso Ibiza Art Hotel – Adults Only – Ibiza, Spain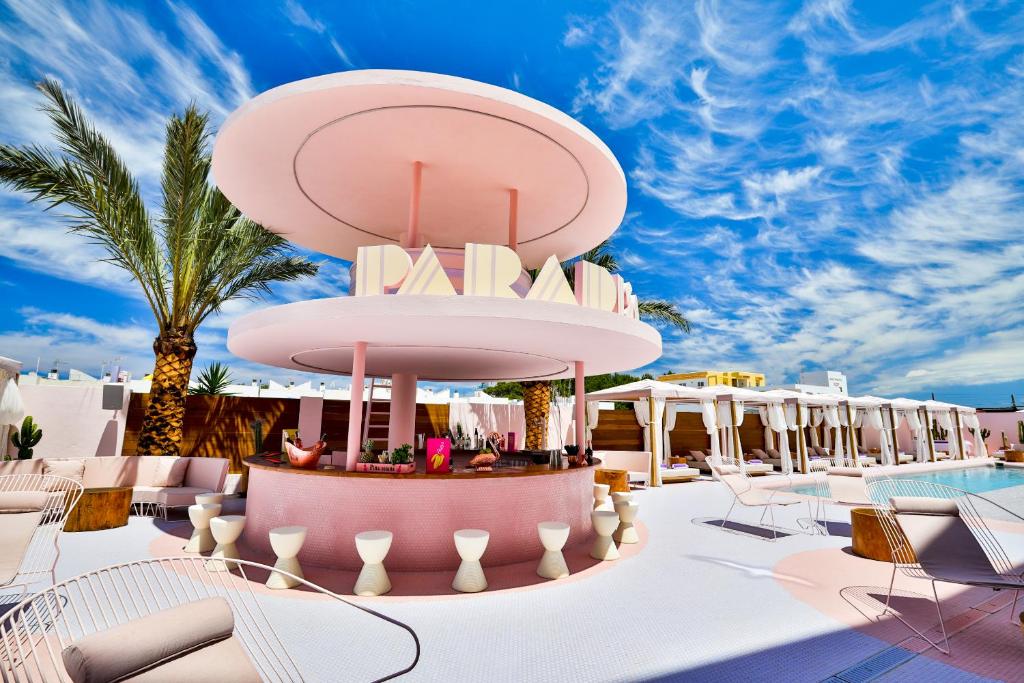 Where to stay: For those seeking to fully immerse in the pink world of this retro doll, look no further than the candy floss coloured Paradiso Ibiza Art Hotel. Standing out against Ibiza's west coast skyline, it's a nod to kitsch 1970s Miami cool with chromatic tiled flooring, brightly rimmed mirrors and neon lighting.
Take a dip in the pastel pink pool, enjoy a pink grapefruit Paloma cocktail from the circular bar, or chill out in one of the poolside cabanas. For those who truly want to embrace doll life, the hotel has a glass-walled room situated in the middle of its lobby, where brave guests can sleep for free for a night, in the knowledge that every second of their stay will be publicly scrutinised.
What to do: Visitors can stay in the limelight with an Ibiza Photography Service Tour and capture some picture-perfect memories against the backdrop of Ibiza's most iconic landmarks, or head to the instagrammable beaches within walking distance of the hotel. Back at the ranch, guests can dig into burgers, and slurp on milkshakes and revitalising juices at the diner-style restaurant.
The hotel is even home to an art gallery and a tattoo parlour for those wanting to remember their holiday in an extra special way. What's more, this Booking.com Travel Sustainable stay invests a percentage of its revenue back into community projects so guests can live by the iconic doll's mantra: always leave things better than you found them.
Cobblers Cove – Saint Peter, Barbados
Where to stay: Located on the idyllic island of Barbados in Saint Peter's Bay, Cobblers Cove is a real-life dream house for travellers seeking a romantic stay and perfect for the 49% of Brits who wish to take a beach vacation this year.
With a stunning beachfront location, the pastel pink colour of this 1940s mansion seeps into other features around the stay, while the hotel is blessed with palm-festooned gardens full of exotic birds. Offering a large array of watersports for guests with a sense of adventure from windsurfing to sailing and water skiing, there's also the Sea Moon Spa for those seeking to unwind with a luxurious massage or rejuvenating beauty treatment.
What to do: A peaceful sandy beach extends from the hotel up the coast to Speightstown, a gentle-paced town with enticing bars and restaurants on its beachfront, or guests can browse the boutique clothes shops in the nearby town of Saint Peter – both just a short walk away.
After an exciting day, relax in the drawing room with a board game or dine at the onsite Camelot Restaurant renowned for its indulgent barbecues. With magnificent sunset views over the Caribbean Sea, guests can toast on their private balconies with a cool glass of rose matching the colour of the striped poolside umbrellas that surround this pink-perfect stay.
Read: What to eat in Barbados
The Beverly Hills Hotel – Dorchester Collection – Los Angeles, California.
Where to stay: Known globally as the Pink Palace, this trendy hotel was styled around the blush facade of its original building and now features bubble gum walls and a bougainvillea-draped courtyard dotted with twinkling lights. Adored by celebrities and movie stars, this LA establishment is located on the iconic Sunset Boulevard and guests can strut up the red carpet to be warmly welcomed by staff. Interiors are luxurious with bronze fixtures, buttery leather sofas and marble bathrooms.
Outside, the hotel boasts private cabanas where guests can indulge in sweet pink cadillac cocktails or mojito lollies, alongside an incredible pool which features underwater music. An easy amble to the shops of Rodeo Drive, the hotel is also just a short drive to Malibu beach, a favourite destination of this beloved doll.
What to do: For a cool experience, travellers can put on their best neon activewear and hit Venice Beach for some rollerblading, just like the main character of this movie and her dreamy boyfriend.
Or, embrace the LA lifestyle with a Private Surf Lesson and feel empowered to ride the Californian waves. Refuel afterwards at the hotel's Polo Lounge which serves delicious locally sourced food including a wealth of vegan options, and which also reduces food waste as a Booking.com Travel Sustainable stay.
Rajmahal Palace RAAS – Jaipur, India
Where to stay: Jaipur is nicknamed the Pink City, as almost every charming building is painted terracotta to represent warmth and welcome. To truly immerse yourself in this city's colourful culture, a stay at the rose-coloured Rajmahal Palace offers guests brightly patterned interiors, manicured grounds and large marble bathrooms with rose-scented toiletries. This regal hotel, fit for a prince or princess, has a gorgeous art deco swimming pool, three restaurants and two spectacular royal apartments for those planning an extra special stay.
What to do: To start the day right, guests can wake up to yoga on the terrace and a delicious omelette or fresh fruit for breakfast in the hotel's 51 Shades of Pink restaurant. For dinner, the Instagram-worthy dining hall presents traditional Indian cuisine, with dishes ranging from scrumptious kathi rolls to nourishing vegetable dahl, an ode to Jaipur – all with the soundtrack of clinking pink champagne glasses.
Travellers can experience the flamboyance of this enthralling city with a tuk-tuk ride through the vibrant streets to explore its ancient history and fast-paced present day. Or, embark on a Pink City Excursion to visit the honeycomb City Palace and impressive Amer Fort set against the backdrop of the pink-coloured structures that make up the city's buildings.
Amanjena Resort – Marrakesh, Morocco
Where to stay: Positioned just outside the city centre, the Amanjena resort exudes Moroccan charm with its rose-washed building inspired by old Marrakesh. Guests will enter through a lobby of soaring pink columns into a rosy oasis and can later unwind in a bubble bath in the room's pink pillared baths set in marble.
Amanjena translates to 'peaceful paradise' and there's an atmosphere of zen-like calm around this epic Moorish palace with its exquisite garden adorned with tiled courtyards and trickling fountains. For further relaxation, the resort's spa offers yoga classes with a private instructor or spa days which include a nourishing body scrub and wrap, an indulgent full body massage and a rejuvenating facial.
What to do: Guests can make the most of the North African sunshine and hire bikes to explore the surrounding desert or enjoy a game of tennis on the resort's clay courts. The restaurant serves delicious Italian and Moroccan cuisine specialising in homemade ravioli and traditional tender lamb shank tagine.
Certified with a Booking.com Travel Sustainable badge, this stay provides information regarding local ecosystems and culture which may prove useful for those who embark on an Atlas Mountains, Four Valleys & Waterfalls Tour to meet local Berber communities.
Just a short drive away, Marrakesh itself is a bustling city with fantastic markets, museums and historic sites – great for a shopping or culture fix.
The Colony Hotel – Palm Beach, Florida
Where to stay: Located in Florida's famed Palm Beach, the boutique Colony Hotel features preppy pastel decor for a perfect pink stay. Adored by movie stars and statesmen, it's easy to imagine the American doll feeling at home in this stylish and sweet stay. Guests can relax in rooms with bold palm-frond wallpaper and shimmery chandeliers, and gaze out over the magnificent outdoor pool or the ocean enveloping the hotel's private beach. For real A-list star treatment, the hotel runs a complimentary beach buggy service that transports guests down to the oceanfront.
What to do: Come the evening, the bar lights up and serves creative cocktails including the signature Colony (herb-infused gin and champagne) – all to the accompaniment of the relaxing strum of the flamenco guitarist who treats guests to fabulous live music.
To explore Palm Beach, guests can borrow one of the hotel's bicycles and head to Worth Avenue to dine in some of the town's best restaurants or shop to drop in its fabulous boutiques – ideal for the 31% of UK travellers who want to enjoy a day of shopping while travelling in 2023*. For those sweet-toothed travellers, a Bulk Candy Store Tour will teach visitors all about the history of candy as they see how some of their favourite childhood treats and nostalgic pink sweets were made.