When we upgrade our homes, it's easy to push the bathroom right to the end of the priority list, with misassumptions being made about the quantity and quality of the time we spend in this most sacred of rooms. 
But when you think about it a little more deeply, it's essential that our bathrooms are spaces which encourage wellbeing and relaxation. Able to refresh, rejuvenate and replenish in the shortest possible time, bathrooms are most certainly worthy of our attention and budgets when undergoing a home renovation project.
Indeed, bathrooms, being so frequently visited and offering so much function (and, whisper it, frivolity), deserve better.
But that needn't mean your bathroom remodelling and installation project is time-consuming or bank balance-draining. Instead, it can be an undertaking that's satisfying and cost effective, if only you follow these top things to consider when remodelling your bathroom.
Be Aware That Bathroom Remodelling Budgets Can Fast Exceed Budget
The first step to bathroom remodelling and installation is setting aside a dedicated, realistic budget. As anyone who has watched even five minutes of shows like Grand Designs or George Clarke's Amazing Spaces will attest, home renovation projects always go over budget, with costly surprises waiting in every nook and cranny of a property.
This is perhaps most keenly realised in the bathroom; for a room that takes up such (comparative) small space, it also involves the most fiddly of logistics, with water and electricity provision, as well as ventilation, all requiring precise installation.
Accordingly, be sure to keep an extra 10 to 15% of your budget in emergency funds — you never know when you'll need some extra bucks to redress that dodgy wiring or remedy a newly discovered leaking pipe.
When you begin the remodelling, keep track of your expenditures by listing spent amounts against their budgeted counterparts. This keeps you (and your contractor) accountable, increasing the chances of staying within the decided amount.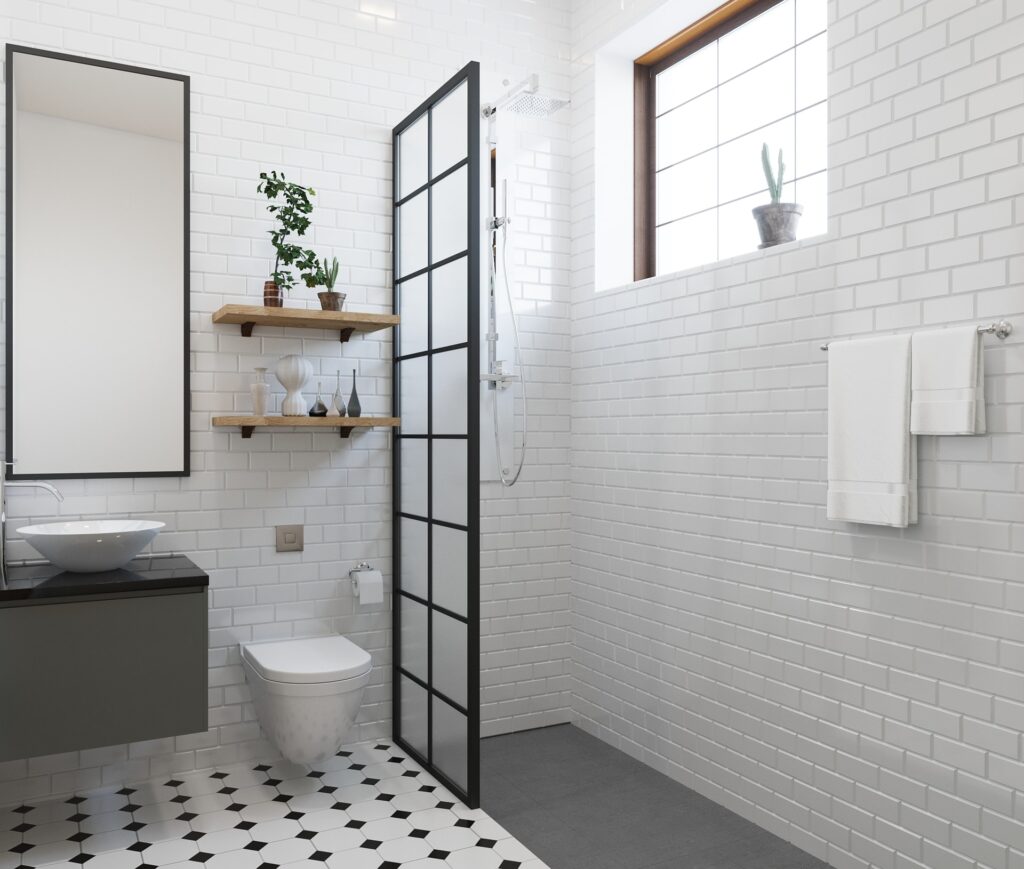 Functionality Is Integral To Bathrooms
Sure, we love to swan around nude in our bathroom, whistle in the bath and play air guitar using our back scrubber as much as the next person, but let's be honest here; the bathroom is a functional space, first and foremost. 
While planning your bathroom project, be sure to go big on functionality. Here are multiple things to consider:
The bathroom floor should be slip-resistant (e.g., small tiles and wide grout lines do the job by increasing friction).
Choose high-quality, durable countertop materials (e.g., granite). The square footage in bathrooms is less, so it won't be too much of an investment when compared to kitchen countertops. Yet, such materials boast excellent longevity, making them a worthwhile investment.
The cabinetry should be spacious and resistant to humidity.
The lighting should brighten up the space and be sufficient for bathroom-based tasks. Consider incorporating both ambient and task lighting.
In addition to functionality, you should also, of course, consider aesthetics and the pleasure you get from the space. In that regard, let's discover some fun design ideas for bathrooms.
The Marble Effect Can Give Your Space A Luxurious Touch
It's true that bathrooms are a necessity, but why not turn them into places to give off relaxing, cool vibes? Give them a touch of the spa by including marble in a classic white colour.
Read: 5 tips to make your bathroom feel like a luxury spa
Marble with grey or gold veins gives off an even more luxurious and royal look. Couple it with essential oils and scented candles, and there you have it — an ordinary bath instantly turned into a relaxing day off from work!
Pro tip: If you're on a budget, get the marble effect in porcelain, which will still deliver an opulent look but will help keep you within your price range.
The Industrial Look Introduces NYC Vibes
Don't be fooled by the name! It's not expensive, nor is it a boring or rough-and-tough look for your bathroom. The industrial look instead refers to that instantly recognisable New York City loft-style, where you would see brass accents, exposed brick and rustic bathroom accessories.
This minimalistic design means you can easily adapt it without giving a major overhaul to the space, as so much of this style is about taking away rather than adding.
Here's how to go about it:
·        Include brass tones. This can be achieved with gold fixtures and exposed pipes.
·        Add rustic stones to the bathroom — a stone sink is the way to go!
· Reveal a section of exposed brick wall, even if it's simply an accent.
· Opt for wooden shelves and wire drawers.
Incorporating Plants To Bring The Outside In
Want to give a fresh, warm, and outdoorsy look to your bathroom? Then why not bring in a touch of nature and luxuriate in the healing powers of verdancy. Indeed, plants are striking additions that add a pop of colour, diversify texture, and offer a calming, soothing quality to any space.
Can't stop fixating on that empty spot in the bathroom? Fill it with fern. Or, use plants hanging from the ceiling to give an urban jungle look that you can get properly immersed in. Should you be looking for something a little more subtle in terms of visual impact, a simple cactus stood on some open shelving can look great.
For the bathroom, you'll want to pick plant varieties that are low-maintenance – succulents are great here and can survive in low light and high humidity whilst Boston ferns can cope happily and healthily in these conditions, too. If you think maintaining a plant on a regular basis is too hectic, faux plants could be your saviour.
Black Accents Are A High-End Upgrade
Add hints of black to give your bathroom a sleek and stylish look. If you're afraid that this will appear too overwhelming (which is a justified view), deploy this darkest of tones with restraint, and pair it with neutral colours. 
Playing with white and black accents during your bathroom remodel is a smart way to go; while the colour white gives a clean and fresh outlook, black adds richness and depth to the space. Obviously, tread carefully where checks are concerned, or it's all going to look a bit 'novelty sized chess board'.
Instead, introduce those super dark shades in the form of a vanity or wall paintings. Create a statement with black vanity mirrors — these will stand out against the white or neutral background.
Not to forget, your bathtub is an accessory too. Why leave it in a plain, white colour when a black bathtub can immediately change the whole ambiance? For better or for worse, we might add…
Tiles Are Game-Changers — So Choose Them Wisely
Who doesn't love wooden floors? They give off a warm, cosy vibe and incorporate a natural touch into any room. But using wood in bathrooms, where there's definitely going to be some water splashes, is less than practical, can result in distressed looking flooring which is surprisingly difficult to fix. The solution? Opt for a wooden look, but through the tiles. They are easier to maintain and look almost as realistic.
Wood effect tiles are all the rage in 2022 bathroom trends because they immediately add an interesting and natural texture to the walls and floor. They also don't fade over time like natural wood, so you don't have to worry about redoing your bathroom repeatedly.
So, sprinkle some rustic charm by making the switch to wooden-effect tiles. These offer a great way to give the bathroom a rustic and welcoming look, without the less than welcome upkeep that genuine wooden floors require.
Draperies Are Easy To Neglect — Prioritise Them
Draperies may seem unexpected in bathrooms, but they are just as welcoming and cosy in here as they are in your living space. Full-length draperies are a huge bathroom trend in 2022, owing to the cosy vibes they exude.
You don't have to opt for old-fashioned ornate, heavy fabrics. Today's draperies are lightweight and sophisticated, so while they do provide privacy, they also allow natural light to fill the bathroom.
The Bottom Line
Hey, let's just put it this way; if you put into practice some of the tips we've outlined above, we simply can't wait to use your bathroom next time we visit!