You've got your nuts in hand. You've practiced your bluff and eradicated your tell. You've upped the ante and left your backdoor open for guests. Nope, that's not an innuendo.
Whether you're a maniac or an underdog, or you're just a beginner looking for distraction at the moment, hosting your own poker night needn't require Las Vegas levels of investment and heaps of effort. Instead, all you need is a little creativity and a lot of enthusiasm and you can make your own casino night at home a huge success. With that in mind, here are 5 tips for hosting your own poker night.
Snacks & Setting
A successful poker night at home hinges on so much more than the game itself. Let's lay our cards out on the table here; the difference between a flop and fortune isn't found in the big wins and losses of the evening. Oh no. It's in the vibe, the atmosphere and the tension of the game. And this is largely created and nurtured by the host, not the poker being played.
First things first, no one wants to play poker (or sip that whiskey on the rocks) on an empty stomach; snacks and drinks need to be provided and replenished with fair regularity.
This doesn't mean you have to go all out and provide a full meal, but having some finger food and drinks available will help keep everyone happy. If you're not sure what to serve, ask your friends in advance if they have any dietary restrictions or preferences. Crisps, pretzels, popcorn, and a few sweets are all great options. And of course, cold beers are a must.
To further define the right ambience, some soft, meandering jazz seems to encapsulate the right spirit for an evening of poker.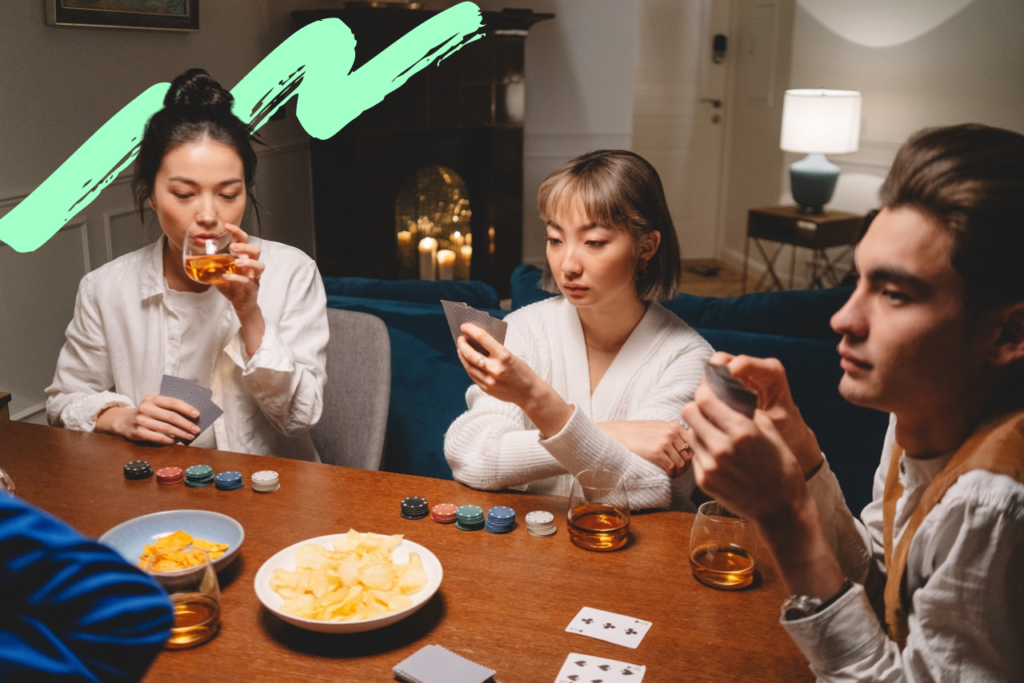 Set Up The Game Space
To have a fun and successful poker night, you'll need to set up the space properly. You don't want any distractions during a tense game, so firstly clear any surfaces that will be used for gaming.
You'll likely need to invest in some equipment specific for the game. This includes a deck of cards and poker chips, at a minimum, but if you're going all out, then a dealer button, poker case, timer, poker mat or cloth and perhaps even an automatic card shuffler will all enhance your evening.
Finally, playing on an oval poker table is always a more sociable way of doing things, ensuring that everyone has a seat and there's plenty of elbow room (and space between players to prevent cheating!).
Betiquette & Rules Know-how
No player wants to be read the riot act when they walk through the door for a poker night with pals. This is meant to be a bit of fun, right? That said, we think that everyone attending appreciates the laying of a few ground rules, to set the tone for the evening ahead.
Of course, it's up to you how strict your approach is, and how the rules are enforced, but it's a good start to ban phones and the wearing of sunglasses at the table, as well as having a system in place for toilet use (as in, you can't leave the table until your hand is folded).
If these guidelines – let's call them guidelines – aren't adhered to, chaos can descend. And then you might as well just be getting drunk together without the distraction of poker. Your rules, in many ways, define the evening.
It's essential to think about the rules of the game, too. You gather eight (the optimum number, we think) friends around the table. Pleasantries are dispensed with. The poker set is ceremoniously unboxed and….who actually knows how to play this thing?
When curating your guestlist, you'll need to make sure that at least some attendees have a good working knowledge of the rules of the poker discipline you've chosen (you did know there was more than one way to play poker, right) and are comfortable and conversant in how to manage a game.
It might even be a good idea to first familiarise yourself with the ins and outs of standard poker variants to ensure you're aware with the ins and outs of the game.
Read: How To Host The Perfect Games Night This Summer
Know Your Limits
In the company of good friends and free flowing booze, it's only natural that things get a little competitive. It's important to recognise – and particularly for the host – when the frivolity has tipped over into something less fun. Even in the domestic setting, the spirit of the table can get out of hand and money can be lost. It's wise, then, to set limits on maximum bets prior to the poker kicking off.
To prevent things getting too intense and single minded, it could also be a good idea to set a finish time for the game, rather than letting it meander aimlessly into the small hours like that jazz you put on the stereo earlier. Everyone needs their sleep, right?
It's All A Bit Of Fun
Remember, this thing isn't about the money. Poker nights at home should be about socialising, having fun and not taking things too seriously. If you follow the above advice, on creating the right mood with snacks, booze and good music, as well as laying a few ground rules and setting limits, then there's no reason your casino night won't be a roaring success. Good luck!