Ideal for those with an adventurous spirit.
Keen hikers will know that umbrellas and a Mac just won't do. Inclement weather is all part of the fun when braving the elements and submitting yourself to nature's mercy, but that doesn't mean you should sell yourself short on your next outing into the great unknown.
Nope, experienced hikers leave nothing to chance, particularly when taking a trek in the Great British countryside or other areas with unpredictable climates. Harness the power of the 5 Ps – proper planning prevents poor performance – with these tips on wet weather hiking and the 5 essential items you'll need.
A WATERPROOF JACKET
Should you be doing your trip in the brave, spontaneous style which defines great hiking, then let's face it, there are times when you're going to find yourself caught short in a storm and in danger of getting biblically wet. That shouldn't worry you; it means you're doing it right!
But a downpour can kill the buzz pretty quickly if you're not prepared for it. So, first things first, you're going to need a waterproof jacket to see you through to your destination dry and happy. It's important to note here that not all jackets were created equal, and many on the high street are only water repellant (not the same thing and not offering the equivalent level of protection) and don't qualify as 'waterproof'. The latter is essential if you're serious about your outdoorsy, adventurer credentials.
If possible, go for a jacket with a long cape-like back (poncho shaped, essentially) for travellers to place over their bags to keep possessions dry, too.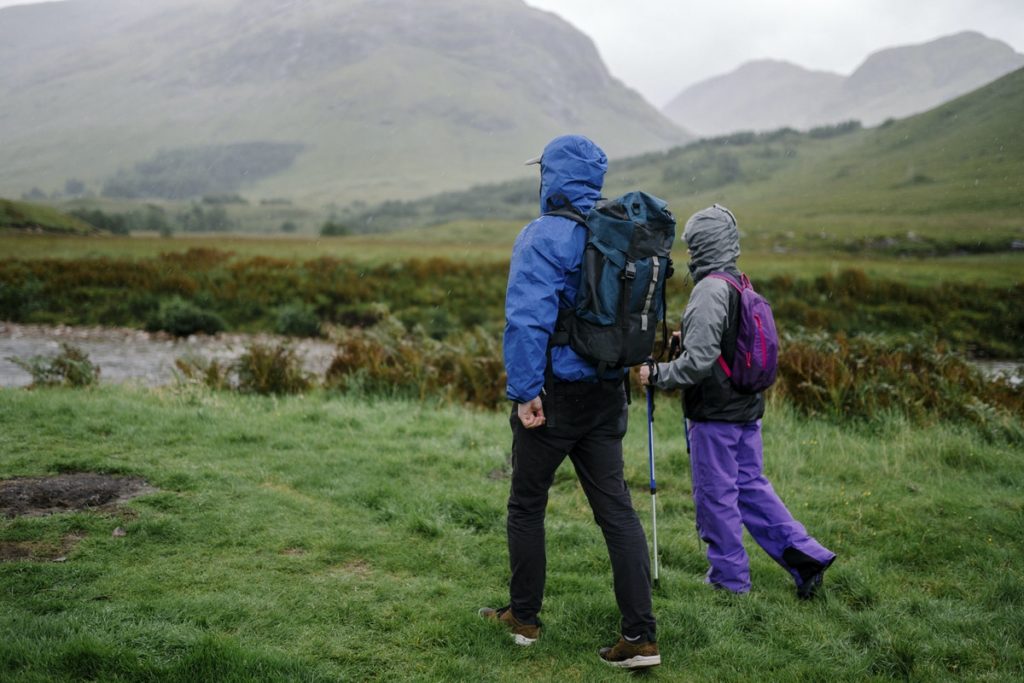 WATERPROOF TROUSERS
Waterproof trousers are also important; no one (not even those gluttons for punishment) wants to hike, reach, stride and stroll with sodden legs and trousers adhering to the body. Chafing and discomfort are sure to follow, and there's no greater buzzkill to an adventurous disposition than sore, soaked legs.
Though on-trend vinyl leggings are popular with some fairweather hikers, we're anticipating weather on the wilder side, and if you're into serious hiking, style over substance won't do the trick at all. It is better to opt for a good pair of waterproof trousers, allowing for greater flexibility and comfort, especially in areas which require a steep ascent or clamber, when there are puddles or muddy terrain to avoid.
A WATERPROOF BAG
True hikers carry just the right amount of specialist gear with them; not too much to weigh them down, but certainly a compass, analog map and first aid kit as a rule. Keeping the indispensable hiker's armoury dry requires both waterproof clothes and bags, then.
As we mentioned earlier, steer clear of assumptions about all rucksacks being waterproof, and be scrupulous about the distinction between water repellant and genuinely waterproof. Size matters here; though an expedition size is useful if you're packing some serious weight (coming in at 75 – 100 litres in capacity), it can also be prohibitive on tough terrain. A multi-day size of around 50 litres, with straps to take some of the burden off your shoulders, is ideal.
Better still is to purchase one (or a set of) dry bag which usually comes in at around 15 litres of capacity and fits in your standard backpack, allowing for compartmentalising and maximum dryness. Clue's in the title, hey?
WATERPROOF HIKING BOOTS
Keeping your feet dry on your hiking adventures is vital, spelling both comfort and safety when on the go. Any serious, self respecting hikes will encounter their fair share of high-running streams, puddles and pools of mud, all ripe to traverse if you're wearing it right. Waterproof hiking boots will allow for navigation without unnecessary, limiting trepidation.
Without waterproof protection for your feet, the trip becomes something to endure rather than enjoy, with the added risk of foot injury and infection. No one wants to realise they've got trenchfoot halfway through a hike, trust us.
A WATERPROOF TENT
Without wishing to state the obvious (you'd be surprised!) a waterproof tent is a must-have on your hiking adventure. The wilder you venture, the less prevalent and easily accessible shelter will be, and we've got our hearts set on some serious adventure, right?
Even if it's only for a rest, or to cook the animal you caught with your bare hands under shelter, a tent that's waterproof will keep you protected and dry. Spaciousness and the ability to stand is a real bonus, but the size and weight such a tent brings might be a sacrifice too far. Remember to choose one that's durable to ensure it doesn't easily get punctured; a surefire way to kill the carefree spirit of the trip.
THE BOTTOM LINE
Don't get caught hiking in the rain without these essentials. While unpredictable, inclement weather isn't the ideal condition for hiking, us Brits have developed a pretty sturdy, stiff upper lip in the face of a downpour. Don't allow that stance to make you complacent, however. Instead, put your faith in some reliable, waterproof kit and enjoy your adventurous spirit in dryness and comfort.