The next time someone implores you to 'take a hike', the ultimate retort would be 'I am, actually'. Because hiking, once the preserve of the compass wielding, insect eating, often hugely affluent survival expert, is now a popular pastime for the many, not the few. The one permanent truth, whoever you are or your experience in the field, is that thorough preparation is essential for a successful trip. Should you be climbing Ben Nevis, strutting your stuff across the Jurassic Coast's trails or sashaying across Snowdonia, the planning is largely the same. With that in mind, here are 5 IDEAL ways to prepare for your next hiking trip.
WHAT TO PACK
Whether your hike is covering an afternoon or a week, compiling a checklist of essentials before you set off is a must. This is one situation where, once something is forgotten, there really is no turning back, no corner shop to bail you out and no convenient way to access a backup.
Some of the most crucial items include a portable charger, as well as a first aid kit should you suffer an injury. If you are hiking in the summer months, temperatures can soar, so make sure to pack enough sun lotion to keep your skin protected, too. It's best to be prepared for all types of weather when going on a hiking trip. Packing a raincoat that can add a layer of protection is incredibly important; there's nothing like being soaked through to dampen the spirits and willpower to walk on. For this reason, make sure you store your clothes in waterproof bags too.
Consider packing some lightweight binoculars so you can appreciate any awesome views in more detail, as well as those birds that you hear singing from the trees or that deer two fields over. And it's a given that along the way, you're going to get lost and bereft of 4G. A compass or map may well save the day in such instances.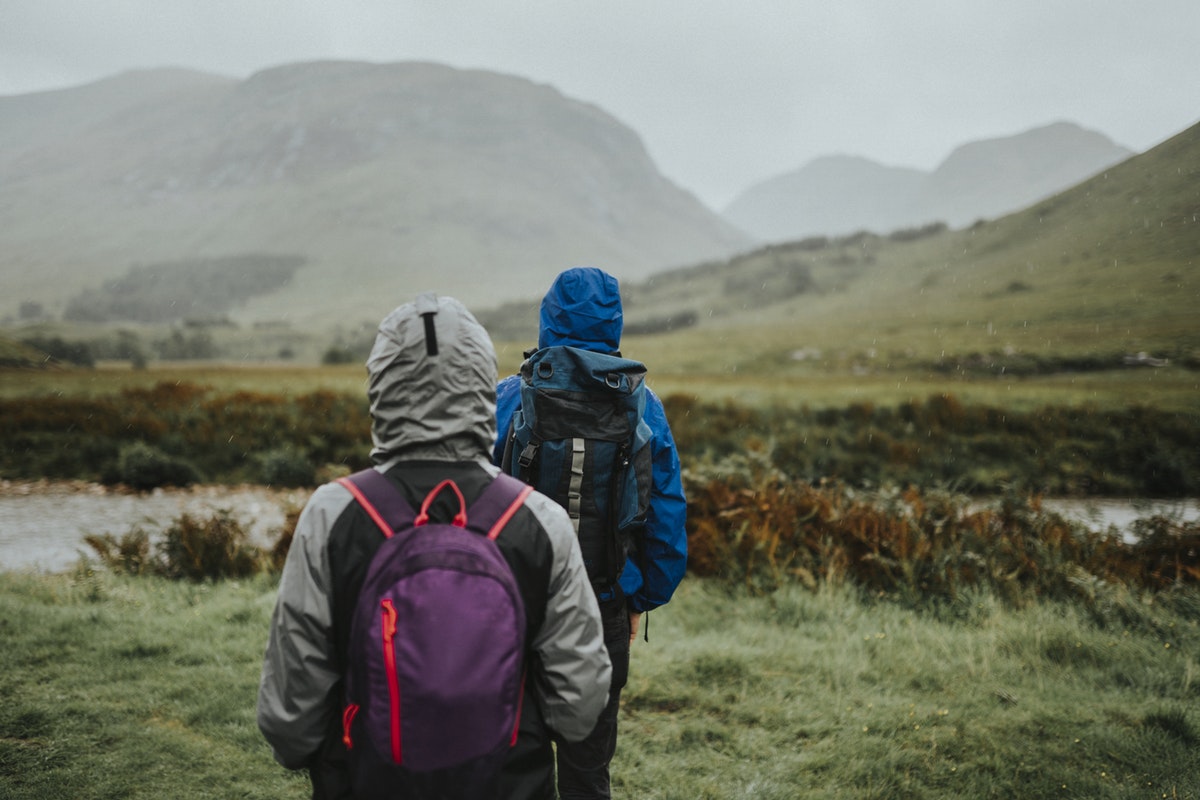 PUT YOUR BEST FOOT FORWARD
Prior to stepping out the door and onto the trail, it's vital you check the predicted weather and anticipated conditions under foot so you can select the appropriate footwear for the task at hand (or should that be foot?). Your feet are going to be under a fair amount of strain, so choosing kicks appropriate for the hike at hand is so important. Assuming you've a thick, comfortable pair of socks on, hiking boots should fit snugly, entirely, to ensure no rubbing or slipping, without feeling tight or restrictive. Don't take any chances with size, as blisters and swelling could ruin your trip. The different styles of tread, material and lace are dizzying in their variety, so it's best to defer to the experts on this one.
HYDRATION STATIONS
If you aren't drinking enough water during your hike, the chances are you'll soon run out of energy, become dehydrated and suffer massively. To get the most out of your hiking trip, you will want to have a clear mind and vision, so ensure you pack plenty of water that can last you throughout your hike and keep you sufficiently hydrated, refreshed and raring to go. You can store a water bottle in your backpack for as and when you need it, or some backpacks come with specially designed sections for water carriers.
FIGHTING FIT
Ensuring you're in good shape before your hiking trip is a must, as there are guaranteed to be moments of tough, unpredictable terrain which will require you to be fighting fit in order to tackle them. Building your stamina before your trip can make a huge difference and stop you falling short of what's required of you once you're on the trails. Cardiovascular fitness, leg (particularly calf) strength and a sturdy core are the areas you should pay particular attention to.
SAFETY FIRST
Your safety should be your number one priority when on a hiking trip. Therefore, enlisting hiking companions in advance, rather than doing things on your own, on the hoof and hoping to bump into fellow hikers, is a prudent preparatory move. If disaster strikes, say you suffer an injury or fall sick, then having people around you to help can be a literal lifesaver.