Considering France is just 80 miles across the English Channel, with some insisting that you can see the Normandy Coast from a position on the pebbles on a particularly clear day, it's no surprise that Brighton is home to some great French restaurants.
From freshly grilled Croque Madame to copper-coloured bisques brimming with local shellfish, if you're looking for the best French restaurants in Brighton, you'll find them here. And by here, we also mean on these very pages; this is where to eat French food in Brighton.
Petit Pois
Consistently named among Brighton's best restaurants, Petit Pois is arguably the number one purveyor of traditional French fare in the city. In fact, it's one of the only restaurants in town that is proudly, unashamedly French, without the more modern affectations of 'Modern European', 'French inspired', or simply 'small plates'.
Expect, then, to be wowed by snails swimming in a pungent pool of garlic and parsley butter, followed by the famous fisherman's stew bouillabaisse, here replete with fish, shellfish and even sea lettuce from surrounding Sussex waters.
Whilst seafood certainly feels like the right thing to do considering Petit Pois is just a pebble's skim away from Brighton beach, our favourite dish here comes from the légumes section of the menu, in the form of baked Crottin du Perigord. This mini-wheel of goat's cheese is baked until gooey and served with a salad of beetroot and candied walnuts high on the sweet notes as a perfect counterpoint to the potent cheese. It's a smartly judged, confident salad in keeping with the poise of the restaurant as a whole.
With a popular Sunday lunch menu and an extensive wine list, no wonder Petit Pois is one of Brighton's best-loved neighbourhood French restaurants.
Petit Pois is closed on Tuesdays and Wednesdays, and open for lunch and dinner Thursday to Monday.
---
Mange Tout
Mange Tout might just be one of Brighton's best-kept foodie secrets. Just a two-minute walk from Brighton Station, this local gem is a humble, no-frills affair with a daily menu chalked up on a blackboard overlooking the room (pro-tip: take a photo). That menu details a keen selection of classic French bistro dishes that are low on fuss and high on flavour.
Meaning 'eat all' in French, you'll want to do just that at Mange Tout, though if you are going to narrow down your order (kinda how a menu works, we realise), then you shouldn't miss the free-range, blushing bavette steak with properly crisp, skin-on chips and a skillfully made, perfectly seasoned Béarnaise sauce. Lush.
The restaurant is also considered one of the best spots to eat brunch in Brighton, opening in the morning and doing a cracking Croque Madame (you'll want to crack that egg), a range of omelettes and a Mediterranean version of a Full English, featuring Merguez sausage.
Oh, and you shouldn't miss the desserts, which are stellar, too, whether you're in for brunch, lunch or dinner. This is our favourite French restaurant in Brighton, make no mistake.
Mange Tout is open daily for breakfast, brunch and lunch every day, and for dinner on Thursdays, Fridays and Saturdays.
---
Plateau
Another belter with a blackboard, Plateau is all about pouring up the city's best and most thoughtful selection of low-intervention wines. They just happen to serve some pretty special sharing plates of a largely French persuasion to complement their natty juice.
Their bread, pâté, rillettes, cheeses and pickles are particularly fine with a glass of the good stuff, but Plateau also have a light touch with fish, which is always welcome so close to the coast. On our last visit, a plate of raw wild sea bass with pink peppercorns and gooseberry was top notch. For something a little heartier, venison pithivier with burnt onion puree ticks that classic(ish) French fare box you came to this list looking for.
All in all, Plateau is an effortlessly stylish place to hang out, and with the recent addition of a few tables spilling out onto the street, is now even closer in style to a classic Parisien wine bar.
Plateau is open every day from midday to 11pm.
---
Wild Flor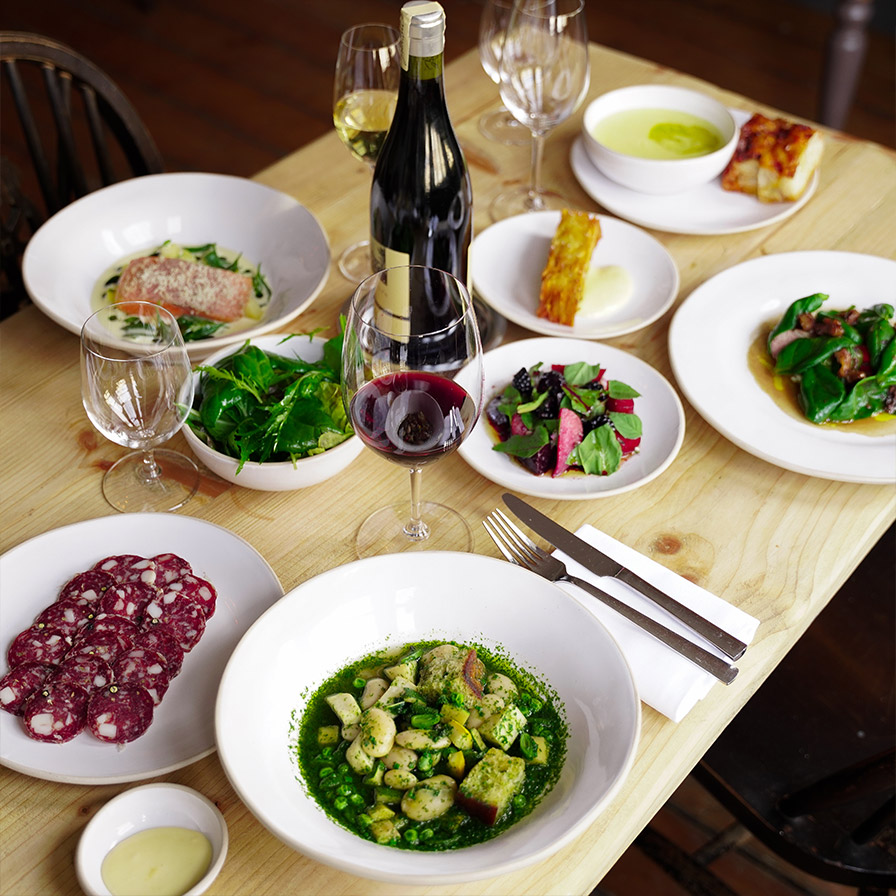 Wild Flor, on Hove's Church Road, is one of the most acclaimed recent additions to Brighton and Hove's thriving restaurant scene. Settling into an evening with their confident, classic French cookery and superb wine list is one of Brighton's biggest treats; you'll always leave squiffy and extremely well-fed.
It's a price-fix affair with Michelin ambitions, which is no bad thing for a city somewhat in thrall to 'casual' dining. Lunches are £38 for three courses, whilst for dinner, the same trio costs £45. It's well worth it for the faultless, flavoursome cooking.
The current menu boasts a guinea fowl terrine with sparkling wine jelly and brioche which is masterful in its delivery, whilst the restaurant's pastry section cooks with a breezy conviction and generosity more in tune with a Paris patisserie or the bouchons of Lyon than a Hove thoroughfare. Emblematic of this sensibility is their decadent Caramelia (that luxurious milk chocolate with flavours of salted caramel) mousse with meringue and Yorkshire rhubarb. If it's on the menu, do yourself a favour and order it.
Wild Flor is open on Wednesdays for dinner, and Thursdays, Fridays and Saturdays for lunch and dinner.
---
Bistro Du Vin
With 19 outposts across the UK, the Hotel du Vin and its bistro certainly isn't unique to Brighton. That doesn't mean the honest fare here isn't some of the best French food in the city.
In fact, the menu is chock-a-bloc (or rather, plein à déborder) full of French bistro classics. To start, the French onion soup does exactly what it says on the old pot, and a bright, upfront version of a classic Nicoise pissaladière serves as the perfect summer snackette.
Beef bourguignon on the bone using short ribs braised until tender and served with pommes mousseline is quite rightly a menu mainstay here, and for the pescatarians out there, fish is regularly given the a la poele treatment, cooked in its own juices and retaining all of its natural flavour and characteristic tenderness in the process.
The Bistro du Vin is open every day for breakfast, lunch and dinner.
---
Julien Plumart
Because we couldn't write about fantastic French food without talking about the sweet stuff, right?
Hands up who saw last year's Bake Off: The Professionals? Okay, put those chocolate-covered mitts down at once; we see you.
Viewers will already be familiar, then, with Julien Plumart, a finalist on the show, and his eponymous patisserie housed just a two-minute walk from Brighton station.
If you're wondering where to eat the best French sweet food in Brighton, it's here, where you'll find the city's finest, most intricate sweet treats alongside a few French breakfast favourites, like freshly baked croissants, pain au chocolat and briochette.
It's for the macarons that we return, time and time again; they are simply superb. Bag a bag of four for £8 and luxuriate in the most delicate, delicious domes this side of Notre Dame. The simple majesty of Julien's vanilla version is a favourite, though some of the more esoteric flavour combinations are equally as pleasing (the mojito macaron is superb).
Julien Plumart is open every day from 8am to 5pm (pro tip: arrive just before closing to enjoy some discount delectables).
---
Real Patisserie
Is it 'red' or is it 'real'? A debate that's soundtracked the reliably long queue for this fantastic patisserie (now, a set of four) ever since it opened in Brighton in 1997.
At Real Patisserie, the baguettes are freshly baked, the sandwiches filled generously, and the tarts and cakes properly delicious. It's those latter confections that have earned the patisserie such a beloved local following, with delicate mousse cakes using either dark chocolate or tropical fruits sitting alongside fruit tarts, some underlined by a luxurious pastry cream, others topped with crumble.
All, it should be said, are graciously glazed until they look good enough to eat. Which we do, on a rather more frequent basis than we're comfortable confessing…
The inaugural Real Patisserie on Trafalgar Street is open from Monday to Friday, 7am to 5pm, and on Saturdays from 8am to 4pm. It's closed on Sundays.
Outposts on Western Road and Church Road, both in Hove, are open every day. A fourth patisserie is open in Brighton Open Market, Monday to Saturday, from 8:30am to 3pm.
Looking for something a little perkier to feast on in Brighton? Check out this great guide on where to eat Mexican food in Brighton.